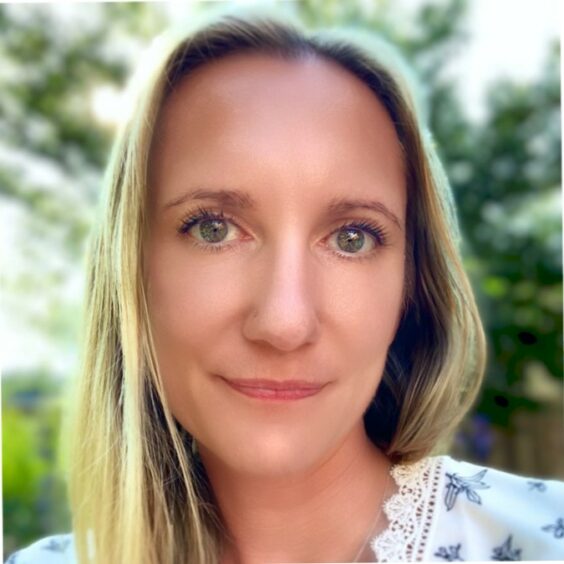 Stacy Smedley, Executive Director of Building Transparency takes a look at the importance of addressing embodied carbon, the emissions associated with the materials and lifecycle of a building. With new construction adding 3.7 billion tonnes of CO2e annually, she explores why the construction sector is prioritising reductions and how it can impact corporate sustainability goals.
Scope 3 emissions are often responsible for more than 70% of a company's carbon footprint, which includes building-related emissions.
 Embodied carbon emissions represent a large opportunity to drive decarbonisation strategies and make progress toward sustainability goals.
Climate action in the building sector, with a specific focus on embodied carbon, is growing as a priority due to interest from public and private sector.
Is embodied carbon part of Scope 3 emissions?
From the public and private sectors alike, there has been more focus than ever placed on best practices and priorities regarding reversing climate change. From monumental sustainability-focused policies being introduced, like the Inflation Reduction Act, and a rapidly growing number of Fortune 500 companies with net-zero goals and targets.
As there is collective action and movement toward reducing greenhouse gas (GHG) emissions, we're also seeing more awareness of and focus on Scope 3 emissions. However, more organisations are beginning to recommend and even require disclosure of this emissions type when reporting on overall climate impacts.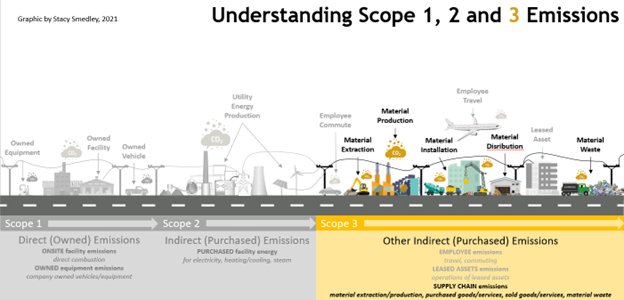 Scope 3 emissions are indirect emissions that are not owned or controlled by an organisation. They occur up and down a company's value chain. Notably, this emissions type is typically responsible for more than 70% of an organization's carbon footprint. We predict that more organisations will be required to make this information publicly available soon, including within ESG reports.
It's more critical than ever that companies prioritise Scope 3 emissions, including those from transportation, installation, maintenance and disposal of building materials, or embodied carbon.
Embodied carbon, while historically a lesser-known carbon emissions type, is becoming an important topic as more become aware of it and its climate impact. We're seeing interest from the construction sector, building owners and policymakers alike because it represents a significant opportunity to reverse global warming. Here's why:
Embodied carbon 101
The modern green building movement began in the last few decades and focused heavily on operational emissions, a highly visible and well-known contributor to GHG emissions.
Similarly, understanding the carbon footprint of the entire supply chain for materials and construction is less obvious and visible, and has been much more difficult to calculate. As a result, embodied carbon emissions have been historically overlooked. But this is now changing.
Global new construction is estimated to create more than 3.7 billion metric tons of embodied carbon emissions annually, equal to 950 coal-fired plants. And, between now and 2060, the world's population will double the amount of building floor space, equivalent to building an entire New York City every month for 40 years. Much of the carbon footprint of these new buildings will take the form of embodied carbon.
Reports show that embodied carbon will be responsible for almost half of total new construction emissions between now and 2050. Unlike operational carbon emissions, which can be reduced over time with building energy efficiency renovations and the use of renewable energy, embodied carbon emissions are locked in place as soon as a building is built.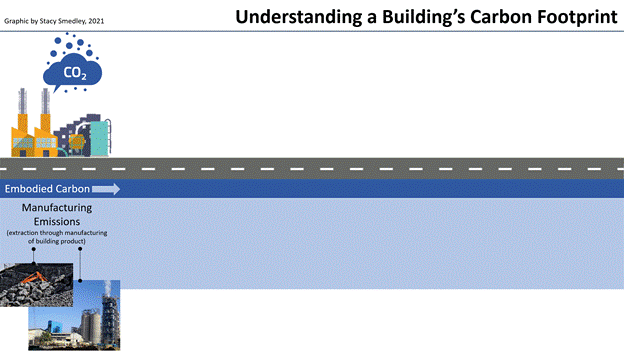 Embodied carbon marks a significant challenge for mitigating carbon emissions and achieving zero-carbon, resilient and healthy built spaces. To reduce the impact of this emissions type, the architecture, engineering and construction (AEC) sector must prioritise low-carbon, or green, procurement for their projects by looking at overall emissions and making carbon-conscious product and material selections.
Fortunately, we are starting to see action in the AEC industry and far beyond as more focus is placed on reducing the impact of embodied carbon on our planet.
How to reduce embodied carbon
In architecture, engineering and construction (AEC)
Embodied carbon awareness is increasing, which is evident in the fact that we're seeing action from industries in prioritising reductions. For the AEC industry, associations and organizations are introducing new policies and certifications that require and provide resources for low-carbon building material procurement.
These include the LEED Procurement of Low-Carbon Construction Materials Credit and the ILFI Zero Carbon Certification. Beyond this, we're also seeing more firms, like Skanska, (STOCKHOLM:SKA-B.ST), Gensler and others, introduce programs and challenges that are focused on driving reductions in embodied carbon emissions.
This includes the Gensler Cities Climate Challenge, which outlines how the company will help its clients reach their carbon targets and reach its own goal of making every building in its portfolio net-zero carbon.
In the tech sector
Beyond the construction sector, we're also noting more interest from the private sector as corporations include Scope 3 emissions, including embodied carbon, in their sustainability goals and reduction efforts. In fact, tech giants are specifically naming embodied carbon as a strategy for reducing their impact on climate change. This includes Microsoft (NASDAQ:MSFT) aim to achieve net-zero embodied carbon at its global campuses and datacenters.
Amazon (NASDAQ:AMZN) is also focused on creating a model for sustainable construction with its second headquarters in Virginia, including a focus on embodied carbon, and reducing the carbon emissions of its data centers, according to its 2021 Sustainability Report. The company's design standards now require concrete with a 20% reduction in embodied carbon compared with standard concrete for new data centers globally.
In legislative actions
At the same time, local, state and federal policymakers are including embodied carbon in their legislative actions. This includes the Inflation Reduction Act, passed in July of 2022, which aims to fight climate change and reduce the carbon emissions by American infrastructure, and a significant portion of the Act focused on low-carbon procurement.
It includes more than $5 billion in funding focused on incentivizing using low-carbon, clean materials for public infrastructure projects. Notably, the Act and its policies have the potential to reduce over 200 million metric tonnes of carbon dioxide emissions annually by 2030. This is a massive milestone in driving decarbonisation.
This prioritization of embodied carbon action collectively represents a wide-scale movement toward low-carbon and net-zero buildings. At the same time, it will incentive manufacturers and suppliers to invest in innovation and lower the carbon emissions of their products. Companies and organizations must continue to learn more and share best practices when it comes to driving embodied carbon reductions.
There are already a variety of tools and resources, including the Embodied Carbon in Construction Calculator (or EC3), available for those organisations who are ready to act and reverse our buildings' impact on climate change. By investing in and prioritizing reductions of emissions type, we have the power to fight climate change and mitigate its potentially devastating impacts.