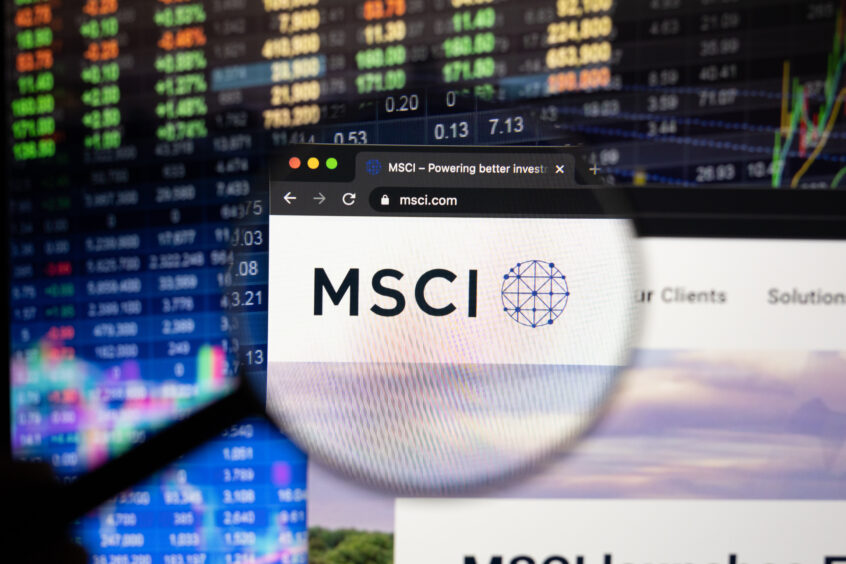 A new tool from MSCI ESG Research enables companies to compare and benchmark their sustainability strategies and targets against peers, helping them establish gaps in their disclosures and where they need to improve. This in turn could improve data integrity and reduce the risk of misstatements and greenwash accusations.
MSCI has launched a tool for companies to assess their sustainability strategies, and benchmark their performance against their peers.

It facilitates compliance with standards by enhancing and improving data disclosures by companies in response to regulatory and stakeholder demands.

By benchmarking their sustainability performance against peers, companies can learn to improve data disclosures and target setting. This in turn can improve ESG data integrity, reducing the risk of greenwash.
The ongoing evolution of ESG data disclosure and reporting standards makes company reporting increasingly complex.  Accountability is critical, especially as it relates to sustainability claims and net zero pledges, as misstatements can risk potential greenwash accusations and reputational damage.
To connect ESG data across organisational functions globally, companies need to deal with multiple different types of data and sources across their business. Benchmarking tools that allow companies to compare to their peers can also help stakeholders and investors contrast ESG performance and strategy across sectors and regions.

How does MSCI serve the ESG analytics needs of investors?
Investment research firm MSCI Inc. (NYSE: MSCI) provides index, portfolio analysis and governance tools to help institutional investors make investment decisions. It has launched a new tool, MSCI Corporate Sustainability Insights, intended to help companies improve their sustainability strategies and climate data reporting.
It is fort the companies that are tracked by MSCI ESG Research, which gives them access to a unified platform where to benchmark themselves against peers. It also enables them to assess potential gaps in their disclosures, and provides analytic tools in the form of graphs and charts to view the progress of their strategies.
MSCI ESG Research said it has gathered ESG data on over 6,000 listed companies over the last 40 years, by collecting publicly reported data and engaging directly with them. By 2022, nearly 4,000 companies in the MSCI ACWI (NAS:ACWI) Investable Market Index, MSCI's flagship index of equities, had engaged directly with MSCI ESG Research.
MSCI ESG Research said it has gathered 14,648 data points on ESG factors. This depth and breadth of engagement underpins MSCI's approach to addressing the need from investors for greater disclosure and transparency from listed companies. Investors are themselves increasingly moving towards making net zero pledges, and are being pressured by regulators for improved data and disclosures. 
The data gathered by MSCI ESG Research generates ratings that have been used to construct a suite of over 700 equity and fixed-income indices. In addition to helping institutional investors offer ESG-themed products, these indices are expected to provide an effective means of benchmarking ESG investment performance and assessing ESG mandates.
What are the main features of the new tool?
Improved data visualisation from MSCI's new tool is expected to give companies the ability to improve their strategic planning and engagement with investors. By integrating with risk management and performance analytics, clients can gain insight into a company's ESG ratings, sustainability goals, as well as any ESG controversies associated with it.
A controversies score provided by MSCI provides a view of ESG-related incidents associated with a company. This can allow investors to screen out companies based on specific controversies, such as environmental incidents, bribery and corruption, or health and safety in the workplace.
The tool also enables investors to assess a company's ESG risk exposure by integrating with features such as  Climate Value-at-Risk and Implied Temperature Rise that are available on MSCI's ESG Research platform. These provide a forward-looking view into potential upside or downside opportunities in a portfolio.
Beth Byington, Global Head of Corporate ESG and Climate Solutions at MSCI, said: "The ESG and climate needs of companies have evolved dramatically as new reporting requirements from regulators and institutional investors have emerged in recent years. It is now more important than ever for listed companies to speak a common language with these audiences about financial opportunities and risks associated with subjects like climate change."
Viewing companies in comparison to peers, and benchmarking their performance based on recommendations from international standards bodies, such as the Task Force on Climate-related Financial Disclosures (TCFD), can provide global institutional investors with further insight into sector and industry best practices on sustainability.
Why is benchmarking performance important for sustainability?
According to a report published by MSCI in October 2022, over 46% of the 3,150 constituents of its ACWI Index had set some form of net zero target as of August 31, 2022, but only 41 companies in the ACWI Index had set a net zero target approved by the Science Based Targets initiative (SBTi).
Fewer companies than those that make up the 46% had SBTi-approved targets, and only 6.3% had committed to setting one in the future. Emissions reduction targets approved by SBTi have to include total value chain emissions across Scope 1, 2 and 3 categories, and also include pathways to getting to net zero emissions by 2050, including methods of offsetting any residual emissions. 
Disparities in climate targets and approaches to achieving them can distort the integrity of sustainability indices and portfolios. By understanding how they compare to peers and by adopting industry best practices, companies can improve their data gathering and disclosure, overcoming gaps in their reporting. 
Improved data gathering and disclosure can help validate companies' climate targets and sustainability goals. By performing a comparative analysis, companies can better formulate their climate action strategies, which in turn can impact their investment and capital spending decisions. This can also minimise the risk of being accused of greenwashing sustainability credentials, as well as providing better and more consistent data to investors.