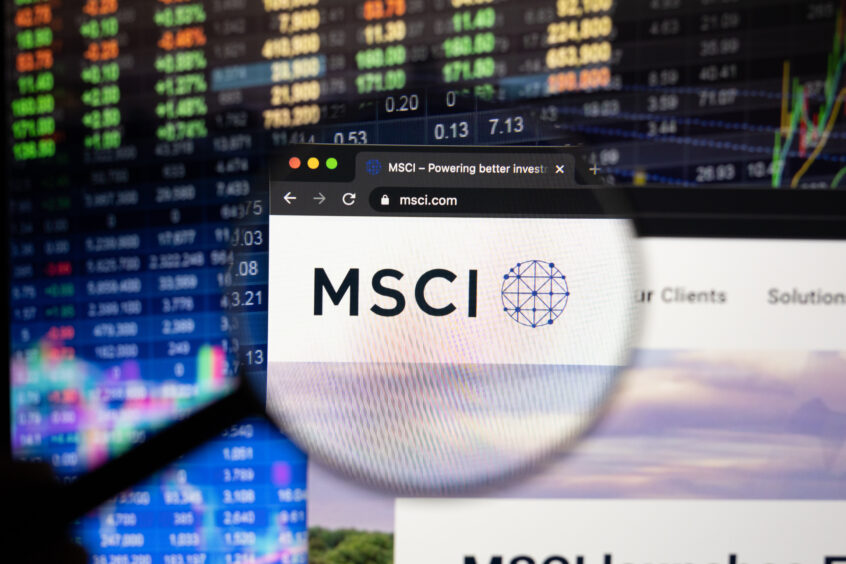 Biodiversity data platform provider NatureAlpha will provide biodiversity disclosures on all of the companies in MSCI's ACWI index, helping investors assess the nature-related risks across a wide range of companies.
NatureAlpha will support MSCI in bringing biodiversity risk assessments to investors.
The data provided by NatureAlpha will cover all of the MSCI ACWI Index, which represents 85% of global investable equities.
Investors, climate action groups and corporates are calling for urgent action on protecting biodiversity, which generates over 50% of global economic value but is rapidly declining due to land use change and overexploitation.
Nature loss and climate change are closely interrelated and neither crisis can be successfully resolved unless both are tackled together. But action on the ground so far has been limited.
A report from the Coalition of Finance Ministers for Climate Action released in June 2022, Bending The Curve of Nature Loss, demonstrated the urgent need for governments and regulators to address nature-related financial risks. 
There are also calls from institutional investors to governments to set policies to reverse nature loss and commit to protecting and restoring biodiversity. For example, members of the Finance for Biodiversity Foundation include 103 financial institutions – representing 19 countries and over €14 trillion in assets – which are also signatories to the Finance for Biodiversity Pledge. 
How does the NatureAlpha platform help investors assess biodiversity risks?
The NatureAlpha platform provides insights on nature and biodiversity loss, by combining satellite-based intelligence with data from a combination of scientific, government, and corporate sources globally. It also includes agreements made in the UN's Convention on Biodiversity, and the International Union for Conservation of Nature (IUCN), which may help inform potential future regulations on biodiversity reporting.
NatureAlpha has identified gaps in the measurement of biodiversity and nature risks at the asset level, which it intends to fill by providing data and analytics based on science-based insights. It combines financial and technological expertise with academic research to help incorporate nature risk into standard capital allocation choices, giving investors the tools necessary to reduce their exposure to nature-related risks, and help their investments become nature-positive.
In addition to providing biodiversity data on all of the companies in its All Country World Index, or MSCI ACWI (NGM:ACWI) Index, NatureAlpha said it will also collaborate with MSCI on research projects. They will also look at developing additional tools and methodologies to measure biodiversity risk, such as a biodiversity footprint metric, which can help investors assess the absolute or relative impact of investments based on advanced lifecycle analysis methodologies.
The ACWI index represents mid- and large-cap listed companies in 23 developed markets and 24 emerging market countries, and has over 2,800 constituents. Providing biodiversity and nature risk data on this universe of companies will give insight into the biodiversity risks affecting 85% of the global investable equity universe.  
MSCI's ambitions for developing biodiversity risk tools
Leveraging its expertise in developing metrics and data related to climate change and environmental, social and governance (ESG) factors, MSCI has recognised the need to develop similar tools to measure biodiversity risk, which is fast becoming material to investors. 
MSCI's research has shown that less than 12% of food product companies and just over 18% of food retailers in its MSCI ACWI Index have disclosed a deforestation policy, with the figure dropping to 3.3% for auto components and to 3.7% for textiles, apparel and luxury goods makers. 
Identifying nature-based commodities that pose a high risk can also be a crucial step in complying with any future biodiversity-based regulations, which will benefit from the data and tools that MSCI plans to offer in combination with NatureAlpha. 
The company announced its intention to develop tools to help investors assess risks from losses in natural capital and biodiversity at COP15 in 2022. It currently provides screening metrics on biodiversity risks which use geospatial data to obtain metrics on specific sites.
Combining with NatureAlpha will also provide companies in the ACWI Index the ability to respond to pressures placed by growing regulatory and reporting demands, including from the Sustainable Finance Disclosure Regulation in the EU, and the evolving Taskforce on Nature-related Financial Disclosures.
MSCI can also boost its own ESG metrics and analytics offering by combining NatureAlpha's Integrated Biodiversity Assessment Tool, which provides access to integrated global biodiversity data from the IUCN, the World Database on Protected Areas, and the World Database of Key Biodiversity Areas.
Why do we need biodiversity and water risk assessment tools?
According to the World Economic Forum (WEF), over half of the world's GDP, an estimated $44 trillion, is dependent on biodiversity and natural capital. The WEF has also identified an annual economic opportunity worth $10 trillion, capable of generating 395 million jobs, by 2030 that could result from swift action to stall biodiversity loss.
Meanwhile, a case study using methodology developed by the WWF and sustainable finance think tank Climate & Company found that most of the companies in a broad market portfolio have medium to high exposure to biodiversity-related risks. The portfolio was constructed from a sample of over 600 listed companies in the MSCI ACWI and included 24 of the 25 WWF Risk Filter industry sectors.
By combining their expertise, NatureAlpha and MSCI intend to enable investors in providing credible disclosures relating to biodiversity, backed by verifiable data. This can contribute to restoring nature loss globally, addressing the calls for action by countries and investors.