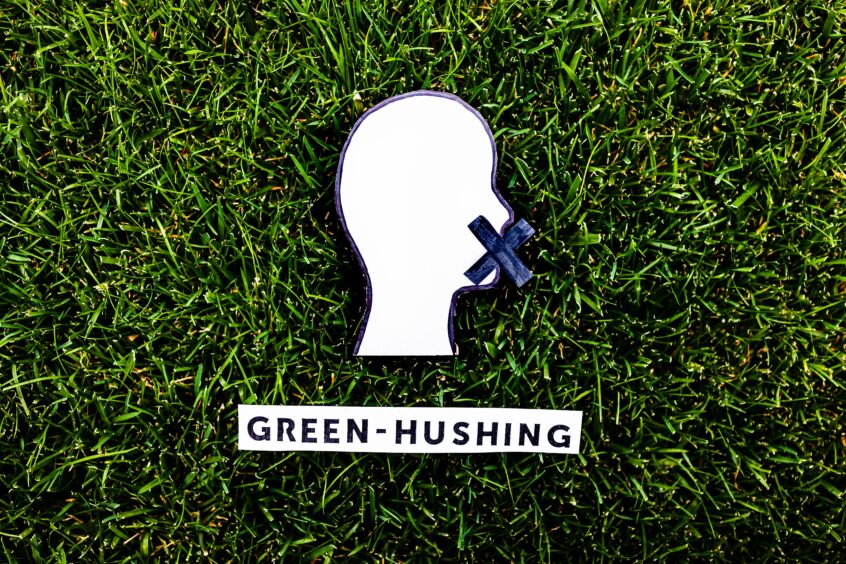 While the market is waking up to the dangers of greenwash, concerns about being misunderstood are leading to an increase in what carbon finance consultancy South Pole has dubbed 'greenhushing'. This is where companies are taking action, but refusing to talk about it. While it definitely avoids the risk of greenwashing accusations, it could have an insidious effect.
Greenhushing is where companies fail to disclose their sustainability targets, progress and achievements.
It is a concern because it gives the impression that companies are not taking action, undercutting the message about the need for urgent action.
Failing to communicate lessons learned on the net zero journey means that the economy as a whole continues to struggle with best practices.
There is an unquestionable challenge for many companies as they begin to move towards net zero: honest conversations about these challenges are essential as greenwash persists and litigation is on the rise. Accusations of greenwash can be very damaging, reputationally and financially – as the term net zero grew in mainstream popularity, many chief executives made grand statements about their net zero plans, only to falter as they realised the complexity of what they were trying to achieve.
In 2022, South Pole's annual Net Zero report found that more global companies are supporting their net zero commitments with science-based targets, yet surprisingly nearly a quarter of the 1,200 companies surveyed said that they had no plans to talk about them. South Pole analysis has consistently found that companies are being driven to set net zero targets because of consumer demand for low-carbon goods and services, as well as the opportunity to show brand leadership.
The report showed continued growth in corporate ambition, with 75% of companies surveyed having increased their net zero budgets since December 2021. Many also said they were increasing their in-house capacity by hiring new staff and upskilling their sustainability teams rather than using external consultants. 
Yet, the growing reluctance to talk about their goals and how to achieve them is a concern. As Renat Heuberger, chief executive of South Pole, said: "This means many companies with robust targets are going green and then going dark." So what could be driving this silence?
Why are companies 'greenhushing'?
Fear of being accused of greenwash, of not being able or willing to achieve the targets initially set, is a clear issue for many. The trouble with setting out a grand vision for what the company is going to achieve is that, once the actual operational work starts to happen, things can become a lot more complicated. In fact, the report said that around a third of companies admitted to finding the achievement of their goals more difficult than expected.
Recently, Crocs (NASDAQ:CROX) received backlash for moving its net zero target from 2030 to 2040. Although the company acknowledged that its initial goal was "neither vast nor fast enough", it said that the ambition has been pushed out of reach by two things:  the completed review of its baseline emissions and its acquisition of HEYDUDE.
This flags up two challenges – the fact that many companies' emissions reduction plans are reliant on emissions reductions in other sectors (for example energy, commodity supply, water etc), and the fact that science-based targets under the SBTi require a continuous reduction in absolute emissions.
Crocs found, after measuring its baseline, that its emissions were far higher than initial estimates. In itself, this would have made achieving its 2030 goals a challenge. Include the acquisition of HEYDUDE, however, and the implementation of an SBTi target seems impossible.
SBTi targets require a reduction in absolute emissions – an impossibility if a company grows or makes an acquisition and enlarges its overall footprint. This means that the only effective measure of performance would be relative emissions, which are not allowed under the SBTi. In fact, year-on-year, Croc's total emissions increased by 45.5%, or 244,737 tonnes of CO2 equivalent in the year 2021-2022. Of the 782,774 tonnes released in 2022, at least 193,000 could be directly attributed to the acquisition.
The problem with greenhushing
The challenge with companies remaining silent on their targets and progress is that doing so makes corporate climate targets harder to scrutinise and limits knowledge-sharing on decarbonisation. This, in turn, potentially leads to less ambitious targets being set, as well as missed opportunities for industries to collaborate. 
At the same time, it sends an overall message that companies are not taking action with the ambition and speed required to reach the Paris climate targets. As Hueberger said: "More than ever we need the companies making progress on sustainability to inspire their peers to make a start. This is impossible if progress is happening in silence."
While the avoidance of greenwash is laudable, it is predominantly a problem of misrepresentation. Companies setting targets and being transparent about the challenges they face and the ways in which they address them is part of an inspirational agenda that sees knowledge and information sharing as key to success.
One of the big changes that has taken place in the last couple of years is that, while net zero may still provide an opportunity to differentiate and be brand driven, there is a growing recognition of the need for resilience. Weaknesses in the supply chain and an awareness that no sector exists in isolation are underscoring the fact that, without collaboration, net zero cannot be achieved.
There is continuing growth in mandatory requirements for reporting, but failure to publicise where companies are going beyond what's mandated means that the market doesn't really know what's happening and where the challenges lie, failing to provide an opportunity to learn.
Managing the greenhushing/greenwashing conundrum
It's understandable that companies would want to avoid the risk of greenwashing accusations. Openness about sustainability plans can lead to criticism, but it also opens up an opportunity for discussion. Where companies don't have confidence that they will achieve their goals, they need to be more transparent, not less. It's time to be clear about the challenges being faced, because they are affecting companies of all sizes.
Decarbonisation is hard, especially when Scope 3 emissions are so dependent on influence – many companies may have set targets before really understanding what meeting them requires. There are massive challenges around data and transforming business operations was never going to be an easy task.
The rate of change is accelerating, whether in terms of disclosure requirements, public expectations, regulatory frameworks, available technologies etc and it's difficult to know what challenges will arise. What matters is to set out on a journey and be open about what that looks like, and where you stand.
Managing corporate risk is an essential element of every business and while avoiding greenwash plays an important role, refusing to release data on performance risks looking, at best, as if the business isn't taking sustainability seriously. At worst it can look as if it is trying to avoid scrutiny.
What will be critical in the coming years is clarity and communication – admit that a plan isn't perfect but that it's a work in progress. Work with partners that understand the journey and help build a public framework where it's recognised that sustainable business will not be built overnight.
We talk about transition in the energy sector, but there is a transition happening in all markets as the disruption from climate change, conflict, AI, inflation and many other interconnected challenges begin to bite. Sustainability is about fundamental business transformation, and that takes time, effort and collaboration. And staying quiet isn't helping anyone.