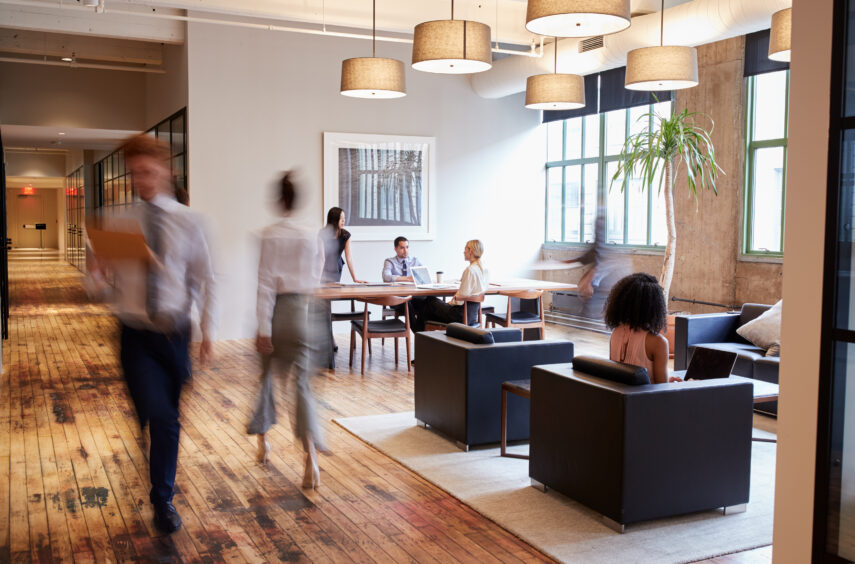 Honeywell (NASDAQ:HON) has released the fourth edition of its quarterly Environmental Sustainability Index with a focus on manufacturing and energy companies.
The report found that 82% of US business leaders in the manufacturing and energy sectors are confident in meeting new sustainability disclosure requirements. 
The Net-Zero Standard requires companies to set long-term targets to cut their emissions by 2050, with the majority of them aiming to reach net zero within the next two decades.
It could prove difficult, however, for companies to reach their goals without a realistic budget and an actionable plan in place. 
Honeywell, which makes equipment for aircraft, buildings, manufacturing plants, supply chains, released the fourth edition of its quarterly Environmental Sustainability Index. As scrutiny over companies' plans to address climate change intensifies, the report revealed that 82% of business leaders in the US are confident in meeting new sustainability disclosure requirements. 
Transparency in corporate sustainability reporting 
Businesses across the globe are committing to reduce their emissions, with the majority of them aiming to reach net zero within the next two decades. Honeywell's quarterly report, which is based on surveying 751 business, technology and sustainability professionals in manufacturing and energy sectors and who are directly involved in creating sustainability goals and initiatives, indicated that sustainability has become the number one priority, outpacing financial performance, market growth and workforce development. 
Evan van Hook, chief sustainability officer at Honeywell, said: "The latest Environmental Sustainability Index confirms that large global companies are continuing to stay on pace and invest in technology and staff to achieve their environmental sustainability goals. Sustainability is top of mind for leadership, and they are activating top-level staff to increase involvement and traction toward goals."
An encouraging but slow progress
It is encouraging to see companies be confident in their sustainability commitment and make better-informed plans to reach net zero. It is important to note, however, that setting realistic goals remains a crucial part of any company striving to meet them. 
Honeywell's latest report revealed that only 38% of the companies surveyed dedicated a tailored team, or a centralised person, to meet their sustainability goals. While efforts to address their impact in contributing to climate change are laudable, there is still a discrepancy between commitment versus actions; and targets still remain aspirational.
For example, Amazon released its 2022 Sustainability Report, announcing that it managed to decouple growth from its carbon footprint, as absolute CO2 emissions dipped 0.4% while net sales rose 9% to $513.9 billion between 2021 and 2022. An important achievement, yet the report highlights how challenging the task at hand is, and that even companies as resourceful as Amazon are making slow progress.
Major global footwear brand Crocs is another perfect example of why corporate targets risk being unattainable without a solid and realistic plan in place. The company amended its target of achieving net zero by 2030, pushing the deadline back until 2040 after acquiring HEYDUDE and completing a review of its baseline emissions. While transparency is one step closer to the end goal, the pushback raised questions regarding the credibility of corporate climate commitments. 
A 2016 study on corporate sustainability reporting (CSR) found that less than 1% of reporting companies took into consideration environmental goals when developing products. It is also worth noting that there are no agreed-upon standards on CSR just yet, such as the Securities and Exchange Commission (SEC) for financial reporting in the US. 
The SEC was set to release guidelines in October 2022 mandating companies to divulge risks that could have a significant influence on their business, financial condition, or operational outcomes. Moreover, the proposed disclosure rules by the SEC would necessitate businesses to furnish information concerning their direct greenhouse gas emissions, Scope 1, and indirect emissions stemming from purchased electricity or alternative energy sources, Scope 2. 
Additionally, specific categories of greenhouse gas emissions originating from activities upstream and downstream in the company's value chain, Scope 3, would also be required to be disclosed. Criticism about some aspects of the proposal including the Scope 3 disclosures and its definition, the SEC pushed back on the timeline for the final disclosure rules. 
ESG disclosure still lower than sustainability reporting
A July ESG Book analysis revealed that ESG disclosures remain low despite a rise in sustainability reporting. European companies are leading in sustainability performance, with France scoring an average ESG of 54.9 out of 100 per the ESG Book scoring, which uses a variety of sources including regulatory filings, company reports and third-party databases. However, the report found these same companies aren't committed to the same level in their sustainability reporting. 
Dr Daniel Klier, ESG Book's executive chief, said: "We are transitioning from a world of simplistic and opaque ratings to an increasingly more advanced sustainability data landscape, and moving on from the past when a single score would be used to explain how a company is performing on ESG and climate issues."
According to the ESG Book, the scoring method was designed as a response to the challenges surrounding sustainability ratings and the lack of standardisation by providing an in-depth, real-time assessment of corporate sustainability on performance and disclosure. 
SGV Take
While leaders are finally prioritising their companies' plans to reach net zero and are setting their targets, it's important for them to also set aside a realistic budget in order to meet these goals, which includes appointing the right people to do so. Target-setting needs to be followed by the establishment of actionable, realistic plans to transform the business with interim goals and setting a timeline. For example, companies should not pledge to achieve net zero by 2050 without having first assessed what can and cannot be done, or mostly relying on unproven technologies to get there.
In addition to the lack of consensus on aligning transition planning with corporate growth, the realisation of a sustainable future faces challenges from systemic limitations, such as inadequate policy frameworks, short-term profit-driven mindsets, and the complex interplay between economic, social, and environmental factors that demand comprehensive, interconnected solutions – which are all challenges that business leaders need to grapple with.