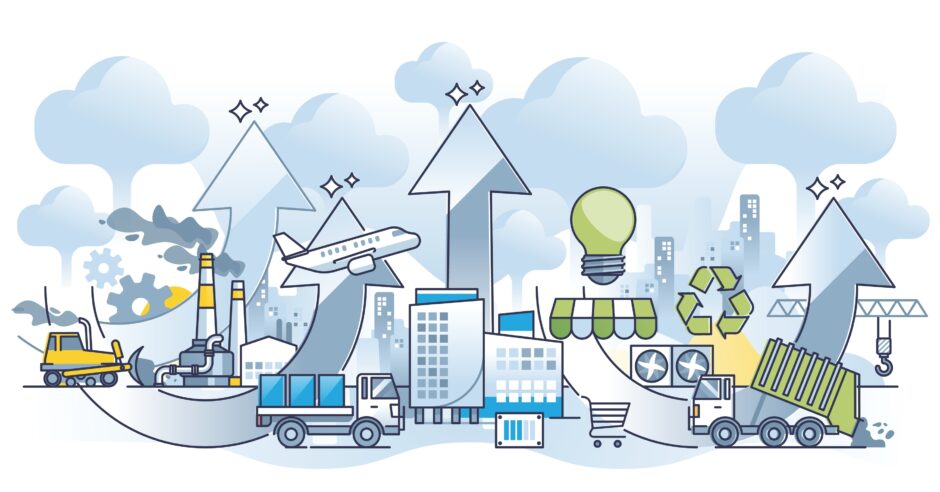 In carbon accounting, there are three different categories, or Scopes, which define the sources and activities that are counted. Here, we explore this terminology and explain why it matters in practice. 
Scope 1 emissions come from sources that are directly controlled by the entity in question, such as vehicles, radiators or dishwashers.

 

Scope 2 emissions are generated during the production of energy that the entity goes on to consume. 

 

Scope 3 emissions are not directly linked to the entity but to its upstream and downstream activity. Examples include the emissions of a company's suppliers or those released when their product is used.

 
Now more than ever, companies are being asked to reduce and report on their emissions of greenhouse gas. In order to do so effectively, they must first be able to determine where and how much they emit. 
In today's lexicon, emissions are categorised under three different Scopes. While this may seem annoyingly complex, their distinction allows us to clarify the sources and activities we seek to address. With this terminology, we can determine what is being counted and develop effective strategies that can be clearly communicated with relevant parties. 
Scope 1 emissions:
Scope 1 emissions come from sources that are owned or controlled by the entity in question. Also known as direct emissions, these are typically considered the easiest Scope to address. 
Potential sources of Scope 1 emissions include boilers, generators and vehicles, each of which relies on the combustion of fossil fuels. Fugitive emissions, such as the refrigerants leaked during heating or cooling, would also come under this category. Finally, Scope 1 would encompass the emissions of onsite industrial processes like cleaning or manufacturing. 
As these sources are directly controlled by the entity, their emissions will fluctuate in proportion to its daily activity. For example, a business may choose to warm up its premises in order to welcome its customers. As it ramps up its boiler, its Scope 1 emissions would steadily rise. If it cuts down on fuel-guzzling transport, they would then begin to decline. 
Scope 2 emissions:
Scope 2 refers to the emissions that are acquired through the purchase of energy. Rather than being generated by the entity itself, they are released by the utilities from which it sources its electricity, steam or heat.  
The sources of Scope 2 emissions are controlled by third-party companies before being bought by organisations and individuals. If a company wishes to address its Scope 2, it must therefore rely on its purchasing power. By opting into a greener contract, requiring its provider to use renewable sources, it can drastically alter its impact. 
Scope 3 emissions:
Scope 3 emissions are neither owned nor controlled by the entity itself, but come as a result of its activities. Also referred to as value chain emissions, this category covers everything from the operations of upstream suppliers to the use and disposal of a company's products or services. 
The calculation and reduction of Scope 3 emissions is particularly difficult, as it relies on engagement with external parties. Each party must be able to provide accurate data on their own activities, and willing to collaborate in order to lessen their impact. 
Given that Scope 3 emissions account for around 75% of the average organisation's overall footprint, their complex nature does not excuse lack of effort. With effective measures in place, it is Scope 3 reductions that can deliver the most significant difference. 
Why do Scope 1, 2 and 3 matter in practice?
These three different Scopes are globally recognised, forming a key component of every reporting framework. Companies are increasingly expected to measure their emissions across each of these categories before disclosing their findings and pursuing effective solutions. 
Though this may seem like a daunting exercise, the categorisation of different emissions is ultimately of great use to businesses.  
When setting targets, it can improve their understanding of what must be done. When developing strategies, it can help them to see where measures are needed. When making claims or sharing their progress, it allows them to be clearer about their achievements. This could help them to avoid accusations of greenwashing while remaining compliant with the changing expectations of relevant stakeholders. 
Such transparency is crucial in holding businesses to account for their actions. Investors can base their decisions on a company's alignment with global goals, and regulators can see where further action ought to be taken. Without the three different Scopes, this entire system would crumble without its structure.