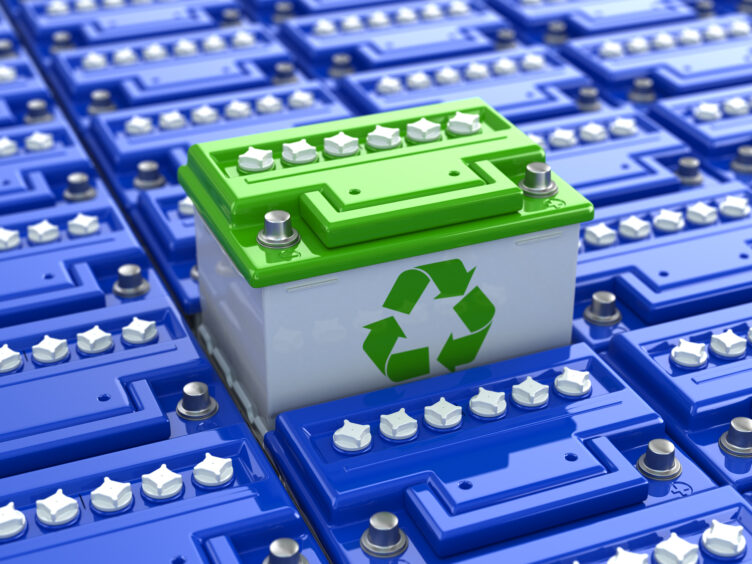 Toyota and Redwood join forces to develop sustainable EV battery recycling ecosystem
The US arm of Japanese automotive giant Toyota (LON:TM) has announced plans for a new electric vehicle (EV) battery ecosystem, working with Redwood Materials, a materials innovation company set up by former Tesla (NYSE:TSLA) co-founder J B Straubel.
The growing focus on developing circular supply chains may prove a competitive advantage, tackling waste and supply chain constrictions at the same time.
As part of its sustainability and net zero 2050 commitments, Toyota Motor North America (Toyota) is exploring how to create a sustainable, closed-loop battery ecosystem for its electrified powertrains.
EV battery recycling part of a sustainable future
Scaling production of EVs, increasingly from locally sourced recycled materials, is likely to be the only effective way to create a circular, and therefore sustainable and secure, supply chain to meet the US' electrification plans.
While a spokesman for Redwood Materials said the company recognises that such a future is a few years away, the pathway to achieving this needs to be built today.
The collaboration will focus not only on the collection, testing and recycling of batteries into raw materials to create a sustainable supply chain, but also aims to develop second-life opportunities for remanufactured and repurposed Toyota hybrid EV batteries by leveraging battery health screening tools and empowering data from its vehicles.
In a statement the company said its commitment was a continuation of its mission since the launch of one of the first mainstream EVs, the Prius, more than 20 years ago.
Increase in electric vehicle production hampered by battery costs
The high price of batteries has been a major roadblock in the widespread adoption of EVs, with battery costs predicted to increase in 2022 for the first time in a decade.
At the same time, the materials required for the manufacture of EV batteries are only available in certain parts of the world. Increasing demand for battery components made from lithium, cobalt, nickel and other metals have sent prices through the roof.
Quite apart from price, concerns have been raised that the transition to EVs is going to simply shift one form of geopolitical energy dependence, fossil fuels, to another, rare earth metals, with Russia, Indonesia, even the DRC, being key sources for base materials.
Lithium-ion batteries are the most common today and while the world's largest sources of lithium are in Australia and Chile, China has over half the world's capacity for refining into battery chemicals.
High prices combined with supply chain challenges have driven concerns about the cost curve of batteries and EVs. In a recent interview Elon Musk said that supply chain problems from Covid shutdowns to material supplies are costing Tesla's battery gigafactories' in Texas and Germany billions.
Toyota lose profits on electric vehicle battery shortage
Toyota has already warned that supply chain challenges around semi-conductors will have an impact on overall automotive production this year, and the company is trying to hedge against material bottlenecks in the future.
The initial collaboration will focus on the collection, testing and recycling of Toyota hybrid EV batteries at Redwood Materials Nevada facility. The companies will then look to expand into other areas such as battery health screening and data management, remanufacturing and battery material production and supply.
Redwood Materials already offers large-scale sources of domestic anode and cathode materials produced from recycled batteries, and to date has also announced deals with Ford and Volvo to deal with end-of-life batteries in California.
Increased EV battery production for Toyota in the US
In terms of EVs, Toyota's production plans include new and increased automotive battery production in the United States. Toyota recently announced an investment of $1.29 billion in a new North American battery plant, Toyota Battery Manufacturing, North Carolina (TBMNC).
When completed, TBMNC is expected to produce battery packs for 1.2 million EVs per year and there are reports that Redwood Materials intends to build a battery materials campus near the factory. Overall, Toyota expects to sell 8 million EVs per year globally by 2030 and has said it will invest $70 billion in their development.
Today the company already processes over 6 GWh of end-of-life batters for recycling, which are then refined and remanufactured into critical battery materials.
The company plans to ramp production of anode and cathode components in the US to 100 GWh annually by 2025, enough to produce more than 1 million EVs a year.
Its second facility at the Toyota campus could see the production goal increased to 500 GWh by 2030, which could potentially supply 5 million EVs per year.