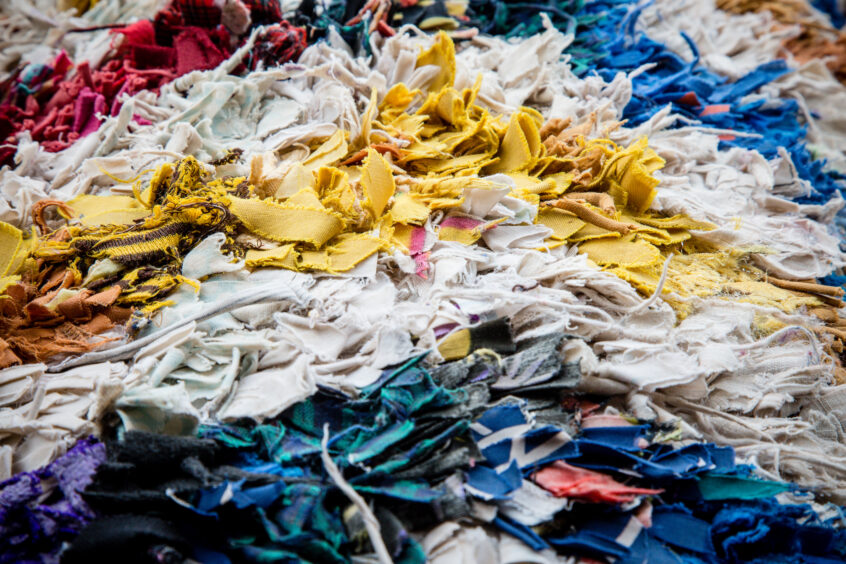 Spanish fashion retailer Mango has invested in textile resale startup Recovo as part of its contributions to a circular fashion economy. 
Recovo's marketplace connects companies and designers that are buying or selling surplus textiles.

 

The fashion industry accounts for around 10% of global pollution, with the majority of what it produces being landfilled or incinerated.

 

Circular business models will continue to emerge within the fashion industry, as companies face increasing pressure to become more sustainable while also driving profits.
US-based Recovo has created a resale platform for textile, yarn and production material waste. It will now join the Mango StartUp Studio accelerator programme and secure financial investment in the form of a convertible equity loan.  
Recovo's textile resale platform
Recovo helps companies and designers to lengthen the lifecycle of textile waste, thereby reducing its environmental impact. Its current range includes natural, recycled, organic, premium and deadstock fabrics for a range of different use cases. 
By providing a direct connection between buyers and sellers of surplus materials, Recovo aims to establish a transparent marketplace that can mobilise the fashion industry's transition towards circularity. The latest support from Mango will help the startup bring its platform to scale. 
Gonzalo Sáenz Escudero, Recovo's co-founder and chief marketing officer, said: "Partnerships like this drive new business models like ours. They will help us spread our movement and scale our business model. They will also inspire other brands to join our platform. Our environmental impact is directly related with our business activity, therefore we believe that by having this support we will be able to leave a bigger impact on the planet."   
The fashion industry's waste problem
The fashion sector is the second most polluting industry after aviation, accounting for around 10% of the world's pollution. Natural fibre production requires vast amounts of land, water, fertilisers and pesticides, while the manufacturing of synthetic materials relies on energy-intensive processes and high volumes of fossil fuel-derived feedstocks. 
Overall, textile production consumes around 98 million tons of non-renewable resources each year, including the 200 million trees that are annually logged for conversion into cellulosic fabric and the 59.7 million tonnes of oil that was turned into synthetic fibres in 2020 alone.  
Despite their significant resource consumption, the vast majority of textiles produced end up being wasted. Around 80% of used clothing is downcycled, exported or landfilled, while research suggests that textile waste during manufacturing is as high as 25%. This is primarily due to factory inefficiencies and incorrect demand projections, which result in scrap material being left on cutting room floors and the incineration or landfill of unsold clothing. 
With the emergence of fast fashion leading to an increase in the number of styles and collections of clothing available at rapidly declining prices, the industry's environmental impact becomes even more concerning. 
Indeed, the fashion sector is expected to grow by around 49% between 2016 and 2030, potentially resulting in an industry that generates 5,945 million metric tons of CO2 equivalent per year. The 62 million tonnes of textiles consumed each year is expected to reach 102 million tonnes by 2030, corresponding with a 63% increase in textile waste. 
The fashion industry is under pressure
According to McKinsey's State of Fashion 2022 report, the fashion industry is feeling pressure to become more sustainable. Its survey analysis revealed that sustainability was among the top three concerns of fashion sector executives, and that 60% of its respondents had already invested or planned to invest in closed-loop recycling by 2023. 
Fashion companies are under pressure from multiple angles, as consumers are demanding more sustainable products while governments are introducing stricter legislation that will increase their exposure to regulatory risks.  
The EU, for example, is currently working on ecodesign requirements and a strategy for sustainable and circular textiles. In the UK, meanwhile, many of the themes and provisions of the EU's Circular Economy Package have already been transposed into regional policy frameworks. 
Circular business models offer an economic incentive
Circular business models could help the fashion industry not only by reducing its exposure to reputational or regulatory risks, but also by providing economic opportunities. With research suggesting that around $500 billion is sacrificed every year due to clothes being disposed of without even being sold, the Ellen MacArthur Foundation projects that circular business models within the fashion sector could create a $700 billion opportunity by 2030. 
Such business models are those which enable resources to circulate within the economy while maintaining their maximum value, effectively decoupling revenue streams from continuous production and resource extraction. 
Several major fashion companies are already taking advantage of circular opportunities. H&M (STO:HMB) has introduced its circular denim line and product design portal, while both Inditex's (BME:ITX) Zara and SHEIN have recently launched platforms for buying and selling second-hand clothes. 
Expanding circularity through collaboration
Mango's investment in Recovo follows an ongoing trend within the fashion industry. As businesses realise the potential opportunities of circular business models, this trend is likely to continue. 
For the fashion industry to become truly circular, it must engage all of its stakeholders in a systemic transformation. While the resale of used clothing provides a second contact point with consumers, there must also be collaboration between manufacturers and retailers. By creating a secondary textile marketplace for companies and designers, Recovo's platform serves as an example of how such collaboration can be realised.