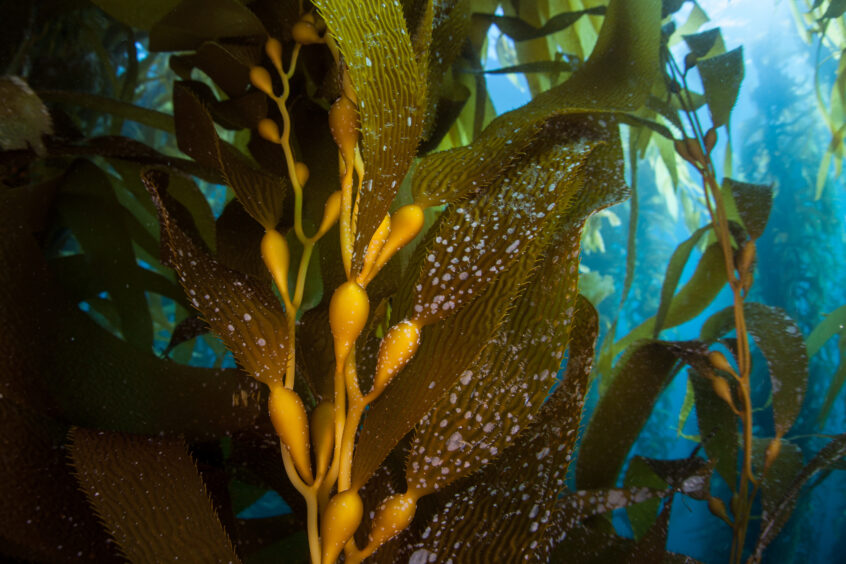 Canadian mining company Teck Resources (NYSE:TECK) has partnered with Ocean Regenerative Aquaculture (ORA) to study how seaweed can be used to enhance tree growth, forest health and carbon sequestration. 
Teck Resources will assess whether ORA's seaweed derived-biostimulants can contribute to its land reclamation strategy.

 

Mining causes severe disruption to its surrounding environment, lowering the quality of local soils and making it difficult to restore natural ecosystems.

 

The mining industry will have to explore a range of sustainable solutions if it is to become more sustainable while simultaneously scaling to accommodate the increasing demand for critical minerals.

 
The partners will explore the effectiveness of using seaweed-derived extracts to stimulate the growth of native tree species on Teck's former mining sites in Canada. The project is intended to accelerate Teck's land reclamation efforts, while also demonstrating the potential for enhanced durability, resilience and carbon sequestration in reforested areas. 
According to Teck's chief executive, Jonathan Price: "This unique research project supports Teck's efforts to become nature positive and contribute to tackling the global challenges of nature loss and climate change. We're looking forward to working with Ocean Regenerative to advance this innovative initiative using seaweed to accelerate reclamation and carbon sequestration."  
"Teck and Ocean Regenerative are working with nature to create the opportunity for marine and land-based forests to thrive through innovative, human-assisted symbiosis. This project will demonstrate that ecosystem regeneration can be achieved and scaled to create healthier, faster growing terrestrial forests that result in enhanced long-term carbon sequestration through a nature positive solution", added David Parker, chief executive of ORA. 
Seaweed biostimulants to improve tree growth
ORA works alongside indigenous communities, research institutions and conservation organisations to sustainably harvest, cultivate and regenerate giant kelp forests. This type of seaweed grows by up to 60cm per day, capturing large quantities of CO2 faster than any other kelp species. 
Unless giant kelp is harvested, the carbon it sequesters is released back into the ocean at the end of its annual lifecycle. ORA disrupts this carbon cycle by using seaweed to produce a range of extracts that contain high amounts of nutrients and unique plant compounds. 
It then uses the extracts to make products such as biostimulants. When applied, these biostimulants help plants to grow at a faster rate while increasing their resilience to both biotic and abiotic stress factors. Biotic stressors are those which occur due to other living organisms, such as viruses, fungi, insects or weeds, while abiotic stress factors include damage done by non-living organisms such as drought, salinity, extreme temperatures or heavy metal toxicity. 
The biostimulants also have a positive effect on soil health, thereby increasing its capacity for carbon sequestration. As such, the carbon that the seaweed would have released naturally is captured within the biosphere. 
The impact of mining on surrounding land
As well as being a highly emissions-intensive industry, mining activities involve substantial disruption of the surrounding environment. It is a significant contributor to deforestation, and is considered one of the main threats to boreal forests around the world. In Canada, the mining, oil and gas industries were responsible for 15,115 hectares of deforestation in 2019 alone. 
Vegetation is cleared to make way not only for mines themselves, but also for transport routes, facilities to accommodate a local workforce and the creation of dams to store the toxic products of mineral extraction. As mineral deposits are often located in high biodiversity areas, this land fragmentation has an even greater impact on local ecosystems. 
Wildlife is displaced by habitat loss, while acid mine drainage reduces fresh water supplies and increases the acidity and salinity of surrounding soils. New plant life struggles to grow on such unhealthy soils, which are also limited in their natural capacity to sequester CO2. This means that any attempts to reclaim former mining land through reforestation face a significant challenge. 
Teck Resources' land reclamation strategy
Teck has acknowledged biodiversity loss as being a significant risk to businesses, governments and civil society. The company also recognises that the protection, conservation and restoration of nature are critical in addressing climate change. 
As such, Teck has set a target of creating a net positive biodiversity impact across all of its operating sites by 2025. It says it will do this by conserving or rehabilitating at least three hectares of land for each hectare affected by its activities.  
At the end of 2021, the firm stated that 6,126 hectares had been successfully reclaimed, leaving 28,026 hectares to go. Although there is much work to be done, Teck appears to have developed a rounded strategy for how it will be managed. 
Its process involves conducting social, environmental, regulatory and archaeological assessments prior to beginning its mining, as well as consulting with local communities to gain an understanding of the land's traditional use and natural ecosystem. When mining in the area is complete, it replaces the removed soil and adds organic materials to improve their quality, before planting new vegetation that is best suited for that specific location. 
Teck's partnership with ORA is expected to enhance this process, enabling biodiverse ecosystems to emerge from land that had previously been destroyed. 
The mining industry must develop sustainable management strategies
Mining companies are facing increasing pressure to address the environmental impacts of their operations. The upcoming COP15 meeting in December 2022, for example, is expected to result in the finalisation of a Global Biodiversity Framework that serves as the basis for setting strict national targets. The ongoing development of the Taskforce on Nature-related Financial Disclosures, meanwhile, will require companies to disclose their nature-related risks, impacts and dependencies transparently. 
At the same time, the mining sector must rapidly scale its activities in support of the global energy transition. The International Energy Agency has said that mineral supplies must increase by around six times in order to achieve net zero by 2050. 
The development of land reclamation strategies will be crucial in enabling the mining industry to navigate the contradiction between sustainability and mineral demand. Teck's partnership with ORA is one example of the many emerging solutions that must be developed.