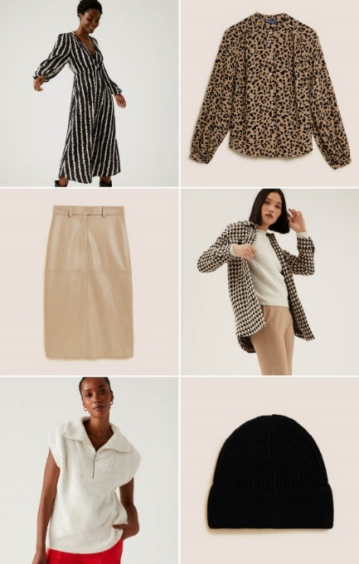 Marks & Spencer (LON:MKS) has launched a new rental collection on Hirestreet. Each capsule can be styled in several outfits, including informal and everyday garments, with prices starting at £39.
M&S is expanding its partnership with rental platform Hirestreet to include capsule collections.
Renting clothes is one way for consumers to keep up with the latest trends without buying fast fashion.
This initiative may introduce clothing rentals to new segments of the population, as M&S is a well-trusted brand across the UK.
Focus on everyday outfits
Following a trial with the summer range, Hirestreet is now providing a 78-piece AW22 collection of M&S brands. Five, six or seven-piece capsules are available to rent for up to 30 days with prices starting at £39. Each capsule can be styled in up to ten separate outfits. The offering includes jeans, footwear and accessories, after M&S research found that 1 in 6 consumers want to try rental for everyday clothing.
The retailer first started trialling the service with Hirestreet, which is operated by the Zoa Group, in November 2021. M&S invested in Zoa through its Founders Factory joint venture accelerator programme.
The partnership is part of M&S's commitment to driving the circular economy. The group has pledged to cut emissions by a third by 2025 and more than half by 2030, as well as becoming a Scope 3 net zero business by 2040.
Renting clothes prolongs their lifespan
Consumers have historically turned to rentals to try designer clothes that would otherwise be too expensive, or for special occasions in order to save money on items that may only be worn once. This type of service is becoming increasingly popular as more people focus on adopting more sustainable practices in their daily lives.
This is particularly true among the younger generations, who are becoming a major driving force for the retail sector. A 2021 study by Washington State University found that Gen Z consumers are interested in renting clothes to reduce overconsumption.
One of the pioneers in the space was Rent the Runway (NASDAQ:RENT), which launched in the US in 2009 and is now valued at $125 million. There is a plethora of other companies dedicated to rentals, such as Cocoon Club and Rotaro, and peer-to-peer services such as Hurr Collective and By Rotation. Heritage retailers such as John Lewis and Selfridges have also launched rental offerings to improve their sustainability credentials and increase their competitiveness as the industry evolves. 
With the rise of fast fashion, the environmental impact of the sector has grown exponentially to account for around 10% of the world's pollution. Clothing production doubled to 100 billion garments between 2000 and 2014 and the average person bought 60% more items in 2014 than in 2000, but kept them for half as long, according to Greenpeace.
As such, renting clothes seems a viable solution for individuals to refresh their wardrobes without contributing to textile waste. The practice, however, was thrown into doubt by a study published in the Environmental Research journal in 2021. 
Researchers argued that renting a pair of jeans resulted in more emissions than buying them and throwing them away. The analysis, which was based on a real business in Finland, assumed that renters had to drive two kilometres in a private car to collect the jeans. Industry insiders said this was not commonplace in businesses based in other countries, such as the UK. Moreover, the Finnish study focused exclusively on carbon emissions at the consumer level, without taking into account other environmental impacts of fashion such as land use, water usage and dye pollution.
Shortly after it was published, Rent the Runway published data collected with third-party consultants Green Story and SgT. They estimated that the company's model had displaced the production of 1.3 million new garments in the decade prior, saving 67 million gallons of water, 98.6 million kWh of energy and 44.2 million pounds of CO2 emissions.
Rolling out rentals to a wider audience
M&S is a well-trusted brand in the UK, with an estimated 30 million customers served each year. Its clothing brand has traditionally attracted people aged 45 and above, although it has been trying to woo a younger customer base.
The company's reach could therefore serve as a further push to introduce clothing rentals to people who never considered them before, but are loyal to the brand. The concept was already introduced to the wider public by media reports on UK celebrities such as TV presenter Holly Willoughby and Carrie Johnson, the former prime minister's wife. Retailers jumping on the bandwagon can further cement positive public opinion.
The cost of living crisis may also play a part in popularising rentals – the Hirestreet offering is relatively affordable, as several outfits can be rented from £39 per capsule for five days. Even though consumers are looking to save money by hiring clothes, they would also adopt a new sustainable practice that can become embedded in their lifestyles.
In the words of Isabella West, founder and chief executive of Hirestreet: "M&S x Hirestreet Capsules are a global first for the rental market – they offer customers the ability to access multiple stylist-curated looks in a sustainable and incredibly affordable way. We are so excited to be working with M&S on this industry-shaping project, we believe it is exactly what is needed to move the UK rental market forward."