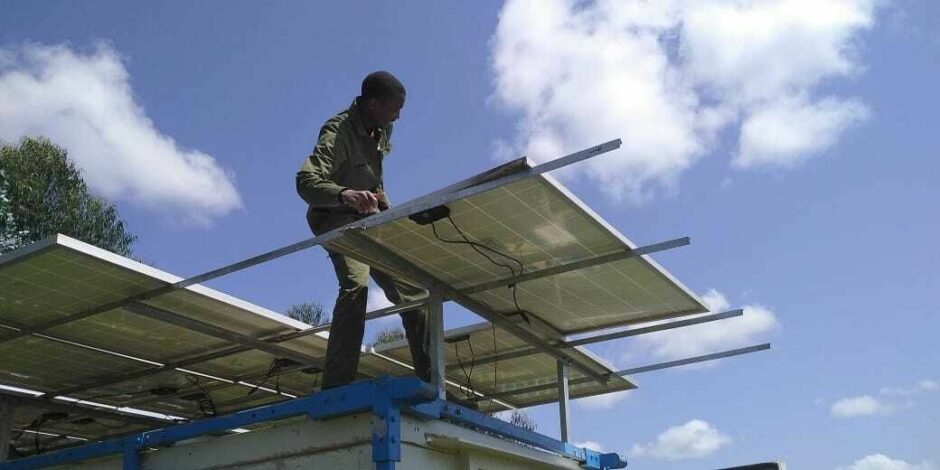 Ashden has recognised eight organisations providing green jobs or climate solutions in its 2022 Awards.
Eight organisations from around the world have won the 2022 Ashden Awards.
They have been selected for the positive social and environmental impact generated in their communities.
Amplifying the voices of those driving the energy transition to foster connections will accelerate progress.
UK charity Ashden has selected eight projects for its 2022 Ashden Awards, intended to accelerate climate innovation by helping organisations maximise their impact in the UK and low-income nations. The winners were celebrated at a ceremony in Nairobi on 27 October and in London on 2 November.

Harriet Lamb, Ashden's chief executive, said: "Ahead of the crucial COP27 climate talks in Egypt, global leaders should sit up, take notice and provide adequate funding to scale up or spread these magnificent examples of creative climate solutions." 
"These innovators, at home and from across the Global South, are stepping up and making a difference to those least responsible for, but most harmed by, the world's multiple crises. They show that climate solutions are huge opportunities, opening doors to jobs and livelihoods and improving people's daily lives.  
Summer 2050 weather forecast 
The London ceremony was presented by British Broadcaster and meteorologist Laura Tobin, who has called for action to prevent runaway climate change in a weather forecast video for summer 2050. She said that, without measures to address climate change, the UK will see temperatures rising to 45°C in the summer of 2050, with wildfires and low water supplies with intense droughts across many other parts of the world.                    
The winners
The Award for Energising Refugee Livelihoods went to Kakuma Ventures, based in the Kakuma refugee camp in Kenya. Founded by refugee Innocent Tshilombo, it provides residents of the camp with solar-powered internet connection. Entrepreneurs across the camp can set up and manage WiFi hotspots in their areas. Over 1,500 people gained access to the internet, some of which were first-time users, which has supported them in their studies or in their trade, for example by selling products online.
Another Kenya-based company, SokoFresh, won the Award for Energising Agriculture. The company makes solar-powered cold rooms for smallholder farmers, helping them cut waste and bring higher-quality products to market. This has raised farmer incomes by up to 20%, with growers seeing just 1% of their fruit rejected by buyers compared to half in the past. SokoFresh also offers services, such as farmer training on best practices. Which have created over 1,685 seasonal jobs in rural Kenya in the past two years alone.
Two companies stood out for the Award for Energy Access Skills and were crowned as joint winners. Togo-based Energy Generation provides training to future entrepreneurs, with a focus on empowering women. It has designed a two-year course blending engineering and business skills, which can be accessed with grants. It also offers shorter courses for solar technology installation.
Joint winner Zonful Energy brings affordable solar power to Zimbabwe's off-grid rural areas. It trains locals on how to install and fix renewable energy systems, as well as business skills such as marketing and finance. Many trainees are hired by Zonful, and those who do not can access an app to find freelance work.
Indonesian company Alam Sehat Lestari (ASRI) received the Award for Natural Climate Solutions. ASRI provides indigenous communities in Indonesian Borneo with alternative jobs to illegal logging. Families have historically paid for healthcare with wood from the rainforest, but many are now using seedlings and manure, which are then used to increase biodiversity. Since ASRI started operating, 90% fewer households are engaging in illegal logging and infant mortality has dropped by 70%.
In England, VECTAR Sets won the Award for Greening All Work. The company makes sustainable paper and cardboard sets for the film industry, which traditionally uses wooden structures, even if it is just for one episode of a TV series. VECTAR's sets are reusable, cheaper to manufacture and faster to assemble compared to the traditional ones, and can reduce the sets' carbon footprint by up to 90%.
B4Box, which is also based in England, received the Award for Low Carbon Skills thanks to its training on retrofits to people living in disadvantaged areas. The project makes homes more energy efficient and fills the skills gap with green jobs.
Finally, Renewable Parts won the Award for Energy Innovation. The Scottish company processes wind turbine components so that they can be reused after being discarded, therefore limiting the environmental impact of the wind industry by decarbonising its supply chain. It works with local schools and has encouraged more young people to take up careers in STEM (science, technology, engineering and maths).