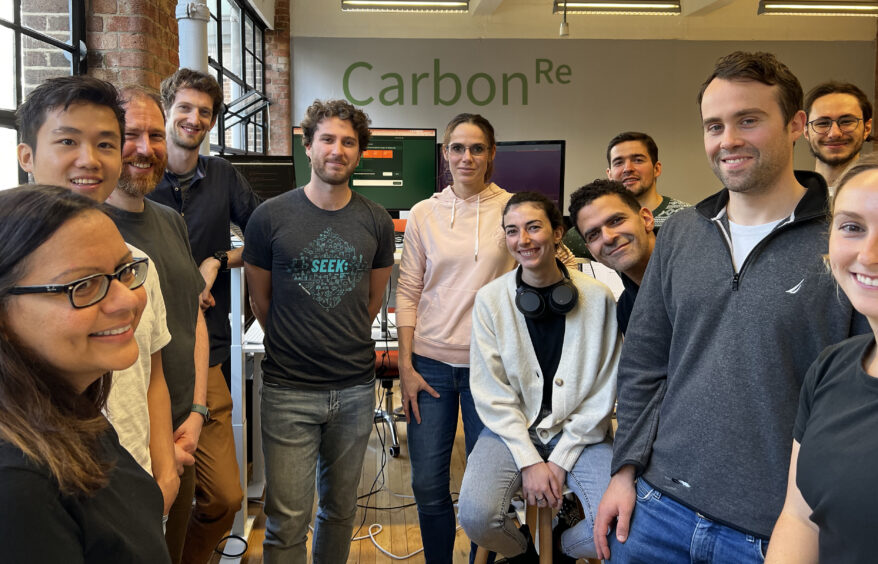 UK-based Carbon Re has raised £4.2 million in its latest round of funding to take its AI-based decarbonisation solution for hard-to-abate industries from pilot to deployment stage.
Early-stage company Carbon Re has raised £4.2 million in seed funding.
It hopes to scale and deploy its AI-based solution to help decarbonise hard-to-abate industries like cement and steel by improving energy efficiency.
Many decarbonisation technologies remain in the development phase, so Carbon Re's solution can be the first step for companies in their net zero strategies.
New round of funding will enable rollout of AI-based solution
Carbon Re's £4.2 million funding round will help advance its artificial intelligence (AI) based software solution from pilot projects to industrial scale. 
Carbon Re's solution minimises upfront installation costs by using outputs from existing manufacturing systems installed at the plant. It identifies how the equipment can use the lowest possible CO2 output and fuel, therefore cutting operational costs and carbon emissions.
Carbon Re uses digital twinning technology
Carbon Re's Delta Zero Cement solution uses an AI technique called reinforcement learning to achieve efficiency gains. It creates a 'digital twin' of a factory and then layers on modelling techniques to devise process and energy efficiency solutions. 
Digital twinning refers to the use of technology to create a virtual replica of a product, plant or process. Connecting these twins to real-time data can then provide a picture of parts (or all) of the value chain. Simulating processes and performing scenario analysis in the virtual space can then help companies make improvements as they see fit.
Some of the largest companies that provide automation and industrial IoT solutions, such as Siemens (GER:SIE), also provide digital solutions for the cement industry. Other major players in the space include Schneider Electric (PAR:SU) and ABB (SW:ABBN). In May 2022, Schneider launched its EcoStruxure Plant Advisor platform specifically for the cement and mining sectors. ABB's Industry 4.0-based Ability platform has been used at Lafarge Cement's operations in the Czech Republic to reduce downtime and improve production reliability.
Planet A joined Carbon Re's board
Carbon Re was founded jointly by researchers at University College London (UCL) and the University of Cambridge's Institute for Manufacturing. 
In its first round of funding in 2021, Carbon Re raised £1 million from the Clean Growth Fund, UCL's Technology Fund and Cambridge Enterprise. Clean Growth, which touts itself as a responsible investor, invests exclusively in UK-based companies, with between £0.5 million and £3 million as an initial investment.
These three investors were part of Carbon Re's latest fundraising round. Planet A, an impact investment company, gained a seat on Carbon-Re's board as its newest investor.
Decarbonising cement requires technology not currently available
Cement is one of the most widely used materials in the world and is in great demand as populations grow and economies expand. The industry accounted for 2.6 billion metric tonnes of greenhouse gas emissions in 2021, compared to estimates of 1.2 billion metric tonnes in 2002.
According to the International Energy Agency, the carbon intensity of the cement industry has to decline by 3% every year to 2030 if it is to reach net zero. The technologies needed to do so, however, are not currently available at the industrial scale and their deployment still requires large amounts of investment. These include switching to low-carbon fuels, changing materials used, and using carbon capture.
There are several projects at the early stage. For example, materials manufacturer Saint-Gobain (XPAR:SGO) is working with construction technology firm Ecocem to come up with decarbonisation solutions. TotalEnergies (NYSE:TTE) has partnered with Holcim (SWX:HOLN), a Swiss construction group, to cut all carbon emissions from a cement production facility in Belgium using carbon capture technology.
As various players in the industry work on scaling up decarbonisation technology, improving energy efficiency levels, for example by using Carbon Re's solution, can represent the first step of decarbonisation strategies for companies in the sector.