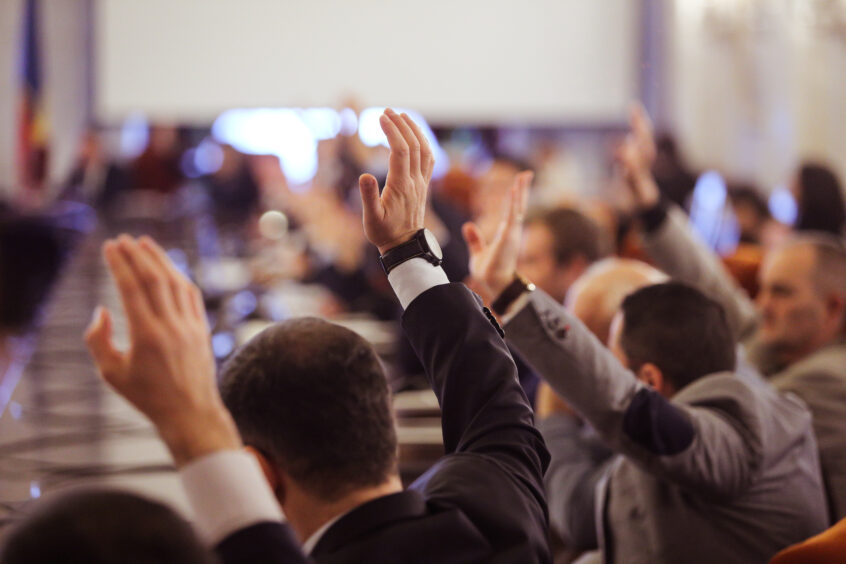 COP27 saw the launch of The Action Declaration on Climate Policy Engagement, where over 50 of the world's largest corporations committed to bringing their (and their industry associations') policy engagement in line with the goals of the Paris Agreement.
Over 50 global corporations have agreed to align their lobbying practices with the Paris Agreement.
Industrial lobbying has often opposed regulation around climate, nature and biodiversity protection.
Improved transparency on the use of corporate power can help to address the emissions gap.
COP27 has seen the launch of an Action Declaration, developed by media and research firm Corporate Knights to encourage corporate support for effective climate policies.  
The declaration has been endorsed by 57 companies, including ENGIE (PAR:ENGI), H&M Group (STO:HM B), Iberdrola (BME:IBE) and Unilever (NYSE:UL). The signatories, whose almost $900 billion in annual revenues account for 1% of global GDP, represent every major industry from mining and finance to healthcare and tech, with the exception of oil and gas producers.
Corporations have a large, and potentially unfair, advantage over other parties in getting their points across to policy-makers. Their money talks to power, and power listens. Historically, this relationship has often hindered the implementation of effective climate policies. The Action Declaration has been launched with the intention of turning things around.
The World Economic Forum's Antonia Galwel commented: "Momentum is building within the private sector as more companies demonstrate a growing commitment not only to address climate change, but to act in tandem with governments to formulate and implement more ambitious climate policies." 
"COP27 will provide a valuable forum for business leaders to spotlight one of the biggest issues impacting the pace of climate action – lobbying against positive climate policy and regulation. Business must lead to actively support much needed government action and actively speak out against actions that counter progress. The Action Declaration is precisely the kind of united front that governments need to see coming from the private sector", she concluded. 
Taking action to support effective climate policies
The Action Declaration is expected to support national governments in implementing policies that support their climate commitments towards achieving the goals of the Paris Agreement. It is a voluntary commitment, developed by Corporate Knights following two rounds of consultation with over 30 different stakeholders. 
Signatories will be required to leverage their political engagement in support of climate action policies that align with the Paris Agreement. They will work alongside major industry and trade associations to encourage them to do the same, and will monitor their progress for transparent disclosure by the end of 2023. 
The Declaration does not specify exactly how participating companies should conduct their political engagement, nor does it require them to support every climate-related policy brought to the table.  
Instead, it calls for them to actively consider how the policies, regulations and practices for which they are advocating will advance or inhibit the efforts of policy-makers to progress towards achieving the Paris Agreement targets. They are also encouraged to assess the policy positions of industry and trade associations and identify opportunities to drive change within their sector at large. 
To help participating companies in meeting the reporting and disclosure requirement, which is crucial in measuring progress, Corporate Knights is collaborating with InfluenceMap. As an independent think tank, InfluenceMap will share its analysis of how business and finance are impacting the climate crisis and help to identify key climate policies on a global and regional level. 
Each company will then develop its own monitoring system and disclosure format. Although this could potentially cause some confusion and inhibit the very transparency it is expected to provide, Corporate Knights said it will enable the emergence of new practices or tools that can be shared and replicated by others. 
Currently, only a select number of companies that have previously demonstrated a clear commitment to climate action have been invited to sign the Declaration. This somewhat limits the scope of the initiative, but is justified by Corporate Knights as a means of building initial traction through the experience of businesses that are already familiar with public disclosure. 
Political lobbying threatens climate action
Political lobbying is an established approach through which industrial actors are able to advocate for looser regulation, greater tax incentives, or other benefits. The system is supposed to allow companies to share their expertise, explain legitimate needs and provide evidenced reasoning that serves to create better policies. 
When influenced by corporate agendas, however, its abuse can result in suboptimal outcomes and a lack of climate action. Previous analysis by InfluenceMap highlights how corporate climate lobbying has resulted in the dilution or failure of legislation and regulation in multiple areas. 
Oil and gas companies, for example, have lobbied against the EU's proposed methane regulation and supported measures to promote new exploration in the Gulf of Mexico. Recent analysis of lobbying against biodiversity policies, meanwhile, revealed that around 89% of the policy engagement by several major industry associations was aimed towards blocking progress. 
Indeed, the Intergovernmental Panel on Climate Change has identified "opposition from status quo interests" as being a key barrier to political progress towards achieving the goals of the Paris Agreement. 
The issue is compounded by a severe lack of transparency. Stakeholders are typically uninformed of how industrial actors are engaging with political officials. This means that lobbyists are able to push back against critical climate policies without being held accountable. 
Companies are under pressure to disclose their political activities
As the risks associated with corporate lobbying are becoming increasingly evident, companies are facing greater pressure to disclose their political lobbying, spending and other forms of political engagement. Corporate Knights' Action Declaration is one of several initiatives that have emerged in response. 
One example is the development of a Global Standard on Responsible Climate Lobbying, led by institutional investors. Another is the publication of an investors' guide to managing the risks associated with political lobbying, launched by the UN Principles for Responsible Investment.  
The Race to Zero campaign, meanwhile, has recently updated its baseline and leadership requirements to demand that participating companies must align their external policy and engagement with the goal of reaching global net zero by 2050. 
Driving climate action through political engagement
With rising expectations of corporate transparency, political engagement could become a catalyst for climate action. Given the interconnections between social, political, economic and environmental systems, any successful approach to addressing the climate crisis will depend on the engagement of multiple stakeholders. 
Policy-makers must receive clear signals of industrial support if they are to implement effective climate policies. Corporate Knights' Action Declaration is a first step towards providing this support and, if significantly scaled, it has the potential to encourage real change.  
As summarised by Catherine McKenna, chair of the high-level expert group on the net-zero emissions commitments on non-state entities: "Climate change is ultimately a global issue – it's an everyone problem, not just a challenge to be solved by governments. If we're serious about transitioning to a cleaner economy, we need business to get on the same page."