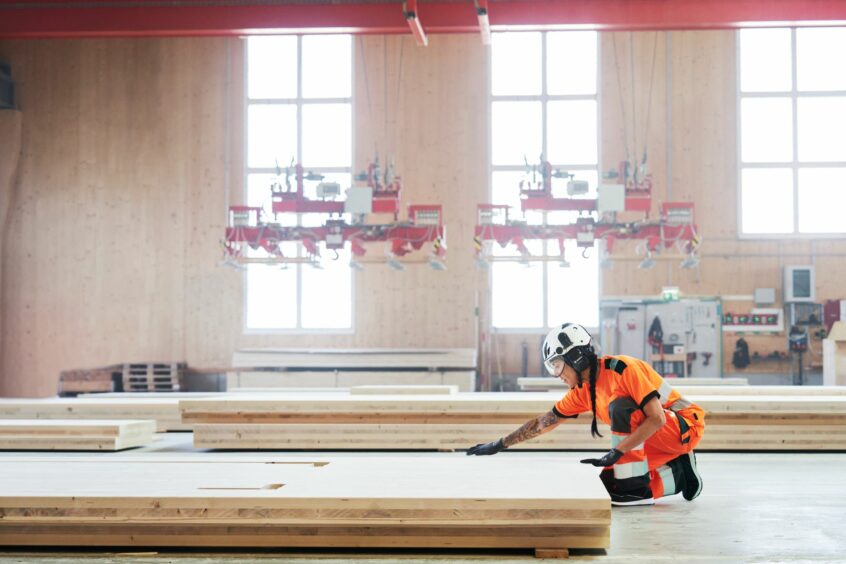 Stora Enso and Voodin Blades have partnered to develop wooden alternatives for wind turbine blades, deemed more sustainable than the materials used traditionally.
Stora Enso and Voodin Blades plan to build wooden wind turbine blades to improve the sustainability credentials of wind farms.
Blades are usually made of fibreglass and carbon fibre, which are energy-intensive and difficult to recycle.
The wind power industry is playing a crucial part in decarbonising the world, but it needs to address its own environmental impact.
Making wind turbine blades with wood

Stora Enso and Voodin Blades have signed a partnership agreement, in which they committed to developing sustainable alternatives for wind turbine blades and creating a "competitive and reliable" supply chain. Stora Enso is a global supplier of mass timber products, including laminated veneer lumber (LVL), a construction material suitable for wind power construction, while Voodin Blades is a German startup developing sustainable rotor blades for wind turbines. 
A first 20-metre blade will be developed using LVL, a renewable material that is relatively lightweight to transport on-site without heavy-duty equipment. Stora Enso said it has a "minimal carbon footprint". The blade will be installed on a 0.5-megawatt turbine near Warburg, Germany by the end of 2022. The pair are also planning an 80-metre blade.
Joachim Knapp, mechanical engineer and automation expert at Voodin Blades, said: "The wind industry as a key driver towards carbon neutrality needs to become 100% sustainable and environmentally friendly. With the installation of the 20 m blade, we are opening a path towards a more sustainable future. In time we will start to develop and manufacture blades for future multi-megawatt turbines."
Stora Enso is already involved in the wind power industry. In May 2022, it partnered with wood technology company Modvion to establish wood as the material of choice for wind turbine towers, also using LVL. The company said that using wood can reduce the CO2 emissions for the tower by 90%, compared to other energy-intensive materials, while also storing carbon dioxide.
Traditional turbine blades are difficult to recycle
Wind power blades are usually made with fibreglass and carbon fibre. Around 85%-90% of the wind turbine can be recycled, as there are established recycling practices for the foundation, tower and components in the nacelle. 
Blades, however, are more challenging because they contain composite materials, for which recycling technologies are neither available at scale nor cost-competitive. It is estimated that 2.5 million tons of composite materials are currently in use in wind turbines globally. Blade waste, however, is expected to represent only 10% of the total estimated thermoset composite waste by 2025, so building a business around this waste stream alone may be challenging.
Their size is also an issue with disposal, but larger wind turbines are the most efficient, so companies keep increasing their size. In fact, some wind farms replace them before the end of their lives to increase efficiency.
Due to these issues, the blades are often left in landfills, though there are various projects intended to improve the current recycling services. For example, WindEurope, Cefic and EuCIA – three European trade bodies representing the wind, chemicals and composites industries respectively – have created a cross-sector platform focused on the recycling of blades.
Also in Europe, DecomBlades consortium, which comprises 10 organisations including energy companies and universities, has set out a three-year plan to establish value chains for wind turbine blades at the end of their lives. It has also developed Product Disposal Specifications, a new specification for recycling partners to recycle blade material. This is intended to support the creation of a market for the composite that makes up the blades.
Separately, US-based Carbon Rivers has commercialised a process to recover glass fibre from decommissioned blades. Meanwhile, researchers at Michigan State University have developed a new composite resin suitable to make the blades and recyclable into gummy bears. 
Decarbonising the decarboniser
The wind industry is playing a fundamental part in weaning the world off fossil fuels while meeting increasing energy demand. Total global wind power capacity is now up to 837 GW, according to the Global Wind Energy Council, avoiding over 1.2 billion tonnes of CO2 annually – equivalent to the annual carbon emissions of the whole of South America.
The market is expected to boom as countries turn to renewable energy to meet their net zero targets. Under current policies, 557 gigawatts of new capacity will be added by 2026, although this growth needs to quadruple by the end of the decade to meet the Paris Agreement goals.
The exponential growth in infrastructure will inevitably result in higher quantities of discarded material. According to WindEurope, decommissioned blades will account for 350,000 tons of material by 2030 in Europe alone. As such, even though wind power is improving the world's climate credentials, its own impact must too be addressed, both by switching to more sustainable materials and improving recycling technologies for the existing ones.