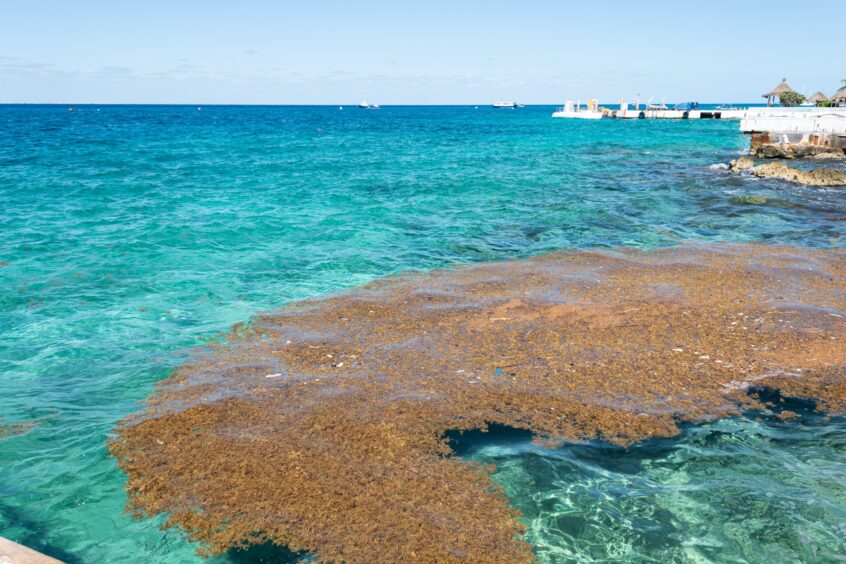 UK-based Seafields has tapped its sister company JustCarbon to tokenise carbon removal credits generated from its seaweed megafarm.
UK-based aquaculture company Seafields has announced a deal with sister company JustCarbon, a blockchain carbon marketplace, to tokenise the carbon removal credits.
According to Seafields, carbon credit markets can provide the level of investment needed to fund hyper-scale projects like the one it proposes. 
Seafields aims to build a megafarm to grow, harvest, bail and sink sargassum seaweed in the South Atlantic ocean. These projects can make a significant contribution to meeting global decarbonisation goals.
Seafields was founded in 2021 with the aim of building a seaweed farm capable of capturing 1 gigaton of carbon per year. Shortly thereafter, its founders also helped form JustCarbon, a blockchain based system that could tokenise and trade the carbon credits generated by Seafields.
Seafields and JustCarbon have common co-founders in Sebastian Stephens and John Auckland. JustCarbon is served by a council and an advisory panel, which includes former chief executive of Gold Standard, and new head of sustainable finance at the London Stock Exchange Adrian Rimmer.
JustCarbon is a decentralised crypto platform intended to help project developers get a fair price for, and keep more of the funds generated by, their credits. It does this by eliminating middlemen, or brokers, which reduce transaction costs and fees. Seafields says its project would be not be viable if much of the true value of the credits it generates was handed over to intermediaries.
According to an investigation by Greenpeace's Unearthed, instead of project owners keeping 85-95% of the value of a credit, it have been brokers gaining the most from the sale of carbon credits by inflating the price of the tokens they sold on.
Mega projects need large scale funding that can come from carbon markets
Seafields plans to build a mega-farm for seaweed which is approximately the size of Portugal (94,000 square kilometres) in the South Atlantic. Here it will grow, harvest, bail and sink sargassum seaweed that will remove 1 billion tons of CO2 per year.
The company expects to be certified to issue credits by early 2024 and intend to scale its production volume to the gigaton per year target by 2031. The project will not just remove a gigaton of carbon per year, but it will also help fulfil the increasing demand for carbon credits. According to the World Bank, carbon trading could facilitate the removal of 5 gigatons of CO2 per year by 2030.
John Auckland, Seafields co-founder and director, said: "If hyper-scale projects like Seafields do not get the funding and investment needed, we will not meet the targets for the decarbonisation of the globe and limiting global warming to 1.5⁰C."
Seaweed sinking solves multiple environmental problems
Invasive sargassum is affecting over 30 jurisdictions, with a 10,000 kilometre belt having formed in the Atlantic Ocean. Its impact on fragile marine ecosystems has had a negative effect on coastal economies, and is also accompanied by the release of harmful gases, risking the health of local communities, when sargassum rafts beach themselves.
Sequestering CO2 from biomass, including seaweed, is one method of carbon dioxide removal (CDR). The need for CDR has been established by the Intergovernmental Panel on Climate Change (IPCC) as an "essential" component of scenarios that will prevent global temperatures from rising above the 1.5°C limit set by the 2015 Paris Agreement.
Seafields is not alone in recognising CDR potential of seaweed
A wide range of CDR technologies has begun to emerge, including both natural and mechanical solutions. For example, UK startup Seaweed Generation recently raised £1 million in pre-seed funding to develop its own seaweed-sinking CDR technology.
By partnering with JustCarbon, Seafields has potentially secured the means to easily sell the credits it generates, and generate the investment it needs to achieve its ambition of removing 1 gigaton of carbon per year by 2030. As a decentralised platform JustCarbon only sources nature-based CDR from producers that have been certified by Verra or Gold Standard.
Auckland concluded: "When looking at the existing carbon credit market, our project is essentially unviable if we hand over too much of our margin to retailers and other intermediaries. In partnering with JustCarbon, it allows us to interface directly with the world's carbon credit buyers to sell for a fair price all around, and importantly a stable price that allows us to build a predictable business model."