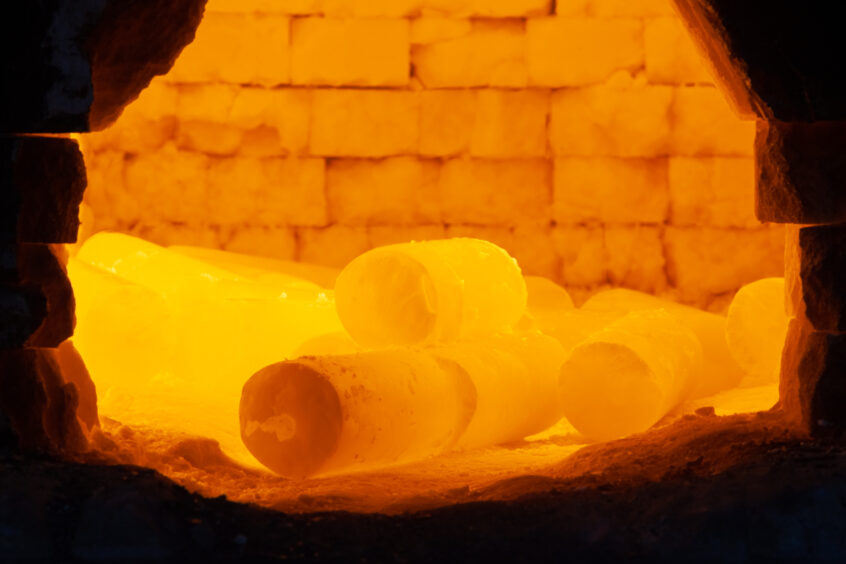 Rondo Energy has launched a commercial heat battery to provide low-cost, zero-carbon industrial heat for hard-to-abate processes.
Using renewable energy, heat batteries can provide zero-carbon heat and reduce emissions.
Heat batteries can store renewable electricity for hard-to-abate sectors, from steel and cement to chemical manufacturing and food processing.
Deep emissions reductions can be achieved, alongside significant reductions in cost.
Rondo Energy, which is backed by Bill Gates-founded Breakthrough Energy Ventures and utility-backed Energy Impact Partners, has announced the commercial availability of two models of its Rondo Heat Battery (RHB).  Their release is intended to help companies rapidly reduce fuel costs and eliminate Scope 1 & 2 emissions.
Rondo SVP Jeremy Keller said, "Rondo's mission is simple: lower cost heat and energy for large industrial processes.  We've been excited by the work now underway with key customers.  We're finding that deep emission reductions are now both practical and affordable for many of the world's most energy-intensive facilities.  Our studies of customer facilities are showing 50% to 90% reductions in emissions and reductions in operating costs of 30% or more."
How does the heat battery work?
The way Rondo Heat Battery (RHB) works is by capturing intermittent electricity, storing the energy from that electricity as high-temperature heat in brick materials, and then delivering the stored energy on demand as high-temperature heat and/or electricity.
The RHB can store heat energy at temperatures up to 1500°C for hours or days – delivering zero-carbon heat for processes ranging from steel, cement, chemical manufacturing, and all the way to low-temperature food processing.
By doing this, the RHB can meet the needs of industry for safe, simple, low-cost energy and economically replace fuel-fired furnaces and boilers – unlocking energy prices for industries that are both affordable and more predictable.
Heat storage powered by renewables means zero carbon heat
When connected to the grid, the RHB can make use of otherwise curtailed solar and wind energy, cut the cost of clean energy, and strengthen grid stability and security. Rondo is manufacturing its heat batteries in its facilities in California and says it has already begun commercial deliveries.
What makes heat batteries so interesting is that they can be easily integrated into facilities alongside existing process heating equipment, delivering large-scale emissions reductions without a facility overhaul.
The heat battery models available from Rondo are designed for a wide range of industrial uses and directly replace the operation of fuel-fired boilers, furnaces and kilns. Both models are fully automatic, charge intermittently either from local wind or solar facilities or from the grid, and deliver heat on demand 24 hours a day.
Rondo's thermal core uses brick materials that have been producing steel for over a century in a new patented configuration. Charging in as little as four hours, Rondo's patented "brick toaster" heats these brick materials to deliver continuous, constant temperature heat, 24 hours a day.
The emissions reduction potential for heat batteries
Rondo says that its heat batteries deliver large, concentrated, permanent emissions reductions and provide an immediate, low-cost, practical way to repower the giant industrial heat market.
"The Rondo Heat Battery could prove critical to eliminating emissions, and its commercial availability will help companies turn to its zero carbon heat for their processes," said Carmichael Roberts, Breakthrough Energy Ventures. "The Rondo Heat Battery will help companies in industries such as cement, fuels, food and water desalination to begin leveraging the falling costs of renewables without modifying their facilities."
According to the company, a single RHB300 eliminates more than 40,000 tons of CO2 per year – more than is eliminated by 8,700 electric vehicles. Replacing just the industrial heat used today in California with RHB zero-carbon heat would eliminate five times more CO2 than all of the EVs on the road in the US today, which are 13.6 million.
Applications and industries where heat batteries can play a role
From food processing to fuel production, from cogeneration to calcination, Rondo says that the RHB delivers energy in the form needed for more than 90% of the world's industrial process heat, and that its batteries are easily configured to serve the unique capacity and temperature requirements of each facility. They can work as direct drop-in replacements for large industrial boilers.
There are many opportunities where heat batteries can add value. Some of the key areas include:
Fast charging. Rondo heat batteries charge in four hours, capturing zero-carbon energy at low costs when the wind is blowing and sun is shining.
High temperature. RHBs deliver heat at up to 1500°C.
Long service life. With fully automatic operation using proven subsystems and materials, RHBs are expected to offer a 40+ year life without performance degradation.
Safety. Rondo says that RHBs are intrinsically safe, made of completely inert materials, and fail-safe in all loss of power or process upset conditions.  Made of only brick and iron, the hazards of other energy storage technologies are eliminated.
Site efficiency. RHBs store more than 1 MWh per square metre, far denser than any other storage technology, and preserve plant area.
A spokesman said: "Rondo Heat Batteries enable a simple, practical switch to zero-emission electricity as the source of continuous high-temperature heat for processes across a range of industries, including steel, cement, chemical, pharmaceutical, low-carbon fuels, food and beverage, and mining industries.
"Unlike electric furnaces or electric boilers, Rondo Heat Batteries are a load that follows the available renewable generation, being dispatched by the grid operator or the renewable energy fields to charge but delivering consistent firm heat to the industrial facilities."
As a result, RHBs deliver electrification at the expected absolute lowest cost and create no additional peak loads on the electricity grid, while enabling the integration of more renewable electricity generation. Rondo Heat Batteries maintain continuous output power (95% annual capacity factor) while operating on input power as low as 15% capacity factor, which is four hours a day.
Beyond direct industrial heat supply, the RHB is a least-cost source of energy for other applications, including district heating and combined heat and power, providing 24/7 clean heat and power.