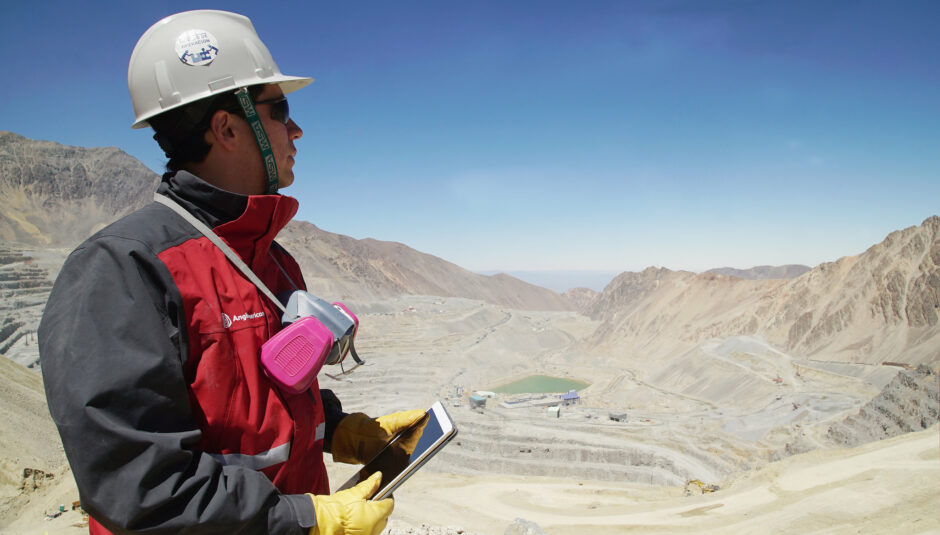 Anglo American has secured a supply of desalinated water to reduce the need for freshwater in drought-stricken Chile. The agreement may appease the environmental regulator and satisfy the KPIs of its recently issued sustainability-linked bond.
Chilean water desalination and solutions provider Aguas Pacifico will supply desalinated water to the Los Bronces copper mine.
It will cover more than 45% of the mine's needs, while also providing clean water to 20,000 people in local communities.
AngloAmerican has set a goal of reducing freshwater abstraction in water-stressed regions by 50% by 2030.
Chile's drought forces Anglo's copper mine to reduce freshwater use 
Anglo American (LON:AAL) has secured the supply of desalinated water for its Los Bronces copper mine in Chile. The South American country is facing a 13-year-long drought, which is straining its freshwater sources. The Chilean economy depends heavily on agriculture, forestry and mining, which are water-intensive industries. 
According to the Chilean Ministry of Mining, while the industry only accounts for 3% of the water used in the country, most mines are located in regions of scarcity, which makes their operations particularly water-intensive. Within the global mining industry, copper mining is one of the largest water-consuming sectors. 
As reported by Reuters in June 2022, Anglo pledged to stop using fresh water at its Los Bronces mine by 2030. The announcement was seen as a move by the miner to convince the government to extend its mining permit, which had been rejected by the authorities earlier in the year.
It has also been reported that Anglo wants to develop a water desalination plant on Chile's Valparaiso coast. The project was jointly planned with Codelco, the state-owned mining company, and Japan's Mitsui & Co. (OTC:MITSY). The proposal involved providing drinking water for local residents in exchange for access to wastewater that could be used in the mines.
Desalination agreement may satisfy Chilean environmental regulator
Anglo's agreement with Aguas Pacifico is the first phase of the longer-term plan to eliminate freshwater usage at Los Bronces. The company is also planning to exchange desalinated water for wastewater.
This approach may help ingratiate the company further with the environmental regulator. It could be viewed as helping the local economy by supplying potable water to local residents. Using the wastewater generated by the local community in its mining operations could also be viewed as a way to enhance circularity.  
Commitment to reducing fresh water usage linked to unambitious bond KPIs
In September 2022, Anglo issued a €745 million sustainability-linked bond (SLB). The bond commits the miner to deliver on three key performance indicators (KPIs), including emissions reduction, job creation and a reduction in its use of freshwater. 
Specifically, the first KPI requires Anglo to reduce its Scope 1 and 2 greenhouse gas emissions by 30% to 2030, compared to 2016 levels. It also imposes a 50% reduction in freshwater drawn in its mining operations in water-scarce areas by 2030. The last KPI calls for creating five offsite jobs for one onsite job, also by 2030.
Securing 45% of its freshwater needs from desalinated water puts the company 90% of the way to reaching its freshwater KPI. Based on an assessment by the Transition Pathway Initiative, Anglo has already achieved a 43% reduction in its Scope 1 and 2 emissions between 2016 and 2021, putting it ahead of the emissions KPI. As one of the largest employers in the vicinity of its mines, the employment KPI will likely not be hard to achieve.
Anglo's bigger challenge will probably come from its goal of achieving carbon neutrality across its operations by 2040. This will largely depend on its ability to eliminate its Scope 3 emissions, which account for 87.7% of its overall total. 
Mining companies face green transition dilemma
Anglo's core business activities supply several materials that will be vital in delivering the global energy transition. The metals it supplies will be needed to produce electric vehicles, solar panels and battery storage systems, to give just a few examples. 
Meanwhile, pressure is mounting on the mining industry to become more sustainable itself – with increasingly strict regulation and rising costs of carbon posing a substantial risk to their business. 
While moves like reducing its freshwater use may help Anglo negotiate extensions on its environmental permit in Chile, it may run out of ideas on how to appease climate action groups while continuing to satisfy global demand for its metals.