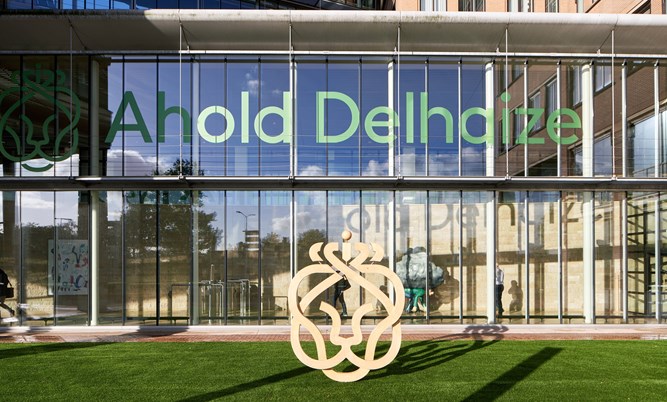 Dutch retail food group Ahold Delhaize (AMS:AD) has raised its climate ambitions by adding an interim goal to reduce its Scope 3 emissions by 2030, topping existing commitments of becoming net zero across its entire value chain by 2050.
Ahold Delhaize now requires its entire value chain to reduce CO2 emissions by at least 37% before the end of the decade.
Food retail is the largest contributor to overall retail emissions globally, but the complexities of the value chain make it challenging to accurately calculate one company's carbon footprint.
Setting interim targets is an important part of forming a credible net zero plan, as postponing the transformation to 2050 is usually too late.
Including entire value chain in interim target
Ahold has updated its climate change strategy to include an interim emissions reduction target that extends across its entire value chain. By doing this, it will be reporting its Scope 3 emissions, which is increasingly becoming a requirement under most regulatory regimes. It has committed to reducing its Scope 3 CO2 emissions by 37% by 2030, on a 2020 baseline.
The company's value chain includes suppliers, producers and farmers across Europe and the US. A review conducted by the company that began in November 2021 showed that, in addition to suppliers and farmers, the main drivers of Scope 3 emissions reductions were selling low-carbon products, such as plant-based protein alternatives, and increasing customer engagement.
Updated climate plan provides details on targets and ambitions
In its climate plan released in November 2022, Ahold provided a detailed description of its targets and ambitions. It holds interim and long-term reduction targets for emissions reduction in not just its own operations, which covers Scope 1 and 2 emissions, but also across its value chain, defined as Scope 3. It has committed to achieving net zero Scope 1 and 2 emissions by 2040, and intends to add Scope 3 emissions to that goal by 2050.
According to the UN Framework Convention on Climate Change (UNFCCC), setting interim targets is an important part of forming a credible net zero plan. In order to achieve global net zero commitments by 2050, climate action groups say greenhouse gas (GHG) emissions should be halved by 2030. 
A crucial part of this involves suppliers and business partners, according to the UNFCCC, of which many are small and medium-sized enterprises (SMEs) and require support to implement climate action. Ahold plans to partner with its suppliers and farmers by providing long-term contract incentives and co-investments, which would in turn call for tangible and specific transition plans.
Advancing supplier and farmer sustainability goals
According to Ahold, focusing on agriculture provides the best opportunity for reducing its Scope 3 emissions. Suppliers to the brands sold in its stores will be encouraged to set science-based emission reductions. Specific areas of improvement will include livestock farming, raw material sourcing, reducing deforestation, food waste reduction, packaging and transport.
Investing in low-carbon products is another pathway identified by the company to reduce emissions in its value chain. Supplier brands will be asked to produce more plant-based protein products and foods with fewer embedded emissions.
Engaging with customers proactively is another avenue that Ahold will take to reduce its Scope 3 emissions. It intends to provide sustainable choices through loyalty programs and discounts, increasing knowledge about healthy lifestyles by providing access to free dietary knowledge platforms.
It also plans on making more vegan and vegetarian products available in its stores, as well as improving product labelling to add transparency.
Challenges confronting Ahold's Scope 3 targets
Food systems account for around a third of global GHG emissions, and food retail is the largest contributor to overall retail emissions. According to calculations by CDP, Scope 3 emissions account for 75% of an entity's emissions across all sectors on average. For the food retail sector, this proportion could be as high as 80-90%.
The challenge of reducing Scope 3 emissions for a food retail group like Ahold stems from hosting a large number of brands, with hundreds of thousands of products being delivered from over 10,000 direct suppliers. Each supplier, in turn, sources ingredients and products from its own supply chain, adding further complexity to measuring overall value chain emissions.
This complexity makes it difficult to get actual Scope 3 data on GHG emissions and, as a result, the company has to rely on assumptions and estimations.  It uses average data and spend-based methods, as defined by the GHG protocol, depending on the category of Scope 3 emissions. Ahold's footprint consists of 10 of the 15 categories defined by the GHG protocol.
Steps in the right direction but challenges remain
Ahold's inclusion of an interim Scope 3 emissions reduction target helps support its net zero commitments, based on UNFCCC recommendations. Its goal of achieving net zero across its entire value chain by 2050 also appears ambitious.
The company has plans to reduce its dependence on assumptions and estimations over time, and hopes to be able to use actual data instead. This may, however, change the numbers it reports, which could require further updates and amends to its targets.