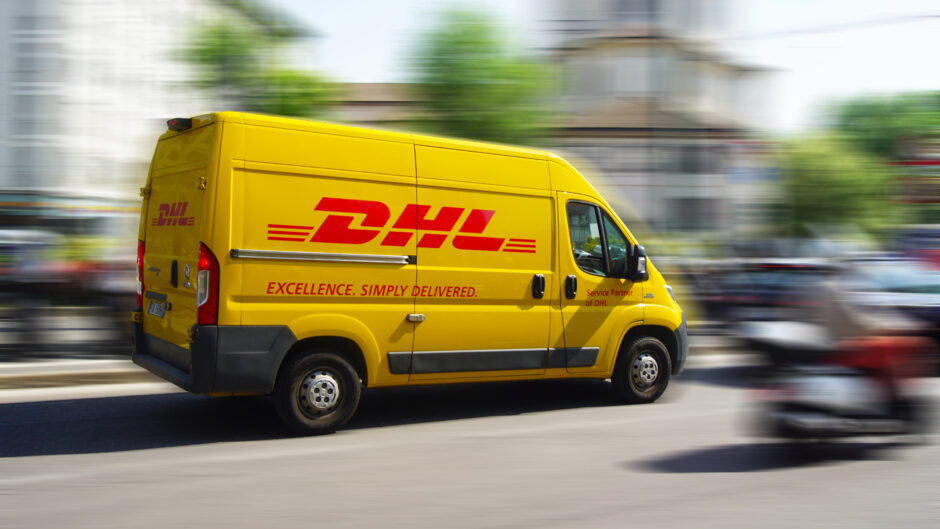 The Deutsche Post DHL Group (ETR:DPW) has tapped Ford Pro, a unit of US-headquartered auto-manufacturer Ford (NYSE:F), to provide 2,000 electric vans and related services for the electrification of its last-mile deliveries. 
Ford Pro has signed a memorandum of understanding (MoU) with Deutsche Post DHL Group (DPW) to provide 2,000 electric vans and related services.

 

Electrification of last-mile of logistics has been identified by Deutsche Post as a major opportunity for the decarbonisation of its operations.

 

Although the new agreement suggests that DPW is making progress towards its targets, further scrutiny is needed to ensure that companies are not falling short.

 
The Deutsche Post DHL Group's (DPW) agreement with Ford Pro comes as part of its plans to electrify 60% of its delivery and pick-up fleets by 2030. Although the latest deal will support these goals, a larger question remains about the credibility of the targets themselves. 
Addressing last mile of logistics solves major decarbonisation problem
The agreement between Ford Pro, and German logistics company DPW goes beyond the supply electric delivery vans. In addition to providing 2,000 Ford E-Transit vans, Ford Pro will offer DPW full access to a suite of solutions including its connected E-Telematics software and charging solutions. 
This suite of support services is expected to improve operational efficiencies while reducing overall costs. The E-Transit panel vans have been designed to handle express shipments in the Americas and Europe, and will enable the DPW fleet to reduce the emissions of their deliveries.  
Anna Spinelli, chief procurement officer and head of mobility at DPW, said: "Electrification of last mile logistics is a major pillar to decarbonize our operations. Adding the new Ford E-Transit to our global fleet of around 27,000 electric vans further strengthens our capability of providing green delivery services worldwide. Joining forces to address our logistics specific requirements will drive operational and service efficiency further." 
Ford eyes European market to accelerate its EV ambitions
Ford has set itself the target of becoming carbon neutral by 2050, with an interim goal of eliminating the emissions of its European vehicle sales by 2035. The automaker plans to produce over 2 million electric vehicles by 2026, backed by the projected $50 billion in investment that will have been secured by this time. 
The Ford E-Transit that is being sold to DPW has been available for European customers since April 2022, and is being combined with the Ford Pro ecosystem to enhance its marketability. Ford has also trialled the E-Transit across a variety of industrial applications, including postal, municipal and utilities companies as well as the last-mile and grocery delivery sectors in Germany, Norway and the UK.  
Ford Pro offers more than traditional automotive services
Ford Pro provides a suite of services and solutions that go beyond the traditional mechanical maintenance and repair services. The unit was first launched in the US in May 2021, before expanding into Europe in April 2022. Upon launching in Europe, Ford Pro also added a suite of digital solutions and end-to-end charging technologies to its offering.  
These digital solutions include live data feeds for the integration of vehicles, telematics, charging and servicing with an in-vehicle touchscreen interface. Ford Pro Telematics' multi-make functionality allows fleets to also manage their non-Ford vehicles using a plug-in device. 
Ford's next steps include plans to add four additional models to the fully electrified E-Transit family, which will help drive its progress towards achieving its climate goals.  
DPW's decarbonisation plans need to go beyond EVs
DPW established its ESG roadmap in 2021, in which it laid out its decarbonisation targets for 2030. The company committed to spending €7 billion on decarbonisation by 2030, with plans including the use of sustainable fuels across all freight modalities in addition to raising the share of electric vehicles in its pickup and delivery fleet to 60%. The group has also committed to ensuring that each of its new buildings are constructed according to carbon-neutral designs. 
Although the agreement with Ford will support DPW's 2030 EV target, the company's ground transportation only accounts for around 22% of its total emissions. To achieve its 2050 net zero goal, it will have to make significant reductions in its air transportation emissions, which account for a far larger 70%.  
This could prove to be difficult, given that alternative aviation fuels are in their early stages of development while attempts to gain further efficiencies in aircraft design are thought to have limited potential. 
Does SBTi validation add credibility to DPW targets?
DPW's targets have been validated independently by the Science Based Targets Initiative (SBTi). A science-based target is supposed to provide reassurance that corporate actions are aligned with the most achievable level of decarbonisation, with the ultimate goal of limiting global temperature increases to the 1.5°C goal of the 2015 Paris Agreement. 
An important component of SBTi-approved net zero targets is the requirement that the neutralisation of hard-to-abate GHG emissions cannot entirely rely on the purchase of carbon offsets. For a target to be credible, meaning that it aligns with climate science, companies must halve their emissions by 2030 and achieve total reductions of 90-95% by 2050. As such, carbon offsets can only account for a maximum 10% of any net zero strategy. 
DPW's 2030 emissions reduction targets, however, imply that it is seeking just a 42% reduction in Scope 1 and 2 emissions, and a 25% reduction in Scope 3 emissions. DPW has also linked board remuneration to the achievement of ESG targets, although it does not specify whether this relates to annual bonuses or to long-term incentive plans, the latter having proved to be the more effective metric. 
Mismatch between climate science and DPW targets may raise concerns
The importance of setting and achieving targets that align with current climate science is widely acknowledged, but a recent report by the New Climate Institute and Carbon Market Watch has questioned the validity of SBTi assessments.  
The authors of the report state that "Standard-setting initiatives should focus on the development of guidelines and standards, rather than pursuing the mass evaluation of individual companies with insufficient resources and conflicting incentives. This can otherwise lead to a platform for greenwashing; multiple examples are included in this report." 
Based on a mismatch of its targets with SBTi standards alone, DPW could be at risk of being questioned by investors and climate action groups. With the challenge of tackling its aviation-related emissions in mind, it seems that the group may have further to go than would initially be assumed on the basis of its latest announcement.