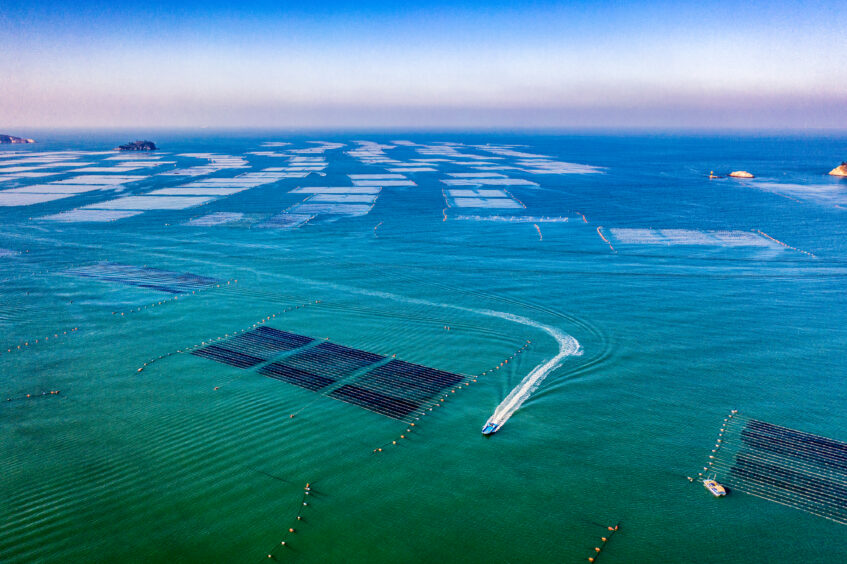 Renewable energy developer Ørsted (CPH:ORSTED) has partnered with UK-based startup SeaGrown to explore the role of seaweed farms in enhancing ocean biodiversity. 
The partners will assess whether seaweed farming can effectively support ocean biodiversity before creating a set of monitoring and measurement guidelines based on their results.

 

Ørsted, and other offshore wind developers, must make sure that the renewable energy they provide does not come at the cost of marine ecosystems.

 

Heightening awareness of the interconnections between nature and climate change will drive the development of monitoring and measurement frameworks that can determine which solutions are truly effective.

 
SeaGrown, founded in 2018, currently manages a fully established seaweed farm just offshore of Scarborough. Its collaboration with Ørsted will involve using a range of different technologies, including environmental DNA, remote cameras and sonar, to assess the impact of its operations on marine biodiversity and carbon sequestration.
The Yorkshire-based startup will lead the development of the new methodologies and technologies that will be trialled, though the specific details are still being discussed. Similarly, the project will begin at SeaGrown's existing site, before being expanded to an undecided location.
Together, the partners hope to determine whether seaweed cultivation would be effective in supporting the species and habitats surrounding offshore wind farms. By trialing a number of methodologies, they plan to develop a set of biodiversity monitoring and measurement guidelines that could be used by future developments. 
"Through this forward-looking project, we are seeking to establish the best way for seaweed farming to assist ecologically-conscious operators such as Ørsted to minimize their impact and work in harmony with the marine environment", explained Wave Crookes, SeaGrown's operations director. 
Ørsted recognises potential trade-offs of renewable energy
Offshore wind power is expected to play a vital role in delivering the global transition to net zero, with estimates suggesting that it has the potential to provide enough electricity to meet global demand 11 times over by 2040. A 15-fold increase in offshore wind capacity over the next twenty years could save between 5 and 7 billion tonnes of CO2 emissions, while also reducing air pollution, enhancing energy security and unlocking a $1 trillion business opportunity. 
The offshore wind market is already expanding at a rapid pace, growing by almost 30% each year from 2010 to 2019. By 2025, around 150 new developments are scheduled to be commissioned around the world. 
Although these developments will serve as valuable assets in the fight against climate change, it is of the utmost importance that they do not compromise the similarly crucial role of marine ecosystems. Various researchers have warned, however, that marine wildlife could be negatively impacted by the habitat loss, operational noise, electromagnetic activity and collision risks associated with offshore infrastructure. On the other hand, others have concluded that offshore wind farms have the potential to enhance marine life by providing a refuge for biodiverse ecosystems to thrive. 
With such uncertainty, there is a clear need for the rapid expansion of offshore wind developments to be paired with evidenced measures to ensure that ocean ecosystems are protected. Ørsted's partnership with SeaGrown highlights its awareness of this issue, and comes in addition to a previously announced collaboration with the WWF. 
The WWF project will see the company testing new methods of improving ocean biodiversity and developing science-based recommendations for policy-makers. Ultimately, Ørsted aims to deliver a net-positive impact on marine ecosystems across its portfolio by 2030. 
"The acceleration of offshore wind deployment is vital in the global shift to a clean energy system, but it must not come at the expense of marine biodiversity. We want offshore wind to be part of the solution, not part of the problem, and getting it right always starts with understanding and measuring our impacts", said Benj Sykes, Ørsted's head of UK environment, consents and external affairs. 
"Seaweed farms clearly have the potential to contribute to reducing greenhouse gases, as well as benefiting marine biodiversity. The aim of this new partnership is to look at how we can measure and confirm this, adding another tool to help protect and enhance marine habitats." 
Seaweed solutions to support ocean health?
Seaweed cultivation has recently been explored for its potential to absorb atmospheric carbon, support marine biodiversity and reduce ocean acidification. As some of the fastest-growing plant species on the planet, seaweeds do indeed have the potential to sequester more carbon than the majority of terrestrial plants. They also provide shelter for many marine species, as well as the vital nutrients needed to support those at the very core of the ocean's food chain. 
Currently, however, efforts to quantify the benefits of seaweed aquaculture have been limited. Researchers have raised concerns that, in some cases, seaweed farming could actually have more negative impacts than positive. For example, it has been suggested that seaweed's nutrient reallocation could displace phytoplankton communities, or that its release of dissolved organic carbon could contribute to acidification rather than reduce it. 
Ultimately, the main concern is the lack of clear evidence to support either side of the debate. This uncertainty highlights the need for Ørsted's research and serves as an example of a far broader trend towards the development of biodiversity monitoring techniques. 
The rise of biodiversity monitoring
With the destruction of nature now recognised as a financially material risk, a range of disclosure frameworks and regulatory measures are being developed to ensure that the global economy is aligned with biodiversity goals. The increasing acknowledgement of nature's interconnections with climate change has led biodiversity to become a core concern of investors, prompting companies around the world to incorporate it into their sustainability strategies and targets. 
Currently, however, there is little data available to assess the credibility of these corporate action plans. A 2021 survey of 327 global asset managers and owners showed that the vast majority did not feel that they had access to the information they required in order to make nature-positive investment decisions. 
Businesses that wish to remain competitive will need to be able to demonstrate their progress, but the monitoring and measurement of biodiversity has emerged as a significant challenge. A new category of technologies has begun to emerge in response, and is expected to grow at a rapid pace.  
Estimates suggest, in fact, that investment into these 'nature technologies' will reach around $6 billion by 2030 – tripling the current level. Ørsted's collaboration with SeaGrown provides further evidence of the growth of nature technologies and suggests that the increasing recognition of the interconnections between nature and climate change will be a key driver of their development.