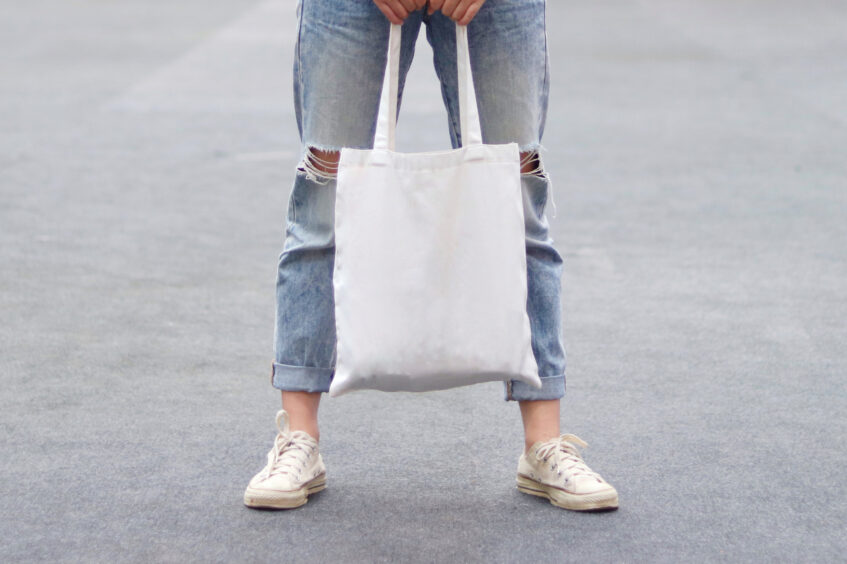 TEXAID will incorporate circular.fashion's digital tracking technology into its new line of tote bags, enabling their sustainable materials to be traced throughout the product lifecycle. 
Each bag will contain an NFC chip that holds information on where its materials came from, as well as instructions on refurbishment or recycling.

 

The traceability of the tote bags will highlight TEXAID's use of sustainable materials and is expected to help in optimising the textile recycling process.

 

Digital tracking technologies are gaining traction as companies attempt to demonstrate their commitments to sustainable sourcing and circular waste management.

 
TEXAID, a developer of circular solutions for the textiles industry, will release its new tote bags before the end of 2022. The bags, which are made with a 50/50 mix of post-consumer textile waste and ocean-bound plastic, will be sold in the company's second-hand shops across Germany. 
Digital tracking to enable total traceability
To ensure the traceability of its sustainable materials, TEXAID will incorporate digital tracking technology supplied by circular.fashion, a Berlin-based startup developing innovative software products to bring circular solutions to the fashion industry. 
With circular.fashion's circularity.ID technology, each bag will contain a unique NFC chip that can be scanned to reveal supply chain data as well as instructions on how they can be refurbished or recycled. TEXAID's customers will be able to view these 'digital product passports' simply by scanning the chip with their mobile phone, thereby accessing the information they need in order to feel confident that their purchase has been sustainably produced. 
The chips can also be scanned by manual workers at circular.fashion's intelligent sorting stations, providing them with key insights such as the item's fibre composition. With this data in hand, the workers will be able to make more informed sorting decisions and can make sure that each product is optimally reused or recycled.  
TEXAID has made use of this capability, having already installed several of circular.fashion's sorting facilities within its own textile recycling plant in Apolda, Germany. Here, the waste materials used to produce the tote bags was efficiently sorted into different fibres that were then diverted into the relevant processes needed to remanufacture them into new products. Each stage of this journey is fully recorded and will be included in the data provided by the digital product passports. 
"With this bag, we wanted to showcase that creating great products made of postconsumer textile waste is possible. As TEXAID we want to leverage a high-quality feedstock and in the end fiber to the circular value chain to integrate into new products made not only from other waste streams but also used textiles," explains Thomas Böschen, managing director of TEXAID ReSales and Vintage Revivals. 
Fashion supply chains face increased scrutiny
With consumers, regulators and investors raising their expectations of corporate sustainability initiatives, the fashion industry is under pressure to improve the traceability and transparency of its supply chains.  
Customers have begun to demand more detailed information on where certain materials are sourced, whether brands are supporting their workers' rights, and what happens to the items they no longer want. In order to ensure that these demands are met with sufficient evidence, watchdog organisations have started to crack down on sustainability claims that do not provide the appropriate transparency. 
In addition to the penalties that can be enforced by these bodies, various governments are beginning to introduce stricter legislation around supply chain sustainability. Failure to comply with these new rules will undoubtedly expose the fashion industry to a plethora of legal and reputational risks, potentially derailing their ability to attract future investment. 
Digital tracking technologies to provide the solution
As fashion supply chains are subjected to increasing levels of scrutiny, digital tracking technologies could be useful in enabling them to highlight their commitments to sustainable sourcing while also ensuring that their products are optimally reused or recycled. 
These solutions are already beginning to emerge, with digital product passports offering a wide range of industrial applications. Similar technologies, such as undetectable substances that can be used to trace the supply chains of high-risk commodities are also being explored. 
As the fashion industry adapts in response to new expectations, it seems likely that supply chain traceability will be among its biggest challenges. With this in mind, the accelerated development and adoption of digital tracking technologies seems likely to become an ongoing trend.