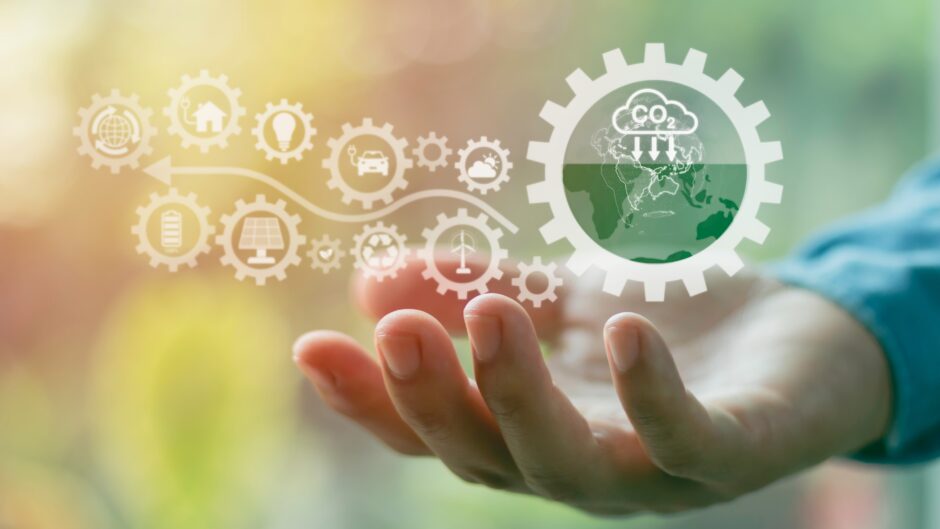 Technology platform Patch announced it has joined the First Movers Coalition (FMC), aligning with its mission to advance technology that makes meaningful climate action a part of everyone's business.
Patch will provide access to carbon removal credits to members of the FMC.
The last year has seen $1 billion raised for advanced market commitments under Frontier.
Carbon removal credits are expected to make up half the supply of voluntary carbon credits, dependent on permanence, integrity and pricing.
The FMC is a global initiative led by the World Economic Forum and the US Department of State that has brought together more than 60 companies worldwide to build early markets for clean technologies.
John Kerry, US Special Presidential Envoy for Climate, said: "Recognizing the urgency to achieve commercial scale carbon removal within the decade… the First Movers Coalition's implementation partners for carbon removal play an important role in enabling these commitments, and we welcome Patch as our latest implementation partner."
The FMC's goal is to address decarbonisation in hard to abate sectors
FMC aims to decarbonise "hard to abate" industrial sectors that currently account for 30% of global emissions. Companies in the coalition have a combined market capitalisation of around $8 trillion. The underlying approach of the FMC is to use their collective purchasing power to send a strong market signal to commercialise zero-carbon technologies – a key one of which is carbon removal.
FMC members involved in the carbon removal sector, including Alphabet and Microsoft, have committed to contract 50,000 tonnes or $25 million worth of durable and scalable carbon dioxide removal by the end of 2030.
"To achieve net-zero emissions globally by 2050, innovative clean energy technologies must reach commercial scale by 2030," said Nancy Gillis, First Movers Coalition Programme Head. She continued: "Engineered carbon dioxide removals will be paramount to decarbonizing at the speed necessary to keep the planet on a 1.5 degree pathway."
Why does carbon removal matter?
Permanence is one of the key factors when assessing the quality of a carbon credit.  Some CDR methods, such as DAC, forecast over 1000 years of permanence in geological storage. Carbon sequestered in biomass and soils, as for NBS, is potentially more prone to near-term reversal, for example through drought, fire, pests, or future demands on the land and resources.
Voluntary carbon markets ratings agency BeZero argues that engineered CDR can be highly scalable, which addresses the trade-offs of land use versus emission action. By 2050, 70-225 GtCO₂ of cumulative removal will be needed If this was to be solely fulfilled by afforestation, for example, it would require 500-1500 million hectares of land, almost the entire land area on Earth. If this was to be fulfilled by direct air capture, it would require just 100-300 thousand hectares of land.
Why invest in carbon removal?
While the current voluntary carbon markets are dominated by avoidance credits, there is growing interest in carbon removals. So far, an estimated $53 million has been spent on CDR credits by corporate purchasers, all of which have taken place in the last two years.
The last year has seen $1 billion raised for an advanced market commitment known as Frontier. Frontier is funded by Stripe, Alphabet, Shopify, Meta, McKinsey, and tens of thousands of businesses using Stripe Climate. Over $10 billion has been pledged by the US Government in the Inflation Reduction Act in 2022, and investors and buyers are seeing carbon removal as having high potential returns.
BeZero's analysis of IPCC, BloombergNEF (BNEF) and the Taskforce for Scaling Voluntary Carbon Markets (TSVCM) models found that by 2030, with a market size of 1.5-2 billion tonnes p.a. 44% of the VCM are expected to be avoidance credits, with 56% being removal credits.
A 2022 report from BeZero, Investing in Early Stage Carbon Removal, backed by Shopify and Patch, explored the commercial reasons businesses are crowding into the carbon removal sector, investing in methods such as direct air capture, enhanced weathering and biochar.
In terms of why corporations are investing in carbon removals at such an early stage, the report outline six core reasons: future financial savings; new business opportunities; compliance with regulatory targets; compliance with voluntary standards and frameworks; to be seen as a climate leader; and to improve commercial knowledge and networks.
Investing in carbon removal at an early stage will help support projects to commercial demonstration, bring down future costs and help the industry scale. The report uses a case study of Airbus, who bought 400,000 future direct air capture credits from the supplier 1PointFive, which uses Carbon Engineering's technology.
Overall there is a lack of high quality carbon credit supply for the voluntary carbon markets. The undersupply of carbon removal capacity means there are business opportunities to fulfil the pent up demand. The report uses a case study of LowerCarbon Capital raising $350 million in 2022 to invest solely in CDR companies.
While the EU ETS doesn't currently have a mechanism to include CO2 removal credits (CRCs), both the UK and EU are actively exploring bringing carbon removal credits into their emissions trading schemes. This move is making companies think ahead to when they will want the supply of those credits to comply with their emissions trading scheme obligations.
Voluntary standards such as the Science Based Targets initiative and the Net Zero Banking Alliance are already being used for industries not covered by regulated regimes. These standards are increasingly requiring high integrity carbon removal for their participants.
Positioning oneself as a climate leader is an increasingly important strategy. A 2021 poll from BeZero Carbon and Stack Data Strategy found that  87% of people support businesses investing in carbon removal, with 44% agreeing even if it impacts businesses' revenue. While companies need to be careful in their communications, businesses are grasping the PR opportunities that come with investing in early-stage carbon removal.
And, of course, it cannot be ignored that early investors and participants in this market will gain insights and understanding that will be useful for the growth of the sector and related activities.
The report, however, argues that both public and private sector support will be necessary to help scale the industry.
Patch is to work with the FMC to facilitate use of carbon removal credits
At the moment, the vast majority (96%) of credits are bought bilaterally, from CDR suppliers to consumers, not through an intermediary. This means that those who are purchasing the credits have the internal resources to do due diligence on each of the projects and then pay relatively high prices on top of that for the credits.
Patch already provides a range of customers like Afterpay, Bain & Company, and EQT with access to a range of carbon removal technology solutions, including direct air capture, biomass-based carbon removal, enhanced weathering and concrete mineralisation. Scaling up its activities could ease access to high integrity carbon removal credits.
"First Movers Coalition understands the order of magnitude required to reach our global climate goals," said Brennan Spellacy, Patch CEO & Co-founder. "Combining Patch's powerful digital infrastructure with First Movers Coalition purchase commitments will enable more efficient and transparent transactions across the carbon market.
Patch's approach is to bring together business leaders, policymakers and developers across the space in support of innovation and best practices. Using Patch's technology infrastructure, FMC members will now have multiple pathways to purchase vetted carbon credits, including one-time direct purchases, recurring multi-year offtake agreements, and an API integration that enables companies to connect any product experience to climate action.
Spellacy continued: "We are thrilled to work alongside the World Economic Forum and the 60+ First Mover Coalition member companies to ensure this level of investment in carbon removal technology can accelerate impactful climate solutions at viable commercial scale by 2030."