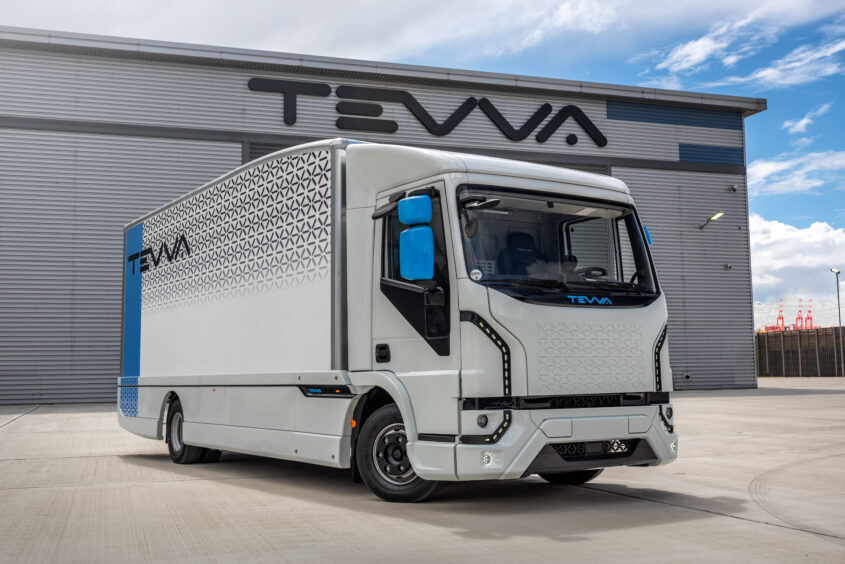 British electric vehicle manufacturer Tevva has hit another major milestone after securing European Community Whole Vehicle Type Approval (ECWVTA) for its 7.5 tonne (t) battery-electric truck.
UK's Tevva is manufacturing its electric truck following EU, Sweden and UK approvals.
Trucks are considered 'hard to abate' but Mckinsey predicts that 4% of the market will be zero emissions by 2025.
While Tevva's truck is electric, the company is developing a hydrogen fuelled model.
The EU approval is the key regulatory step in the development and commercialisation of all vehicles, including electric trucks. It means that Tevva can start producing and selling in volume across the UK and Europe.
With this Tevva becomes the first British company to receive EC Whole Vehicle Type Approval for a 7.5t electric truck and has moved quickly to get its first vehicles out to customers. The first mass produced electric trucks have started to be delivered from their UK base and will be eagerly received by customers including Expect Distribution, Travis Perkins and Royal Mail. The company expects to sell up to 1,000 electric trucks in 2023.
Tevva Founder and CEO Asher Bennett said: "We continue to 'charge on' as a company and reach new milestones, with type approval being the latest and most important landmark we've achieved to date. I am incredibly proud of our team who have worked tirelessly to secure this certification and get our 7.5t electric truck in customers' hands and on the roads.
"We are on a mission to make sustainable trucks accessible at scale and believe our technology will empower the transport sector and the governments of Europe to meet their net-zero goals. By embracing both hydrogen and electric fuel sources, we can rethink the energy mix in transport, reduce strain on our electricity grid and accelerate electric truck adoption."
The essential certification has been achieved for the EU and UK with the Vehicle Certification Agency (VCA) and the Swedish Transport Agency (STA). To receive whole vehicle type approval, the Tevva electric truck underwent 30 system tests, including electric safety and electromagnetic compatibility to the latest standards.
Tevva's 7.5t electric truck offers up to 140 miles (227 kilometres) from its 105 kWh battery on a single charge, and is ideal for last-mile and urban delivery fleets.
Pressure is growing to decarbonise the heavy goods vehicle (HGV) market
Road freight currently generates 15% of European CO2 emissions, with roughly 70% of those emissions coming from MDTs and HDTs (medium to heavy duty trucks). These are considered the hardest-to-abate segments of the transport market.
Since 1990, transport is the only sector in the EU that has not seen a decline in emissions. Yet to achieve the EU's net zero 2050 goal, transport, especially road transport, must be completely decarbonised in the next 30 years. In order to show their support of increased policy action, Climate Group's EV100 coalition sent an open letter to the EU to outline their support for increased action.
The UK has already set emissions targets under its Transport Decarbonisation Plan, ending the sale of new petrol and diesel fuelled HGVs from 2034. The EU is now under increasing pressure to set targets of its own. The EV100 coalition wants to see the EU ban the sale of any vehicle that is not zero emission from 2035.
Recent research by the McKinsey Center for Future Mobility suggests that by 2025, 4% of all MDT and HDT sales in Europe will be zero emission vehicles. That share could grow to 37% by 2030, representing about 150,000 vehicles, provided that the rollout is supported by 140,000 public and destination charging points and 1,500 compatible hydrogen-fuelling stations.
According to the report Preparing the World for Zero-Emission Trucks, over 70 different models of zero emissions trucks are expected to be available by 204o, driven by increasing commitments to net zero by many fleet operators. Production volumes are expected to remain low in the short term, however, at fewer than 30,000 units annually through 2024 in Europe and North America. Production volumes in China are already double this volume output.
Demand for zero emissions trucks is expected to increase substantially though, partly because total cost of ownership is expected to fall by about 10%the next five to ten years – something which Tevva hopes to take advantage of. By 2035, the majority of new trucks sold in China, the European Union, and the United States are all expected to be electric.
With an increasing focus on the delivery of electric trucks, such as the launch by Tevva, it looks like the transition is already under way.
Tevva is also working on hydrogen fuelled trucks
Tevva's battery electric truck is just the first step, as the company hopes to launch its a 7.5t hydrogen-electric truck later in 2023, which benefits from a hydrogen range-extender that can enhances vehicle range to up to 354 miles (570km).
The technology can be deployed with a spectrum of options for zero-emission medium to heavy-duty trucks.  The company says that its hydrogen fuel-cell range extension technology allows its vehicles to do all the work of a diesel, with total peace of mind about cost, range and environmental impact.  It is currently focused on optimising green hydrogen solutions as part of its overall proposition.