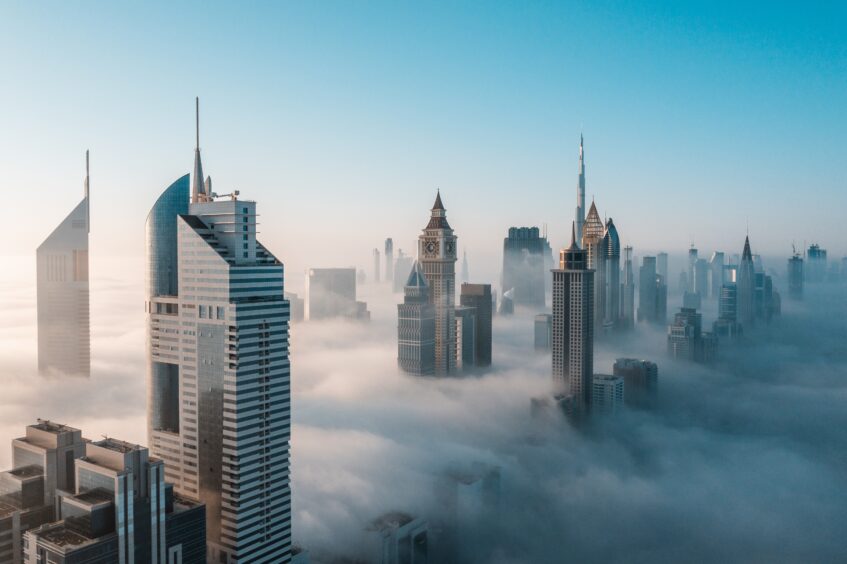 Eight major companies from real estate and other industries have pledged to cut buildings-related emissions by at least 50% by 2030 and be fully net-zero carbon no later than 2050.
Eight companies have made commitments to reduce the environmental impact of the built environment.
They intend to achieve their goals by applying a framework developed by the World Economic Forum.
Buildings have a huge carbon footprint but are often overlooked in wider decarbonisation plans.
Which companies have made the commitment?
Avison Young, Edge, GPFI Group, Ivanhoé Cambridge, JLL (NYSE:JLL), Majid Al Futtaim Properties, Schneider Electric (EPA:SU) and Signify (AMS:LIGHT) are the signatories of the new pledge. They operate in real estate and other adjacent sectors. 
"The industry has traditionally looked at investments in sustainability as a trade-off with other aspects like customer experience, but it's very clear that we need to shift our mindset," said Ahmed Galal Ismail, chief executive at Majid Al Futtaim Properties. "Sustainability is actually a trade-on and sustainable assets are more valuable."
How will the targets be achieved?
The signatories plan to meet these targets by implementing the Green Buildings Principles released by the World Economic Forum in 2022. They constitute a guide of steps to deliver net-zero carbon real estate portfolios:
Calculate a robust carbon footprint of your portfolio in the most recent representative year to inform targets;
Set a target year for achieving net-zero carbon, by 2050 at the latest, and an interim target for reducing at least 50% of these emissions by 2030;
Measure and record embodied carbon of new developments and major refurbishments;
Maximise emissions reductions for all new developments and major refurbishments in the pipeline to ensure delivery of net-zero carbon (operational and embodied) by selected final target year;
Drive energy optimisation across both existing assets and new developments;
Maximise supply of on-site renewable energy;
Ensure 100% off-site energy is procured from renewable-backed sources, where available;
Engage with stakeholders with whom you have influence in your value chain to reduce Scope 3 emissions;
Compensate for any residual emissions by purchasing high-quality carbon offsets;
Engage with stakeholders to identify joint endeavours and equitably share costs and benefits of interventions.
Signatories will report progress annually as part of their public sustainability reporting and participate in a 'Practitioners Group' to identify solutions around implementation. The Principles were developed in collaboration with JLL, the World Green Building Council and the Forum's Real Estate community. 
"More sustainable real estate is essential," said Coen van Oostrom, founder and chief executive at Edge. "The world deserves better buildings and it is entirely possible to significantly reduce the impact of both existing and new buildings."
Why is it important to decarbonise buildings?
In 2021, buildings accounted for 30% of global final energy consumption and 27% of total energy sector carbon emissions. Of these, 8% were direct emissions and 19% were indirect emissions from the production of electricity and heat.
In terms of greenhouse gases, construction only accounts for 5% of the total emissions, but this increases to 17% when accounting for indirect emissions from electricity and heat consumption of buildings. While direct emissions have remained mostly stable at 3 gigatons of CO2 per year, indirect emissions have almost doubled since 1990. 
Looking at indirect emissions is particularly important, as it is expected that, in developed economies, 80% of the buildings that will be used in 2050 have already been built. As such, it is fundamental to retrofit those that we already have, alongside erecting new ones designed to be as eco-friendly as possible. 
In its Emissions Gap Report 2022, the UN Environment Programme listed a series of measures at government, corporate and individual levels to reduce the carbon footprint of the sector. This included reviewing the business models of companies in the sector, ensuring that owners make their building stock zero-carbon without overburdening tenants, while investors need to rethink their strategy and investment criteria for zero-carbon building stock.
Emissions need to be reduced by 45% by 2030 and reach net zero by 2050 to meet the Paris Agreement goal. As such, the interim target pledged by the real estate companies would put them well on course for limiting global warming to no more than 1.5°C by the end of the century – if they do act on their pledge.