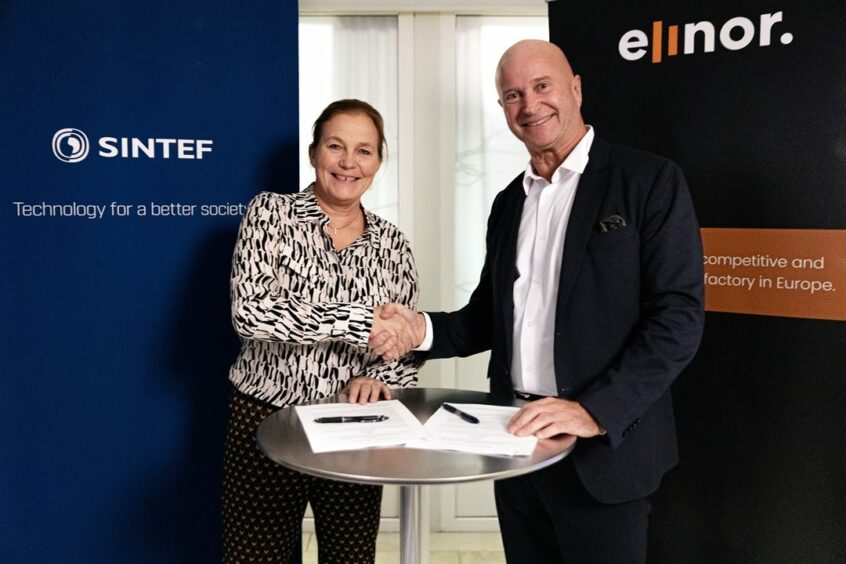 SINTEF and Elinor Batteries have signed a preliminary agreement to plan a giga-scale battery factory in Norway.
SINTEF, an independent European research organisation, and electric battery startup Elinor Batteries have signed a memorandum of understanding (MoU).
They plan to build a giga-scale factory to produce sustainable batteries in Central Norway.
It has the potential to be well placed in the Scandinavian country, which has major electrification ambitions and plans to compete with major battery-producing countries.
Elinor and SINTEF combine to respond to the global need for batteries 
Elinor Batteries is part of the Norwegian family-owned investment company Valinor, which is active in green industry and renewable projects. Elinor was formed in January 2023 to respond to the vast need for batteries for electric vehicles (EVs), renewable energy storage and smart devices.
SINTEF is one of Europe's largest applied research organisations, with over 70 years of experience in technology, natural sciences, medicine and social sciences. It works with public and private institutions as a contract research institution and has also created new companies that it has spun or sold off, reinvesting in its own knowledge and capabilities. It said its spin-offs have generated a combined revenue of NOK 4 billion since 2015.
The signing of the MoU will give Elinor access to SINTEF's new battery lab and research on raw materials, production technology, and end-of-life management best practices on battery cell production. 
Terje Andersen, chief executive of Elinor, said: "This is an essential agreement for us at Elinor Batteries, enabling us to start producing A-samples already this spring. The A-samples are crucial to be qualified as a supplier in an industry that has long been dominated by Asian suppliers".
Norway among top five countries for batter production 
Norway's battery supply chain has been ranked as one of the top five in the world by Bloomberg NEF. Locating the new gigafactory near Trondheim, in Central Norway, will put SINTEF and Elinor close to the 'Circular SuperCluster', giving it access to adequate renewable energy capacity and a large labour market.
SINTEF estimates the energy demand for EVs produced in Europe could reach 1200 GWh per year by 2040, with at least 55 new gigafactories needed to be built to meet that demand. The company is also focused on electrifying the transport sector, which will require batteries with high capacity and a long life. A specific area being targeted for electrification in Norway is the maritime market. 
Norway has been leading in terms of maritime electrification, having launched the first electric ferry in 2015. By 2030, the country plans to have 200 ferries operating zero-emission vehicles, using electric, hybrid or alternative fuels. Electric and hybrid solutions are also being implemented for express boats and cruise ships.
Giga-scale factory to break ground in 2024, with plans to deliver by 2026
Elinor expects to begin building the first model of its battery factory in 2024 and plans to begin first deliveries by the second quarter of 2026. The idea is to set up a total of three battery-producing modules by 2030, with a total capacity of 40 GWh.
SINTEF works with the European research and innovation (R&I) agenda for batteries, applying its expertise to contribute to building the battery value chain in Europe. It has established itself as a prominent player across multiple initiatives, alliances and industry organisations. 
Battery technology is vital to meeting Norway and Europe's net zero targets by 2050. Norway's public policy goals are based on Agenda 2030, while its climate targets align with the EU 'Fit for 55' initiative. 
The International Energy Agency considers the Scandinavian country a "pillar of energy security", based on its progress in expanding the supply of electricity domestically, most of which is generated with hydropower. It still faces challenges, however, in electrifying its transport and industry. To that extent, the city of Oslo has set targets that are even more ambitious than the country overall.
Establishing a giga-scale battery factory will give Norway's electrification plans and its bid to become a major battery-supplying country a boost. It will, however, have to play catch-up to China, which currently dominates the market, and also other key countries such as the US and Germany.
Alexandra Bech Gjørv, chief executive of SINTEF, commented: "The global battery competition is knowledge-intensive. A Norwegian battery factory must be the best in terms of sustainability in the entire value chain and a knowledge leader in electrochemistry, materials technology and mass production to succeed. We have invested considerably in having world-leading laboratories for battery production."