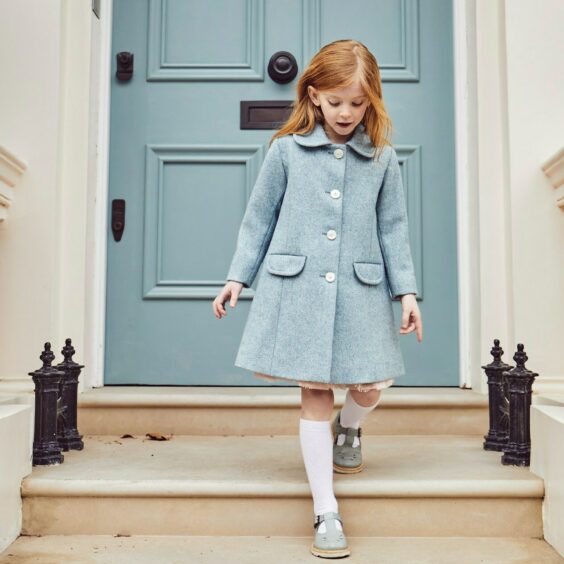 Britannical London, a luxury fashion brand specialising in children's coats, has launched a new circularity programme that will see customers returning their used items to be reconditioned and resold. 
The Re:Coat project is intended to contribute to the circular economy by maximising the lifespan of Britannical's products.

 

Fashion companies are facing increased pressure to reduce their waste, but they must also address their ongoing consumption of virgin resources.

 

Stakeholders should be cautious when assessing the credibility of emerging circularity initiatives.

 
Britannical London has officially launched its Re:Coat project, a not-for-profit scheme through which used items will be returned and resold at a lower price. The scheme has been refined through a successful pilot run, and will soon be expanded to include additional product lines and international stockists. 
"There is a lot of talk about sustainability in the fashion industry, but it is now time for brands to put their money where their mouth is," declared the brand's founder, Rachael Attwood Hamard. "Britannical London's circular initiative is about our commitment, as an ethical and sustainable brand, to minimise waste, maximise the life-span of our garments, and help cultivate a fashion culture that prioritises the environment." 
Britannical London's Re:Coat project
With the launch of the Re:Coat project, Britannical London's online customers will be able to return their used children's coats in return for 'green vouchers' that can be spent on future purchases. The returned items are then reconditioned and resold at a far lower price than originally offered. 
By cutting the prices of its resale products, Britannical intends to increase the accessibility of luxury fashion. It claims that its pilot run of the scheme was a resounding success, with the majority of its reconditioned items being resold within a single day. Longstanding customers were keen to be involved, noting their support for the project's lack of waste. 
The Re:Coat project builds on Britannical London's existing commitments to sustainable and ethical business practices, such as the use of environmentally friendly materials, its dedication to local sourcing and its rejection of plastic packaging. According to the brand, the new programme will support its ambitions by extending its zero waste ethos and engaging customers in its sustainable trajectory. 
Reductions in waste are not enough to tackle fashion's footprint
Through its Re:Coat initiative, Britannical London is taking steps to address the fashion industry's waste problem. The scope of this challenge cannot be denied, with estimates suggesting that around 80% of used clothing is currently being downcycled, exported or landfilled.  
The fashion industry's environmental footprint does not begin with its wastage, however. Its manufacturing activities consume around 98 million tons of non-renewable resources each year, with natural fibre production requiring vast amounts of land, water, and chemical inputs while synthetic materials are typically derived from fossil fuels. 
In recent years, there has been a dramatic shift in the expectations of consumers, regulators and investors. This has placed fashion companies under increased pressure to address their environmental impacts, leading many to prioritise the development of circular business models. 
These models can appear in a variety of forms, ranging from innovations in product design to the introduction of repair services or rental models. Ultimately, circular business models can incorporate any strategy that allows companies to decouple their profits from the ongoing extraction of virgin resources. 
Britannical London claims that its Re:Coat project is contributing to the circular economy by extending the lifecycle of its products. While this is certainly among the main principles of circularity, it is worth noting that participating customers will be rewarded with vouchers that can be spent on new items. It could be argued that this contradicts the brand's commitment to sustainability, as it maintains the demand for continuous production. 
In response to these concerns, Britannical notes that: "A critical factor here is that we are a children's clothing brand. Unlike brands that specialise in clothing for adults, we operate in a sector in which our end users grow out of their coats within 1 to 2 years and require another garment. We believe that it is better to have a system that allows parents the choice of accessing the next size up in one of our coats (which many would have done anyway), without causing undue waste." 
It goes on to say that, by selling reconditioned coats on a not-for-profit basis, it can provide a fair price to parents that wish to keep buying second-hand products. The brand will also allow customers to swap their used item for another Re:Coat donation, in lieu of receiving vouchers towards their next purchase. "We hope that this like-for-like trade facility will promote more sustainable consumption as well as giving customers more choice in how they engage with us a brand," it explains. 
Britannical continues to describe how its production ethos is centred around its commitment to sustainability: "We are not a seasonal brand per se. Rather, we run a relatively small collection of perennial styles in limited editions. We plan our production according to sales data-driven forecasting and we do not over-produce. We have refined our production technologies over a decade and operate minimum waste production cycles once per year. We promote a culture of conscious consumption and investing in quality that lasts." 
"In sum, our Re:Coat initiative is not about pushing novelty on our customers, as opposed to allowing parents the chance to 'hand down' items that have become unsuitable for their children to other parents, and, in turn, allowing more parents the chance to access pre-loved versions of our pieces," it concludes. 
Stakeholders must be wary of poor definitions in circular fashion
Britannical London makes some valid points in defence of its circular strategy, and appears to have developed its Re:Coat project with only the best intentions in mind. What the issue highlights, however, is the complexity of fashion supply chains and the nuance involved in the implementation and marketing of sustainable business models. 
This has recently been highlighted through the work of Zero Waste Europe in its report on the essential criteria for zero-waste business models that can provide a viable alternative to excessive consumption. The organisation warns that, by focusing on waste management or product design, the fashion industry is failing to address its systemic dependence on overproduction. 
The main problem here is the fact that fashion companies are promoting their initiatives with language that reflects their own understanding of sustainability or, more cynically, their perception of consumers' awareness. This can confuse or mislead their customers, making it difficult for them to purchase products that align with their values. It can also result in accusations of greenwashing, potentially leading to reputational damage or regulatory penalties. 
With this in mind, companies ought to be cautious when choosing their terminology and framing their sustainability initiatives. This cautious approach should be shared by all stakeholders, who must consistently question any niggling doubts that all is not as it seems. Without broad and critical oversight, there is little hope that systemic problems will ever be truly resolved.