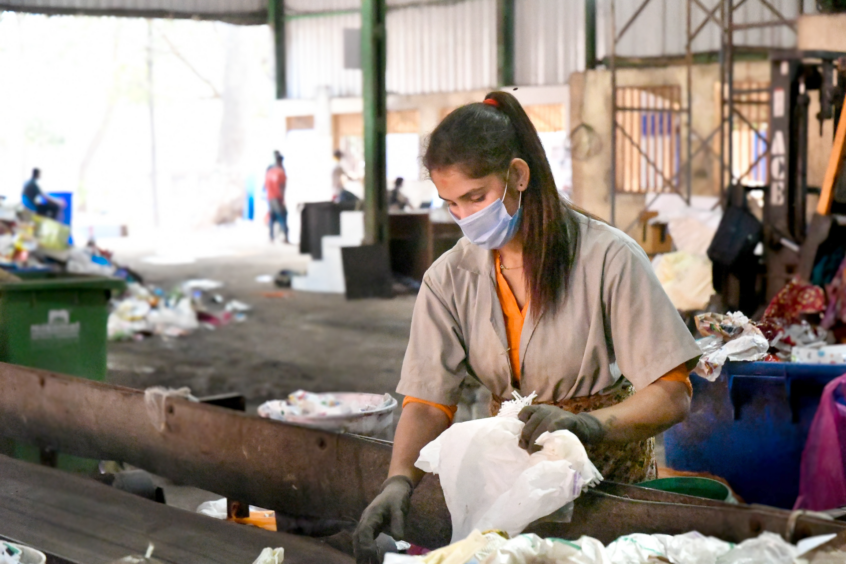 United Nations Development Programme (UNDP) and Hindustan Unilever Limited (HUL) have announced the launch of an 'Inclusive Circular Economy' project.
The leakage of plastic into oceans is set to triple in the next twenty years.
According to a CDP report, 88% of companies said plastic was a concern but a third have no plastic-related targets.
Informal workers have less access to healthcare, insurance, credit and more and projects to address SDG 1 have multiple benefits.
The initiative focuses on the end-to-end management of plastic waste as part of the challenge. It will build on an existing pilot through the promotion of segregation of waste at source, collection of the segregated waste, and the setting up of Material Recovery Facilities (MRFs) for recycling all kinds of plastic waste along the value chain.
Unilever and plastics
There is a global plastics crisis, with an estimated $600 billion funding gap. There are negative impacts from plastic pollution, both on climate and on nature and biodiversity. If growth in single-use plastic production continues at current rates, it will account for 5-10% of global emissions by 2050.
At the moment, plastic is entering the ocean at a rate of about 11 million metric tons a year and could triple over the next 20 years. Research from the Pew Trust has shown that, without action, twice as much virgin plastic will be created and four times more plastic could flow into the oceans by 2040.
2021 saw the publication of the Plastic Waste Makers Index, an attempt to identify who is financing the single-use plastic industry. Single-use plastics represent about one-third of global annual plastic production, and about 130 million tonnes of plastic waste per year. According to the Mindaroo Foundation research, almost 98% of single-use plastics are made from fossil fuels – with little to no recycled content.
By 2025, Unilever (NYSE:UL) has set targets to halve the amount of virgin plastic used in packaging and achieve an absolute reduction of more than 100,000 tonnes. It has also committed to collecting and processing more plastic packaging than sold, to which the new project will contribute.
The company has said that it will ensure that 100% of its plastic packaging is designed to be fully reusable, recyclable or compostable and has committed to using 25% recycled plastic in its packaging. It is also part of a group calling for a global UN treaty with legally binding targets and for optimal extended producer-responsibility legislation in which companies pay for packaging collection.
Project will target social inclusion and worker engagement
UNDP said that the social recognition of waste pickers, an underserved community they call 'Safai Saathis', is a key focus of the project. Amitabh Kant, chief executive at NITI Aayog, said: "Safai Sathis, or waste pickers are the invisible environmentalists, and play a significant role in waste recycling in India. The social inclusion of informal workers is crucial for sustainable plastic waste management."
A socio-economic survey of 9,300 Safai Saathis conducted by UNDP India underscored the highly informal nature of their work. From the findings, formalisation of work, initiation of skill training, work diversification, education of the children of Safai Saathis, and exploring alternate livelihoods emerged as some of the key policy priorities.
The programme is intended to reach 20,000 Safai Saathis across India in Mumbai, Delhi, Bengaluru, Cuttack, and Kolkata, among others, with access to government welfare schemes and a variety of other links. The partnership is the first-of-its-kind attempt to promote the social inclusion of Safai Saathis at this scale in India.
Supporting capacity building at a city level
The partnership will also help build municipal capacities for adopting the MRFs or Swachhata Kendra model for plastic and dry waste management in other cities. Further, to ensure better waste management and recycling of plastic waste, the project will also reach out to 100,000 households for segregation at source.
HUL chief executive and managing director Sanjiv Mehta said: "We need collaborative efforts towards effective waste management. Our vision is one where key stakeholders work together to ensure the problem of plastic waste is systematically and efficiently addressed. The partnership between HUL and UNDP is a holistic and replicable model that promotes plastic circularity and collective action. The partnership will also promote the social inclusion of the invisible superheroes of our society, Safai Saathis, at scale."
UNDP's wider programme on poverty and gender
The project is a scale-up of existing partnerships under UNDP's flagship Plastic Waste Management Programme. To date, the UNDP-HUL partnership has reached out to 100,000 households on source segregation, diverted 8,000 million tons of plastic waste from landfills, and operationalised three model Swachhta Kendras in Mumbai.
Shoko Noda, resident representative at UNDP India said: "Plastic waste is one of the most concerning challenges of our times. The plastic waste management programme promotes an innovative multi-stakeholder model between municipal corporations, corporates, Safai Saathis, and people to work together for cleaner and greener cities. It also gives Safai Saathis, the face behind the country's waste management system, a stable income, and dignified lives."
To date, the project has successfully linked 3,300 Safai Saathis and their families to government welfare schemes, including Pradhan Mantri Suraksha Bima Yojana, Pradhan Mantri Jeevan Jyoti Bima Yojana, SHRAM card, and Jan Dhan account.
Around 75% of Safai Saathi's reached through the pilot were women which reaffirms that female Safai Saathis are not only at the frontline of advancing circular economy, but also anchoring social inclusion for their communities.
The pilot also highlighted the gap in the availability of accurate national identity documents resulting in limited access and slow uptake of schemes by the Safai Saathis. To address this, the project has created a local pool of community cadres to mobilise and facilitate the application and adoption of government schemes. It also raises awareness through camps and door-to-door campaigns and will be scaled up under the new partnership.