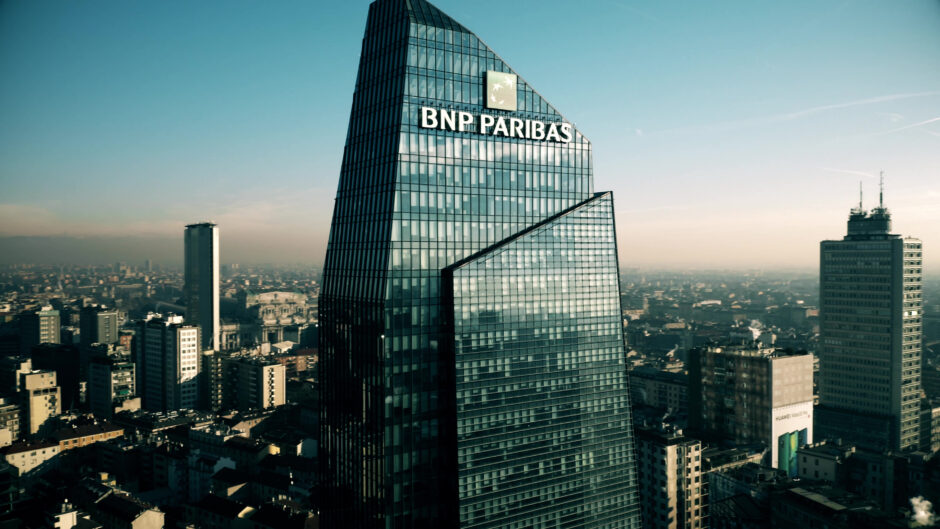 BNP Paribas (PAR:BNP) has set a target for low-carbon energy activities to account for over 80% of its loan portfolio, largely by limiting its backing to oil projects. It will, however, continue financing gas-related activities, while there are no plans yet regarding oil refining.
BNP Paribas, the largest French bank, has announced its intention to move away from financing oil projects and towards low-carbon energy production.
It intends to set out on a new phase of transitioning to a low-carbon economy, but it is still backing gas-related activities and oil refining.
Banks are under intense pressure from stakeholders and environmental groups to support global climate goals by dropping investments in highly polluting projects.
Major European and UK banks that have committed to net zero goals still provide loans for oil and gas exploration and production (E&P), according to Share Action, highlighting a disconnect between climate pledges and action. The NGO found that 25 of the top European and UK banks have provided $400 billion to large oil and gas expansion projects since the Paris Agreement was signed in 2015. Significant among these are HSBC (LON:HSBA), Barclays (LON:BARC) and BNP Paribas.
Of these banks, 24 are signatories of the Net Zero Banking Alliance, which is part of the Glasgow Financial Alliance for Net Zero (GFANZ). It comprises 43 banks from 23 countries which have committed to aligning their operational and attributable emissions from their portfolios with pathways to net zero by 2050 or sooner.
Making a transition towards financing low-carbon energy production
BNP Paribas began to move away from oil project financing in 2016, and previously committed to reducing its financing for oil extraction and production by 25% by 2025. It has also begun exiting financing the coal industry, which should be completed in OECD member countries by 2030.
By September 2022, the bank reported that its outstanding loans for low-carbon energy production were 20% higher than those for fossil fuel production. The lender also said that its participation in structuring and placing green bond issuance, which reached $19.5 billion in 2022, indicated its efforts to finance the transition to a low-carbon economy. 
The lender was, however, been listed in the Rainforest Action Network's Banking on Climate Chaos report as the tenth largest bank to finance the fossil fuel industry, although its activity with sector has declined at 4.1% on a compounded annual basis since 2016, and declined 64% in 2021 compared to 2020.
New phase of acceleration builds on Low-Carbon Transition Group expertise 
BNP said it will grow its financing of the production of low-carbon energy projects by 41% by 2030, which it expects will primarily be made up of renewable energy projects. To facilitate this acceleration, it plans to leverage the expertise of its Low-Carbon Transition group. It was formed in 2021 with the aim to help its clients with their energy transition and decarbonisation strategies. It plans on hiring 250 professionals and experts by 2025, who will be backed by the bank's teams experienced in clean energy, mobility and buildings and real estate.
Part of the acceleration toward a low-carbon economy will require a reduction in BNP's oil E&P activities, which will be reduced by 80% by 2030. Financing for gas extraction and production will be lowered by 30% in the same time frame. As such, BNP claims that, by 2030, 80% of its energy production financing will be directed to the production of low-carbon energies. 
The bank also has not provided any reduction targets or plans for its oil refining activities. At the end of September 2022, oil refining accounted for more than half of its financing for fossil-based energy production, and nearly a quarter of its total financing for energy production.
New oil and gas activities not compatible with net zero by 2050 scenarios
The transition of a loan portfolio to low-carbon energy activities cannot be considered complete, or even achieved with 80% success, if oil refining remains a sizeable part of it. According to the International Energy Agency, emissions from producing, refining and transporting oil account for 15% of the energy sector's total greenhouse gas emissions. 
Lucie Pinson, director of campaigning group Reclaim Finance, commented: "BNP Paribas recognises the need to reduce our dependence on oil and gas, which is a source of risk, and to increase support for solutions. But this is not the right way to do this, and all the signs suggest that the French bank will continue to finance a few large clients, such as TotalEnergies, despite their strategy to expand fossil fuel production."
The campaigners noted that, unlike its peers ING and HSBC, BNP Paribas has not committed to ending all direct support for new oil and gas projects, while the current plan is to "reserve its financing in the gas sector primarily for new generation low-emission thermal power plants as well as for security of supply, gas terminals and the gas transport fleet".
"What are presented as restrictions for the gas sector in fact reflect the bank's willingness to support its clients in developing new climate bombs, which are not needed for energy security but which are fatal for our climate goals. Gas is not a transitional energy and its real impact on the climate needs to be urgently recognised," Pinson concluded.
"The inclusion of clauses restricting the use of funds in financing contracts is a good way for the bank to signal to its clients its desire to see them withdraw from certain activities. However, as the money is fungible, BNP Paribas cannot guarantee that it will not support its clients' oil activities. Once again, BNP Paribas is using the wrong method, especially since, while there is an urgent need to push companies to stop developing new projects, no 1.5°C scenario calls for an end to all support for oil by 2030. It would have been much more appropriate to call on companies to abandon their new oil projects and to make the provision of new services conditional on compliance with this demand in the short term."