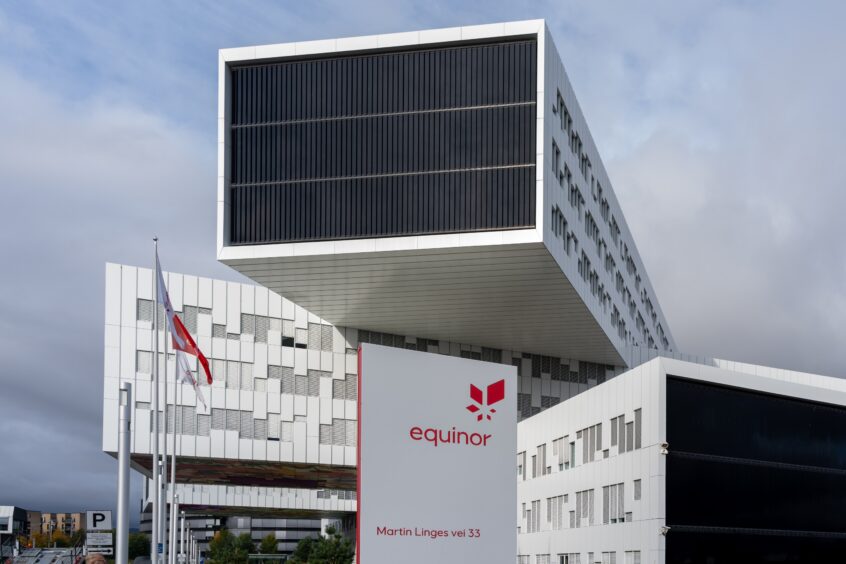 Climate campaigners intend to hold protests at the UK offices of energy giant Equinor (OSLO:EQNR) and the Norwegian embassy ahead of what are expected to be a further set of record profits.
Climate campaigners are planning protests against Equinor ahead of expected record profits.
Oil companies have been posting record performances following a year of high oil prices.
Activists are asking that the company halts its plans to develop the Rosebank field.
Climate groups including Stop Rosebank and the Young Christian Climate Network plan to hold a "candle-lit vigil" on the evening of 7 February outside the Norwegian Embassy in central London to highlight what they say is Equinor's role in "both the climate and cost of living crises."
The vigil will be followed by further protests on Wednesday morning outside Equinor's offices in Paddington, London and Kingswells on the outskirts of Aberdeen.
The action is timed to coincide with the state-backed energy giant's annual results on Wednesday, in which it's expected to follow the record performance of its supermajor peers. BP reported underlying replacement cost profits of $27.7bn on Tuesday, while Shell posted net earnings of $40bn.
Campaigners said the company, which provided around 27% of the UK's gas demand last year, was poised to make billions in profit while millions of UK households struggled with soaring bills.
They also raised opposition to the company's plans to develop the Rosebank field, now a lightning rod for political and environmental action.
The group is expected to reach a crucial final investment decision (FID) on the 300 million barrel field later this year, and with it a promised £8.1bn investment and more than 1,600 jobs.
However, Stop Rosebank and other groups say Equinor and its development partners Suncor Energy and Ithaca Energy are set to receive "vast public subsidies" and more than £500 million in tax breaks, in part due to investment incentives offered as part of the Energy Profit Levy (EPL).
A spokesman for Equinor said: "Rosebank has the potential to strengthen energy security with oil and gas that is produced with a much lower carbon footprint than current UK production
"We aim to develop and operate projects such as Rosebank with the lowest possible carbon footprint while bringing the maximum value to society in the shape of UK investment, local jobs and energy security.
"The Rosebank project is estimated to bring £26.8 billion to the UK through tax payments and investments into the UK economy."
Meanwhile, Norway remains a major gas supplier to UK consumers, shipping 32 billion cubic metres (bcm) in 2021 – surpassing the 29bcm supplied by the UK continental shelf for the first time.
Norway's 'huge responsibility'
Lauren MacDonald from Stop Rosebank said: "Equinor is literally making billions while vulnerable people in the UK, struggling with soaring energy costs, are being forced into debt or worse, having their energy supply cut off in winter. And yet this government is effectively handing Equinor more than half a billion pounds in taxpayers' money to develop Rosebank, an oil field which will do nothing to lower our bills.
"Our energy system and these kinds of profits are completely immoral."
Young Christian Climate Network campaigns lead, Chris Manktelow, added: "The Norwegian government, as majority owners, bear a huge responsibility over Equinor's actions. We're asking Norway to think again about its support for new fossil fuel developments, like the Rosebank oil field off the Shetland coast, when we're in the middle of not just a climate crisis but a cost of living crisis driven by burning fossil fuels."
Both campaigners called on the Norwegian government to withdraw Equinor from the project.
This week's demonstrations are the latest in a series of actions targeting the Norwegian group and the Rosebank project.
In December campaigners handed in a petition to No.10 Downing Street signed by over 130,000 people which called on the UK government to halt Rosebank's approval, and held a corresponding demonstration in Trafalgar Square.
Other protests in Aberdeen were timed to coincide with the company's previous quarterly results, including a virtual 'day of action' supported by groups including Greenpeace and Friends of the Earth.