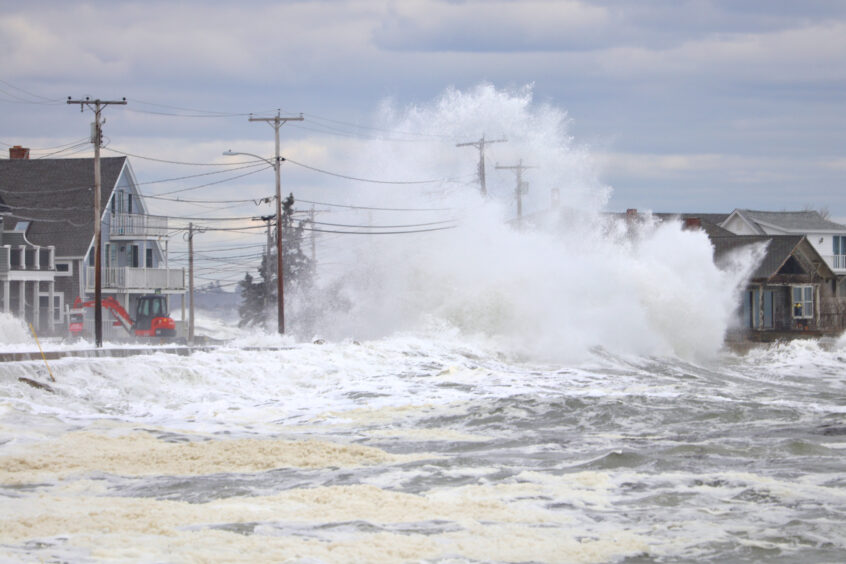 Sea & Shoreline, a specialist in the restoration of aquatic ecosystems, will form a joint venture with Living Shoreline Solutions to strengthen the resilience of coastal communities. 
The joint venture will combine Sea & Shorelines' restoration expertise with Living Shoreline Solutions' wave attenuation devices (WADs) to create resilient, healthy ecosystems.

 

Climate change is causing sea levels to rise, threatening the lives and lifestyles of coastal communities.

 

By combining adaptive mechanisms with long-term mitigation strategies, the new venture provides a prime example of the holistic approach that ought to be taken when dealing with the climate crisis.

 
The new venture will combine Sea & Shoreline's approach to nature-based solutions with the deployment of Living Shorelines' Wave Attenuation Devices (WADs). Through this integrated approach, the Florida-based partners believe that they can protect coastal communities from the impacts of climate change while also supporting the development of thriving aquatic ecosystems. 
"This new partnership allows us to provide another critical solution to help vulnerable coastline communities save their shorelines," said Sea & Shoreline chief executive Jeff Huenink.   "WADs coupled with Sea & Shoreline's habitat restoration techniques provide not only shoreline, but also habitat enhancement," added Scott Bartowski, president of Living Shoreline Solutions. 
Coastal communities threatened by climate change
Climate change is causing sea levels to rise dramatically, due to a combination of glacial melting and the thermal expansion of warming seawater. Since records began in 1880, the global average sea level has risen by 21-24 cm. The pace of this change has accelerated in recent years, leading NASA researchers to warn that it could rise by a further 25-30 cm before 2050. 
Although these numbers may appear small, even a minor rise in sea levels significantly increases the risk of land submersion, flooding and coastal erosion. The consequences are felt by local communities, who may lose their homes, their infrastructure, their sources of income, or even their lives.
Individual losses are not the only issue, however. Coastal economies may suffer the loss of industries such as tourism or fishing, particularly as aquatic ecosystems increasingly struggle to thrive under volatile and rapidly changing conditions. 
Coastal impacts are unevenly distributed
It is also worth noting that sea levels are rising faster and more dramatically in certain areas. The global average is indeed an average, with tropical regions already experiencing severe impacts while others are just beginning to gain awareness.  
This means that some of the world's most vulnerable populations, those with the fewest resources available to manage an impending crisis, are suffering despite having made the smallest contribution to the climatic changes that could lead to their demise. Even in more affluent and developed areas, such as the coastal metropolis of New York City, the burden of rising sea levels may be unevenly distributed due to discriminatory investment in resilient infrastructure or preventative measures. 
Urgent action is needed, both to address this unequal suffering and to prevent its spread. According to the Intergovernmental Panel on Climate Change, the question is no longer whether global sea level rise will exceed 80 cm, but when.  
Even if we are successful in mitigating further temperature increases over the coming decades, sea levels will continue to rise as the ocean responds to the warming that has already taken place. With estimates suggesting that at least 410 million people will be living in vulnerable areas by 2100, it is imperative that they are equipped with strategies and resources that will protect them from the changing environment. 
Combining nature with technology to create resilient, healthy ecosystem
Since launching in 2014, Sea & Shoreline has developed a range of different methods for restoring aquatic ecosystems. Examples include the creation of oyster or coral reefs, the plantation or conservation of aquatic vegetation, and more structural services such as the dredging of excess sediment or filling of propeller scars. With these nature-based solutions, Sea & Shoreline restores both fresh and saltwater habitats to their optimal health, enabling them to support a wide range of aquatic species.  
Living Shoreline Solutions, meanwhile, has taken a more technological approach to the building of coastal resilience. Its WADs, hollow concrete structures with engineered channels, form a breakwater barrier that scatters the energy of oncoming waves. The energy in the waves can be harnessed and used to pump excess sediment from the surrounding area, while also enhancing the stability of each structure. 
What makes the wave attenuation devices special?
Rather than the flat, deflective surface of traditional barriers, the WADs have angled sides that reduce the amount of scouring incurred and provide greater long-term protection. The oncoming waves enter the channels of the WADs' front-facing surface, and are circulated out through openings in either side. This creates a 'secondary vortex effect' that dissipates and dilutes their power. 
For each project, Living Shoreline Solutions conducts extensive surveys and modelling to determine how many WADs are needed and assign their deployment between local business partners. The company claims that its devices remain stable even in the harshest conditions, providing valuable protection against storms or hurricanes. 
Furthermore, the WADs have been purposefully designed to support local wildlife populations. The concrete they are made with has a neutral pH, ensuring that it does not impact the acidity level of the surrounding waters, while their angled channels allow small fish or crustaceans to pass through unharmed. With their anchored structure, they also provide a safe location for species such as oysters or barnacles to attach, attracting various other creatures to create a biodiverse ecosystem. 
Holistic approach integrates mitigation with adaptation
As sea levels continue to rise, coastal communities will become increasingly vulnerable to the impacts of climate change. With preventative measures, however, they may be able to limit the damage and lower the costs of future reparation. Indeed, there is evidence to suggest that investing in adaptation strategies can generate significant economic savings in the long run. 
Of course, there are certain limits to adaptation. Breakwater barriers and similar approaches can only provide so much protection when sea levels rise to the extent that entire swathes of land are being submerged. 
Although the technical specifications of Living Shoreline Solutions' WADs may be particularly effective in averting coastal erosion, they alone would not be enough to ensure the resilience of coastal communities. Eventually, sea levels would rise to the point that barriers could not contain them. 
Evidently, there is a need to combine adaptive mechanisms with sustainable solutions that target not just the impacts of rising sea levels, but also their causes. This could be achieved through the integration of nature-based methods, such as those offered by Sea & Shoreline. 
Local coastal protections can also boost biodiversity
By enhancing the quality of aquatic ecosystems, these methods help to increase local biodiversity. In doing so, they also improve the delivery of natural services such as water filtration or carbon sequestration. Natural services will play a critical role in the fight against future climate change, so their improvement can be seen as a long-term commitment to the protection of coastal communities. 
As such, the holistic approach of the new joint venture promises to provide a combination of adaptation and mitigation. This ought to be seen as a prime example of the route we should be taking when addressing the complexities and urgency of the climate crisis.