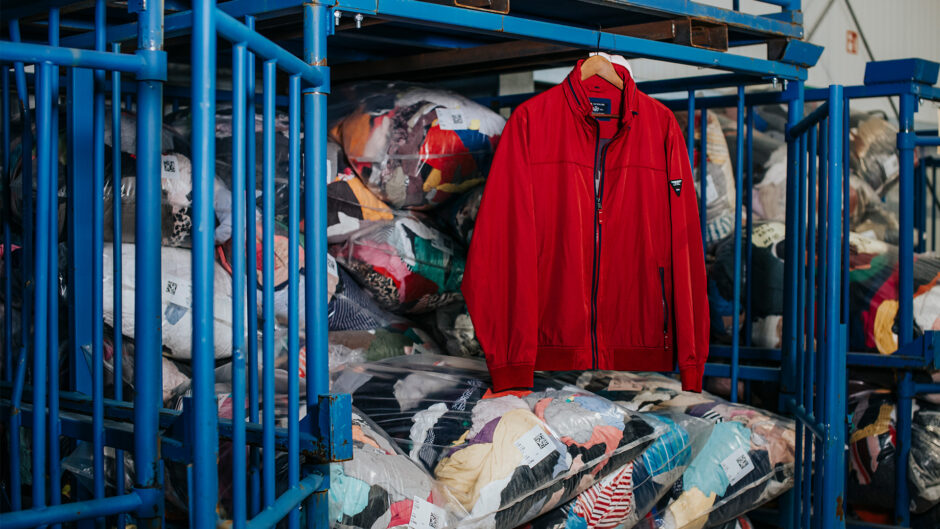 H&M (STO:HMB) has set up a joint venture with waste management group Remondis to sort and recycle textile waste, but campaigners said that the initiative "is greenwashing and will barely scratch the surface of this problem". 
H&M and Remondis have launched Looper Textile Co., to collect, sort and sell used and unwanted garments and textiles.
In Europe, 60% of textiles go to landfill, causing pollution and losing valuable resources.
While this is a step in the right direction, experts say that companies such as H&M should focus their efforts on putting fewer items of clothing on the market.
The joint venture combines the expertise of two sectors to address the issue of textile waste in Europe. The Swedish clothing brand launched a garment collecting initiative worldwide in 2013 and has, through its investment arm H&M CO:LAB, invested in companies that develop technologies to enable textile recycling. 
What is Looper planning to do?
The joint venture, whose ownership is split equally between H&M and Remondis, intends to collect, sort and sell used and unwanted garments and textiles to extend their lifetime, with a view to processing 40 million items during 2023. 
The scope is to become a preferred feedstock provider to companies and innovators engaged in textile resale and recycling. The company plans to innovate within the textile collection and sorting, for example by testing new collection schemes and implementing automated sorting technologies such as near-infrared sorting, as well as by developing an assortment of partners in the areas of reuse and recycling. 
"Used and unwanted garments must first be collected and sorted into different streams, such as by type of material or garment, in order to be reused or recycled," said Looper's chief executive Emily Bolon. "By building infrastructure and solutions for collection and sorting, we hope to move one step closer toward enabling circularity, thereby minimizing the CO²-impact and improving resource efficiency."
What's the problem with textile waste?
Less than 40% of used clothes are collected for reuse or recycling in the EU, meaning that the remaining 60% goes to landfill. What is perhaps more concerning is that only 1% are recycled into new clothes, because technologies to enable these processes are only now starting to emerge. 
Meanwhile, the number of clothes bought per person in the EU increased by 40% between 1996 and 2012 as prices plummeted but new lines are constantly added. The fashion industry has major environmental and social consequences, with clothing considered the fourth highest impact on the environment of all categories of EU consumption.
As such, disposing of textile waste means losing extremely valuable resources without giving them a second chance to be upcycled, recycled or reused in true circular fashion. Moreover, landfilling or incinerating textile waste comes with its own environmental problems, considering the massive amounts of chemicals and fossil fuel-derived fabrics contained in clothes. Over two-thirds of textiles are made of plastic, a number expected to reach 73% in 2030. Indeed, textile waste has almost five times the carbon impact per weight of animal or mixed food waste.
The social cost of textile waste
Beyond the environmental impacts of sending clothes to landfill, the consequences of this practice spread far and wide, affecting some of the world's most vulnerable populations.
In a report published in February 2023, the Changing Markets Foundation exposed the hidden export of plastic waste to the Global South, fuelled by the growing production of cheap, synthetic clothing made by brands in the Global North. Despite restrictions on plastic waste export around the world, an overwhelming volume of used clothing shipped to Kenya is made of synthetic materials, a toxic influx which is creating devastating consequences for the environment and communities.
The researchers estimated that over 300 million items of damaged or unsellable clothing made of plastic fibres are exported to Kenya each year where they end up landfilled, burned or dumped. Sorting at the source is failing, they said, as it results in exporting companies skimming off the high quality clothing for resale in Europe, while the rest is sent outside its borders. 
Despite this fact, the export of used clothing goes through substantial inter-European trade, likely for grading and sorting purposes, before being re-exported to its final destination, according to the report. The investigation also revealed that some countries, such as Pakistan, act as sorting hubs due to lower labour costs, a fact that muddies the data and may be giving a false picture of clothing reuse and recycling from Europe.
Addressing the problem at the source
Of course, if fashion companies produced in smaller volumes, there would be fewer items to buy and therefore to throw away. While any initiative to deal with the textile waste issue is welcome, it is ultimately being fuelled by overproduction.
According to Urska Trunk, campaign manager at the Changing Markets Foundation, the H&M and Remondis initiative is a step in the right direction, it is only dealing with the end of the pipe of fast fashion.
She said that it "is greenwashing and will barely scratch the surface of this problem".
"Collecting, sorting and selling used items is not a silver bullet solution, especially in light of the sheer volume of clothing H&M puts on the market, much of which are plastic-based items of quality too low to be resold after consumer are done with them, and will end up landfilled or burnt," she added. "Such initiative also needs to considered against H&M's plans to double sales by 2030, and against our recent findings."
A spokesperson for H&M said: "When we talk about doubling sales, we don't mean doubling volume or selling twice as many products. It's about doubling our revenue through a strengthened customer offer and initiatives, partnerships and investments that lead the way to a circular fashion industry."
"While growth has for a long time been defined by the scope of our expansion, we're now defining growth in a new way. We see significant opportunities to grow through increased customer lifetime value, multiple transactions behind one product and new business models such as rental, resale and remanufacture," the spokesperson added.
"To avoid overproduction, we strive to respond precisely to customer demand and only produce what we can sell. We put a lot of time and effort into forecasting the demand of our customers as accurately as possible, which involves using advanced analytics and AI tools. By analyzing data from our operations within the group, we can align supply and demand even better."
Trunk cautioned that this issue will not be solved by the industry alone, but will require comprehensive legislation, such as the EU's Strategy for Sustainable and Circular Textiles.
Trunk concluded: "In order to address this problem holistically, not just as an afterthought to deal with the end of life in a system that is dramatically overproducing, the upcoming legislation also needs to set strong eco-design criteria. That means that clothing is made to last longer, is more likely to be reused and recycled and would lead to a reduction in waste."