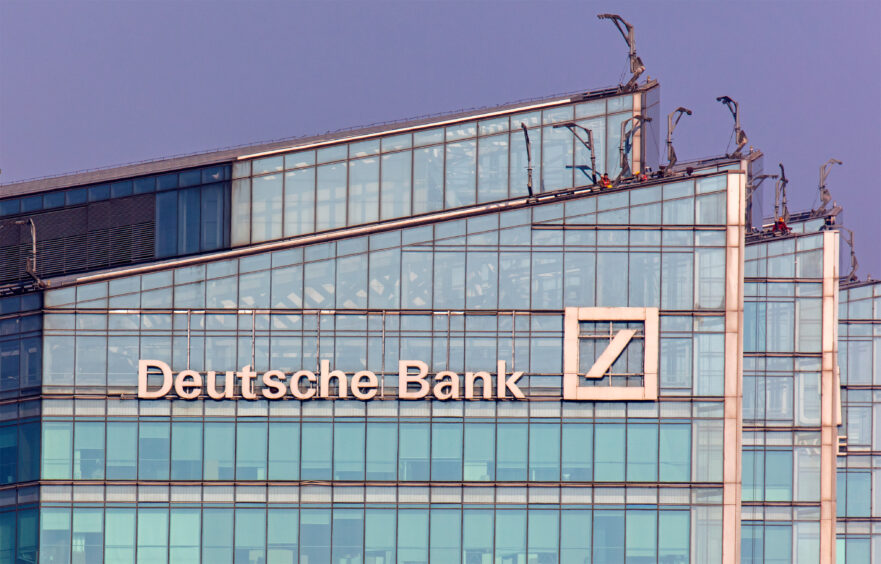 Deutsche Bank (ETR:DBK) has tightened its policy for coal investing but campaigners warned "it fails the key litmus test of climate credibility".
Deutsche Bank is limiting its financing of the thermal coal sector.
The rate at which fossil fuels are phased down will depend on the pace at which low-carbon energy supply is scaled up – so expanding fossil fuel activities will jeopardise the transition.
According to Reclaim Finance and 350.org, Deutsche Bank is not credible as it remains tied to clients involved in coal, oil and gas.
German lender Deutsche Bank has unveiled a series of measures to reinforce its net zero commitment, including tighter policies on coal investing.
What's the latest pledge on coal?
The firm said that financing of the thermal coal sector declined by around 18% to €231 million in 2022, accounting for 0.04% of the total loan book. It has updated its policy to enforce stricter criteria: the revenue threshold to identify whether a corporate client is a thermal coal company has been lowered from a revenue dependency of 50% to 30%, starting in May 2023.
Moreover, it introduced new absolute thermal coal production thresholds of 10 megatons per year for thermal coal production, and 10 gigawatts for thermal coal power capacity. For clients to access baseline funding, the bank will require "credible diversification plans". Existing clients will be asked to present such plans in 2025, while for new clients they will be a precondition for any lending.
Deutsche Bank has defined criteria for the evaluation of transition plans for phasing out of thermal coal, expected for companies in OECD countries by 2030 and for those in non-OECD countries by 2040. It confirmed its commitment to end financing for companies with a thermal coal revenue dependency of more than 50%, and which have no credible plans to reduce it, by 2025 in OECD countries or below 30% by 2030 in non-OECD countries.
The update builds up on the policy in force since 2016, which rules out financing of projects related to new thermal coal mines or material expansion of existing ones. The policy already prohibits the financing of the construction of new coal-fired power plants and the extension of existing ones.
The problem with financing fossil fuels
As part of the financial sector, banks are crucial to enable the energy transition by providing the necessary capital to develop and implement new technologies, as well as supporting hard-to-abate industries in their transformation. As such, it does not mean that lenders should drop polluting clients altogether, but ensure that they have credible plans in place to address their environmental impact.
This, indeed, is the stance taken by Deutsche Bank. "We are convinced that parting with a client after a transition dialogue can only ever be a last resort. In most cases we can contribute more to reducing greenhouse gas emissions by working with our clients," said chief executive Christian Sewing. "But in cases where we saw no willingness on the part of a client to embark on a credible transition, we would not shy away from exiting a relationship."
When it comes to fossil fuels, however, it is key to remember that new coal, oil and gas projects are not compatible with a net zero by 2050 scenario and indeed will jeopardise decarbonisation efforts in other sectors. Even though the war in Ukraine has led to upheaval in the energy industry, prompting many governments and companies to boost their fossil fuel supplies, it is crucial that banks stop financing new developments that will lock in emissions for decades to come – which will also present significant climate risk to their investments and potential for stranded assets.
According to BloombergNEF, the rate at which fossil fuels are phased down will depend on the pace at which low-carbon energy supply is scaled up. Something very concerning, therefore, is that banks financed 81% as much low-carbon energy supply as fossil fuels in 2021. This means that, for every dollar bank financing activity supporting fossil-fuel supply, another 0.8 supported low-carbon energy. 
Is Deutsche Bank's new policy ambitious enough?
The BloombergNEF finding is yet more proof that banks must take fast and decisive action to phase out fossil fuels and direct their support to the energy transition. 
Deutsche Bank said that it also plans to update its oil and gas policy. Its outstanding loans in the sector declined 20% to €6.5 billion at the end of 2022, accounting for 1.3% of its total loan book. Any new updates on this front will be significant as, according to ShareAction, the German lender was the sixth biggest provider of financing to 50 of the top oil and gas expanders between between 2016 and 2021.
Meanwhile, campaigners said that the current update is, albeit welcome, not ambitious enough.
Yann Louvel, senior policy analyst at Reclaim Finance, commented: "By not immediately excluding coal developers, Deutsche Bank's policy fails the key litmus test of climate credibility as the bank will still be able to support climate laggards such as Adani (NSE:ADANIENT) or Glencore (LSE:GLEN). If Deutsche Bank wants its request for credible transition plans to be taken seriously, it must make ending coal expansion immediately mandatory for its existing clients."
This view was echoed by Kate Cahoon, lead Germany campaigner at 350.org: "Given Deutsche Bank's record as one of the biggest funders of fossil fuels in Europe, we welcome the modest steps announced by the bank today… However, oil and gas are a glaring omission, particularly in light of the millions in finance provided to fossil fuel companies like Total (NYSE:TTE) and RWE (ETR:RWE)." 
"Deutsche Bank's new policy does not go far enough and appears hypocritical. It does not exclude companies that continue to plan new coal-fired power plants or mines, such as Glencore. In addition, the thresholds for coal mining for existing customers do not take effect until 2025 – which is too late," she concluded. "Any company aggressively expanding fossil fuel extraction around the world does not have a credible commitment to net zero, based on their own criteria Deutsche Bank should break all ties with all coal, oil and gas companies now."