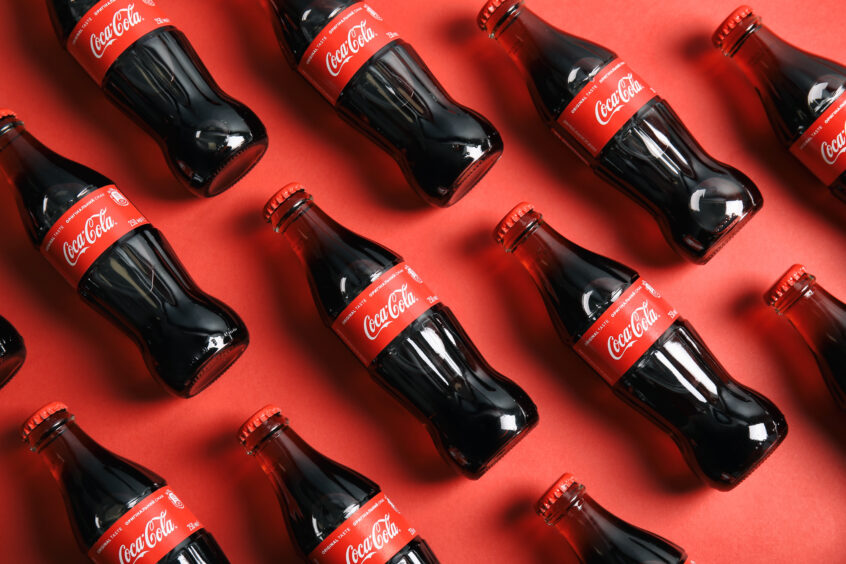 Planet Tracker analysis says the world's largest non-alcoholic beverage company, Coca-Cola (NYSE:KO), is set to miss its alignment with a 1.5°C scenario by 2030 due to disclosure failures.
Coca Coal has yet to make an official net zero commitment.
Much of the company's emissions reduction comes from its bottlers.
Coca Cola's failure to stick to its plastic pollution commitments is not a good sign for emissions action.
The Coca-Cola Company (Coca-Cola) is the world's largest producer of non-alcoholic beverages and it is currently on track for a +2°C scenario by 2030, according to the latest report from the financial think tank, Planet Tracker.
The analysis has been published as part of the think tank's Food and Land Use programme, where Planet Tracker is examining the transition plans of the food system (Consumer Goods) companies covered by the Climate Action 100+ list.
Lack of net zero target puts Coca Cola on track for a
+2°C trajectory
While the company has taken positive steps to promote sustainability practices, a failure to disclose quantified mitigation actions and the required investment, as well as the lack of an overall net zero commitment, could cause it to miss the crucial 1.5°C alignment by 2030.
The company identifies and discloses its main CO2e sources in its engagement and influence policy. Most most recently (2022) part of its management compensation started to be linked to environmental KPIs so the company is taking some action.
However, the company does not disclose quantified mitigation actions tied to invested capital, adding to the challenge of assessing its alignment with a 1.5ºC scenario by 2030.
To date, the company does not have an approved net zero commitment and the
achievement of its SBTs objectives seem to be heavily relying on its independent
bottlers' ambitions and targets.
The challenges identified by Planet Tracker are not helped by the fact that the Coca-Cola Company's latest approved Science Based targets (SBTs) in 2019, to reduce its absolute Scope 1, 2 and 3 greenhouse gas emissions by 25% by 2030 (from a 2015 base year) still only align the company with a 2°C scenario by 2030.
In terms of its greenhouse gas emissions, Coca-Cola dropped from 56,891 KTCO2e in 2016 to 52,016 KTCO2e in 2020, an annual average decrease of 2.2%. Although this is at least in part due to the company's revenue decreasing from 2016 to 2020 at a rate of 5.8% per year.
This reduction in absolute emissions keeps the company's performance in line with best practice as outlined by the SBTi, but raises the question of whether or not reductions in emissions are only achieved through a decrease in company revenue growth.
Bottling partners make up over 40% of Coca Cola's footprint
In 2021, Coca-Cola's five largest independent bottling partners accounted for 41% of its total worldwide unit case volume. Reassuringly, the company included them in its Climate Transition appraisal.
Coca Cola's independent bottling partners' SBTs appear to be more ambitious than those set by The Coca-Cola Company itself. Most of them aim for a 1.5°C scenario by 2030.
This coupled with the fact the company doesn't currently have a net zero commitment, suggests that Coca-Cola may be relying on its independent bottling partners for the achievement of its Paris Aligned Climate Transition.
Whilst Coca-Cola's historical GhG emissions trend might indicate a trajectory in line with a 1.5°C scenario by 2030 (mainly due to its bottling partners' efforts), the company fails to disclose concrete mitigation actions linked to emissions reduction and the investment required for it.
Ion Visinovschi, Research Analyst at Planet Tracker said: "Without properly quantified mitigation actions and tracking systems set in place, supported by invested capital, it cannot be determined if the company is closing the gap towards its ideal SBTs, or is slipping further away. Thus, we cannot confirm the company's alignment with 1.5°C by 2030".
Coca Cola and the greenwash challenge
Coca Cola faces stakeholder challenges as it increasingly faces charges that it more talk than action. It's sponsorship of the climate change conference COP26 in Egypt in 2022 caused a furore and Greenpeace USA oceans campaign director, John Hocevar, said: "It is baffling that Coca-Cola – the world's biggest plastic polluter in all global Break Free From Plastic brand audits, including Kenya and Uganda – will sponsor this year's UNFCCC Conference of Parties in Egypt."
It was christened the 'world's top polluter' in 2021 due to its performance on plastics. The Break Free From Plastics report pointed out that  Coca-Cola produces 120 billion throwaway plastic bottles a year – and 99% of plastics are made from fossil fuels, worsening both the plastic and climate crisis. The company had headed the list of polluters for the fourth year in a row – a performance it continued in 2022.
Most of the top polluting corporations, which also include PepsiCo and Nestle, have signed a voluntary Global Commitment to tackle their plastic footprint by 2025 yet in 2022, the annual progress report showed that they are nowhere close to meeting their 2025 promises.
As Break Free From Plastic says, "After years of greenwashing and false solutions, corporations have demonstrated they cannot be relied on to bring about systemic change through voluntary commitments." This is as true for the company's carbon commitments as it is for its plastics commitment.