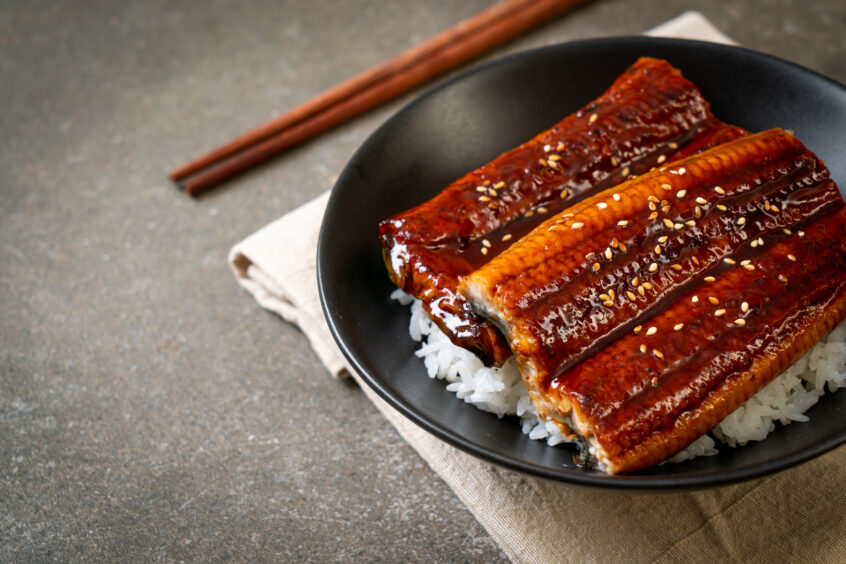 Biotechnology company Triplebar and cultivated seafood platform company Umami Meats have partnered to come up with solutions to cultivate Japanese eel.
The pair will co-develop optimised cell lines suitable for large-scale production of cultivated seafood, starting with Japanese eel.
Its meat is a staple in Japanese food, but it has become critically endangered in the wild.
With seafood considered as essential in feeding the world's population, cross-sector collaboration can be key in speeding up the progress of innovative technologies.
US-based Triplebar works in both the food and healthcare sectors: its products are intended to improve nutrition and disease treatment outcomes. For food and nutrition it focuses on bioactives, functional food proteins and cultured meat, while for healthcare it targets novel biologics against either validated targets or previously undruggable targets.
Singapore's Umami Meats, instead, is developing the operating system for cultivated seafood, starting with the International Union for Conservation of Nature's (IUCN) Red Listed species that are unsuited to commercial aquaculture and are being driven extinct by human consumption.
What does the partnership entail?
Triplebar and Umami teams plan work to improve the fitness and performance of cell lines to enable lower-cost and more efficient production of cultivated foods. The shared goal is to reduce the cost of high-quality foods, reduce supply chain risks in the global fishing and aquaculture industry, and relieve pressure on depleted fish stocks in the world's oceans.
"The solution to the global seafood problem is to leverage science and technology to make high-quality food affordably and sustainably," said Maria Cho, chief executive of Triplebar. "Biotechnology can make our global food system more robust, and relieve pressure on the ecosystem, which is facing a catastrophic collapse in biodiversity."
The first product to be commercialised under the new letter of intent is Japanese eel, or unagi, native to the waters off Japan, Korea, China, Vietnam and the Philippines. 
Umami Meats will leverage Triplebar's Hyper-Throughput screening system for solution discovery, testing millions of potential phenotypic solutions (the characteristics of the cell) in the time it normally takes to search a few hundred. They will work together to develop a licensing agreement that will accelerate cell line development and optimisation without the need for genetic modification.
Why Japanese eel?
Unagi is considered an essential part of Japanese cuisine, common in sushi, poke and grilled main courses. It is one of the most important fish species in Japanese inland aquaculture, with production reaching 21,000 tons in 2021. It is also commercially important for its use in aquaculture, which yielded 65 billion Japanese Yen in 2016.
The IUCN, however, listed it as endangered in 2014 due to numerous threats arising from human activity including overfishing, the surge in ocean temperatures and ocean acidification. Pathogen-susceptible eels escape from aquaculture systems, many of which use open tanks in modified wetlands, leading to wetland destruction, and crossbreeding between wild and sick domesticated stock.
Moreover, aquafeed for farmed eels is resource-intensive and environmentally hazardous, as eels are carnivorous: it takes 2.5 tons of wild fish to generate 1 ton of marketable eels. This means that farming eels comes at a significant environmental cost.
The benefits of lab-grown seafood
Seafood products have been deemed as "essential in the fight against hunger and poverty" by the UN Food and Agriculture Organization due to their nutritional value, as they contain substantial amounts of protein, as well as fatty acids and micronutrients including vitamin D, vitamin B12, selenium, iodine, iron, zinc and phosphorous. Indeed, fish consumption provides over 3.3 billion people with at least 20% of their average protein intake.
As such, producing seafood sustainably will allow for reaping its nutritional benefits while ensuring that key species do not go extinct. Beyond the evident benefits of protecting ecosystems, it will also support the blue economy: according to the FAO's report, a tenth of the global population relies on fisheries for their livelihood, which is being threatened by volatility in supply.
There are already several companies operating in the space. Israeli startup Forsea, for example, is also developing lab-cultivated eel meat, while Italy's Ittinsect uses insects and agricultural by-products to make sustainable aquafeed – which could perhaps be used to feed farmed eels more sustainably.
Although the industry is at its inception, cross-sector partnerships such as the one between Triplebar and Umami could be critical in speeding up the progress. Umami is already cooperating with Nanyang Polytechnic to bring unagi to Singaporean supermarkets and restaurants as soon as 2024, reaching price parity with the conventional version. 
"We are firm believers in technology as a tool to make seafood better, healthier, and more sustainable than conventional aquaculture and wild catch, especially for endangered species. So we are delighted when we find the opportunity to partner with other businesses that share our vision and that have technologies that can accelerate our progress toward achieving it," said Mihir Pershad, chief executive of Umami Meats. "I'm certain that this collaboration between Umami Meats and Triplebar will accelerate the commercialization of cultivated seafood and the transition to a more robust and sustainable food system for everyone."