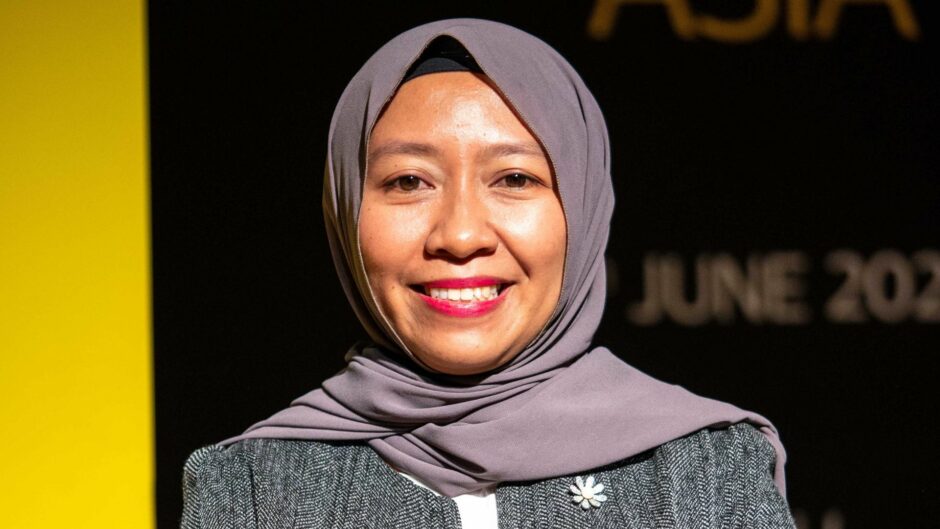 Community development, when designed by women for women, is an important tool for reaching gender parity. Nur Febriani, executive director of Alam Sehat Lestari (ASRI), is doing just that in the Borneo rainforest by using a 'radical listening' approach.
We are "300 years away" from gender equality, according to the UN, even though it plays a fundamental role in sustainable development.
Achieving gender parity will benefit society as a whole, as has been demonstrated in several studies.
Community development can empower women by providing them with education, economic opportunity and the right to speak up in public spaces.
Even though gender equality is one of the Sustainable Development Goals (SDGs) and deemed by the United Nations as a "necessary foundation for a peaceful, prosperous and sustainable world", we are not on track to get there by 2030. According to UN Secretary-General António Guterres, it is "300 years away" as "progress in women's rights won over decades is vanishing before our eyes".
The social and economic fallout from the COVID-19 pandemic has made the situation even worse, hampering progress in many areas such as time spent on unpaid care and domestic work, decision-making on sexual and reproductive health and gender-responsive budgeting.
Inequality starts at the very top of society, with positions of leadership failing to lead by example. Just to give a couple of examples, global parliaments are only made up of 26.5% of women, while women have been in charge of multilateral organisations only 12% of the time since 1945. 
Millions of women around the world have less access to education and healthcare, fewer legal rights and lower incomes compared to their male counterparts. According to The Sustainable Development Goals Report 2022, only 15 out of 52 reporting countries included sufficient provisions in their legal frameworks to protect women's rights to land.
Meanwhile, between 2018 and 2021, only 26% of countries had comprehensive systems in place to track public allocations for gender equality, 59% had some features of such a system, and 15% did not have the minimum elements of such a system.
Sustainable development, however, cannot exist without gender parity. In the long road towards achieving SDG 5, community projects designed with gender mainstreaming in mind – which is ensuring fair and efficient allocation of resources  – can play a crucial role in empowering women. 
What are community solutions?
Community development is a way of shaping the type of society in which we live, based on collective action and the belief that people can be empowered through action at a local level. It is a process intended to enact positive change while addressing inequality.
One such example is ASRI, where Febriani and her team have spearheaded a 'radical listening' approach when working with communities in the Borneo rainforest. There is a consistent dialogue on what communities want and need, which leads to effective co-created solutions that are led by local people and prioritise community expertise.  
One such solution is where the NGO provides indigenous communities with alternative jobs to illegal logging. Families have historically paid for healthcare with wood from the rainforest, but many have now switched to trading seedlings and manure, which have the additional benefit of being used to increase biodiversity. Since ASRI started operating, 90% fewer households are engaging in illegal logging and infant mortality has dropped by 70%.
"One day I met a logger. He wanted to stop logging but he didn't know how. He told me: 'I can't be a teacher, I didn't go to school, I can't be a fisherman, I never learnt to swim, all I know is logging.' Fifteen years ago there were more than 1,000 loggers cutting around a half million trees a year in West Borneo where ASRI works," she says. "Many people had to log to pay for healthcare. After listening to hundreds of hours to the community, we designed the programmes they told us they needed – healthcare, education, reforestation, and alternative livelihoods."
"We set up healthcare centres where people can pay with seedlings and plant those seedlings in the degraded forest areas," she adds. "We give conservation education, we provide organic farming training, we buy chainsaws from loggers and in return we provide them with financial support so that they can do more sustainable work like chicken or goat farming or other livelihoods."
Febriani says that radical listening emphasises the importance of having women in the group because "we want women to be able to speak up about their needs and solutions too".
How are women empowered by community development?
There are many ways to drive gender equality through community projects. In the case of ASRI, women can take part in reforestation as nursery workers or forest guardians, as well as make biodegradable polybags from bamboo as a way to earn income. The NGO also provides planetary health education through ASRI Kids and ASRI Teens programme both for girls and boys, with some girls eventually going to university.
According to UN Women, "strong civil society organisations are a critical counterbalance to powerful state and corporate actors". Indeed, they involve the very people that they intend to help in the decision-making process – just like ASRI does with its radical listening – and help to keep governments accountable.
Community development can be tailored towards the needs of women and girls. In vulnerable communities, women's organisations are often informal safety nets, bridging gaps in government services and helping to provide emergency support. 
For Febriani, community solutions are an effective strategy to support women in developing countries, as they give "more confidence and trust for girls and women because they are heard, they become more educated and more empowered financially".
She gives the example of one of ASRI's staff, who worked to help tuberculosis patients in her community by regularly taking medicines from the NGO's clinic. She also consistently delivered messages about the importance of protecting forests. 
"With her active involvement in the community, she's been elected to be the first woman leader in her community as the Head of Dusun (smaller administrative unit in a village)," adds Febriani.
What are the benefits of empowering women?
Reaching gender equality will have major positive impacts on the whole of society, some of which have been quantified in a range of studies. For example, the World Bank in 2018 calculated that countries are losing $160 trillion in wealth because of differences in lifetime earnings between women and men, highlighting the importance of addressing barriers women face when entering the workforce. 
On a more optimistic note, 55% of the improvement in food security in developing countries has been driven by programmes promoting women's empowerment over the last few decades. It has been estimated that if female farmers had equal access to productive resources, their farm yields would increase by 20- 30%.
When it comes to leadership, it has been demonstrated that countries with higher percentages of women in parliament usually adopt stricter climate change policies, lowering the national emissions footprint. Women are more likely to consider their families and communities in decision-making processes, which can lead to holistic solutions encompassing various actors – a critical element in climate action, for instance. 
Taking International Women's Day as an occasion to reflect on just how far we are from gender parity, we can look at the solutions already at hand. Community development, when designed by women for women, should be considered a fundamental tool to get there.