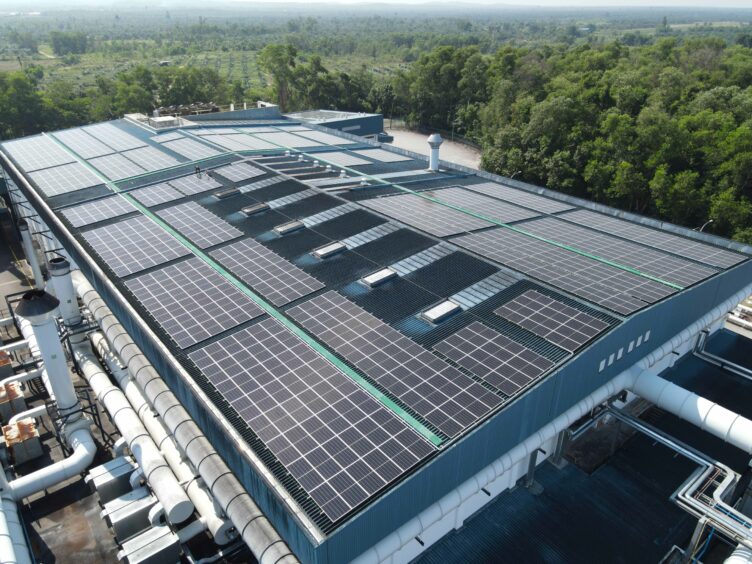 Renewable energy group BayWa r.e. has launched a programme with Swedish shoe manufacturer Icebug to decarbonise apparel factories by installing rooftop solar panels.
Under the procurement programme, apparel suppliers in Vietnam can apply to have solar panels installed on their rooftops. 
Textile production is a key driver of the Vietnamese economy and the Asian country is still reliant on coal for its energy needs.
Although the heavily polluting fashion industry should address its overproduction problem, the initiative is still a notable step to decarbonise the supply chain.
The procurement programme was initiated by the Clean Energy Investment Accelerator, the Apparel Impact Institute and IDH Sustainable Trade Initiative. Following a pilot in 2021, BayWa r.e. and Icebug decided to scale the project to include more factories and partners, connecting the renewable energy sector and the apparel industry.
What does the programme involve?
The initiative is intended for Tier 1 factories – the manufacturers working for apparel and footwear brands – in Vietnam. Factories, which must be big enough for 1,000 kW installation, can buy solar as a service, signing a Power Purchase Agreement (PPA) for 15 or 20 years. 
The solar company will take care of the financing, permits, construction, service and maintenance of the system, guaranteeing the output. There is also the option of buying the system turn-key, but factories in the pilot opted for PPAs.
"We are committed to reducing our climate footprint by 50% by 2030 and as such, cutting energy emissions is key. We've spent a lot of time and effort finding out how to make the switch to solar power in an effective way that also benefits the factory owners," said David Ekelund, chief executive of Icebug. "Instead of keeping this invaluable information to ourselves we have decided to share best practice and turn this into a programme – free for other brands to join."
"This partnership has opened up new opportunities for stakeholders in their carbon reduction projects. This enables stakeholders to reduce their carbon footprint quickly and easily without interrupting production," added Bryse Gaboury, general manager of BayWa r.e. energy solutions APAC.
What are the benefits for factories?
Icebug said that nine factories in Vietnam are in the final contract negotiation process for getting the equipment installed, including its three Tier 1 suppliers. The panels can cover between 25% and 70% of the electricity needs of the factories assessed. 
The estimated climate impact for Icebug's factories is more than 5,000 tonnes of CO2 equivalent saved per year. The shoemaker said that its product carbon footprint will decrease by 5-7.5%.
For factories, the initiative is expected to lower emissions by 20-50% while cutting costs and increasing energy independence and security. Participating brands and factories are asked to contribute an initial $5,000, which will be repaid if the pre-feasibility study shows that installing the panels will not lead to cost savings, or when the contract is signed.
Renewables and fashion sectors come together
The goal is to achieve 100% renewable energy for production and operations through battery storage and on-site thermal operations, allowing factories and partners to take one step further into sustainable, net-zero production without sacrificing production scale. 
Footwear and apparel manufacturing is responsible for around 1.2 billion tonnes of CO2 per year, which is more than the aviation and shipping industries combined. Due to lengthy supply chains and energy-intensive production methods, apparel and footwear industries generate 8-10% of global carbon emissions. 
Of course, addressing the industry's problem of overproduction is one way to reduce its footprint, as companies would simply use less energy, materials and water, as well as transport fewer goods. Indeed, it is estimated that 100 billion items of clothing are produced each year, corresponding to 14 items for every human being on the planet – which are hardly needed and mostly go to waste.
Nonetheless, considering Vietnam's heavy reliance on coal for its energy needs, the programme looks like a relatively accessible and convenient tool to decarbonise apparel manufacturers. It is important to note that the sector is a key revenue driver for Vietnam, as it is estimated to account for 16% of its total GDP, so any cost savings realised by the factories could have ripple effects across the economy.
Moreover, the Asian country was the fourth exporter of clothing globally in 2021, covering 5.8% of the share. As such, if the programme proves successful and garment factories sign up, it could play a significant part in cleaning up the supply chain, and perhaps serve as an inspiration for other sectors.