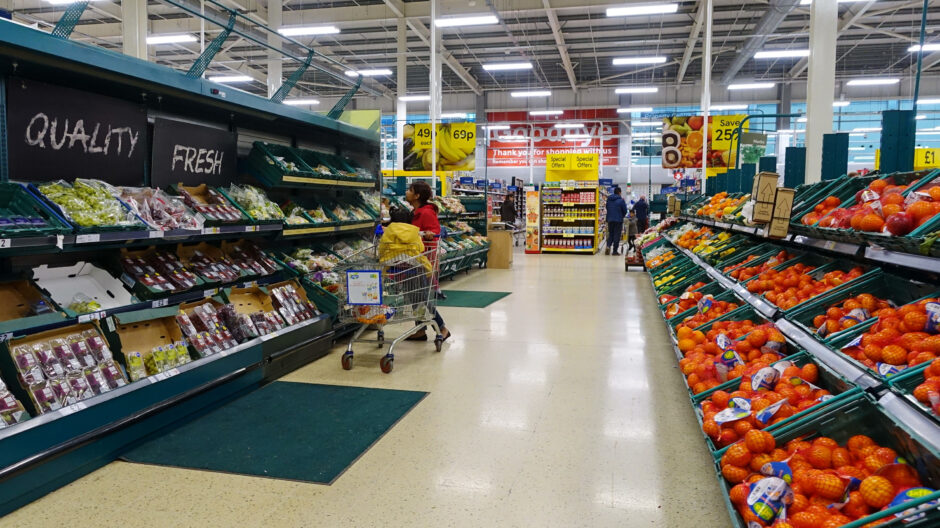 Eight of the UK's largest grocery retailers have joined a collaborative initiative to standardise the measurement and reporting of greenhouse gas emissions associated with food and drinks. 
Eight UK grocery chains are to pilot a standardised approach to the calculation and communication of their supply chain emissions.
The food and beverage industry accounts for around a third of global emissions, but retailers struggle to accurately determine the footprint of their upstream suppliers.
By bringing major players together under a collaborative and consistent approach, the newly launched programme could be a significant driver of industrial transformation. 
The Waste and Resources Action Programme (WRAP) has partnered with the UK division of the WWF to launch the Retailer Net Zero Collaboration Action Programme (CAP). Together with eight British retailers, they will develop a standardised approach to the calculation of emissions that are generated throughout the supply chains of food and drink products.  
Tesco (LSE:TSCO) and Sainsbury's (LSE:SBRY), the UK's two largest supermarket chains, are among the project's initial supporters. They are joined by Morrisons, Waitrose, Lidl, Aldi, Co-Op and Marks & Spencer (LSE:MKS), with each company having committed to its participation in the dual-phased programme. In total, the group represents approximately 80% of the UK's grocery retail market. 
"We need to transform our food and drink system if we are to stand any chance of achieving our net zero goals and mitigate the worst impacts of the climate crisis. This is the challenge of our generation, and it is encouraging to see the UK's leading retailers stepping up to this challenge with focus and determination," said Harriet Lamb, chief executive of WRAP. 
"The food on our plates is driving climate chaos and wreaking havoc on nature – our main ally in the fight against climate change. Urgent action to address this crisis is non-negotiable and we welcome this key step from leading food retailers to align the sector on climate measurement and reporting," added Kate Norgrove, WWF-UK's executive director of advocacy and campaigns. 
"Food businesses must now supercharge the pace of climate action through this programme, to put the food system on a sustainable footing and bring our world back to life," she continued. 
The challenge of calculating food sector emissions
The global food industry accounts for one-third of the world's greenhouse gas emissions, with the production phase alone releasing approximately 17 billion metric tons per year. With a growing population heightening the demand for food and beverages, these emissions will continue to rise. 
In the UK, the emissions of food and drink consumption only decreased by around 8% between 2015 and 2019. Although there was some decline in refrigerant emissions and those associated with food waste, the impacts of domestic agricultural production and packaging remained fairly static while transportation emissions significantly increased. 
Overall, the UK's food and drink sector was responsible for around 158 million tonnes of CO2 equivalent in 2019. Of its 8% reduction since 2015, more than 80% was the result of grid decarbonisation rather than targeted efforts to address the impacts of the broader supply chain. 
Evidently, there is a vast amount of work to be done. If the UK is to achieve its net zero goals then the emissions of its food and beverage industry must be drastically reduced. 
Retailers can play an important role in achieving these emissions reductions, but doing so effectively will require a substantial volume of accurate data. With around 88% of their emissions coming from their upstream supply chains, this data may not always be easy to source. 
Historically, companies have had less visibility and influence over these operations than their own commercial activities. Typically, food retailers host a large number of brands, with thousands of products being delivered by over 10,000 individual suppliers. Each supplier sources its ingredients from its own contacts, adding to the complexity of determining the total emissions that can be linked to a single item. 
Although the number of companies providing disclosure on these emissions is steadily rising, the accuracy with which they are able to do so remains sorely lacking. With no standardised framework in place, retailers' efforts to reduce their Scope 3 emissions are based on vague estimations and outright assumptions. This limits the effectiveness of their chosen strategy while leaving them unable to set defined targets or communicate their progress with interested stakeholders. 
Standardising emissions calculation to identify impactful opportunities
The Net Zero Retailer CAP comes in support of the WWF's Retailers' Commitment for Nature and WRAP's target of halving the emissions associated with the UK's food and drink products by 2030. WRAP has confirmed that the programme will also align with wider initiatives on the use of Scope 3 emissions data, including the work of the British Retail Consortium and the Government's Food Data Transparency Partnership. 
In its initial phase, the programme will build on WRAP's existing protocols to develop a consistent framework for the measurement and reporting of the retailer's Scope 3 emissions. From May 2023, the finalised framework will be piloted with 17 businesses spanning the supply chain of UK food products. 
Piloting the accounting protocols will allow WRAP and its collaborators to identify the most impactful opportunities for emissions reduction. These high-impact areas could be extremely targeted, such as the carbon intensity of specific ingredients, while a broader priority will be placed on issues that are too complex to be tackled by a single business alone. 
With these insights in hand, a second phase of the programme will be launched in 2024. In this phase, the collaborators will work together to secure the investment they need to actively reduce their emissions. Having used a consistent set of protocols to assess their current strategies and determine any gaps, they hope to build stakeholders' confidence in the reliability of emissions data. 
Driving the transformation of UK grocery chains
According to WRAP, it is entirely possible for the UK's food and drinks industry to halve its absolute emissions by 2030. Without the engagement of the country's retailers, however, this opportunity will rapidly fall out of reach. 
Fortunately, there are a number of factors at play that could inspire UK supermarkets to take urgent action. Research suggests that working with suppliers, increasing supply chain efficiency, lowering emissions and being able to offer lower carbon products can significantly reduce the hefty losses that are expected to arise as the climate changes. 
These projected losses are not to be ignored. Physical risks to retailers' supply chains are rapidly escalating, while the transitional risks of emerging legislation and changes in consumer demand have become major determinants of future value. Food companies that fail to address these risks are projected to lose up to 26% of their value by 2030, with a sector average hit of over 7% compared to a business-as-usual scenario.  
With the UK's Competition and Marketing Authority having recently launched an investigation into greenwashing claims made by the fast-moving consumer goods sector, the reputational risks of carbon-intensive operations cannot be offset by simple changes in marketing. Companies that are unable to back their green claims with valid evidence may be subjected to formal action, ranging from financial penalties to an official investigation into their individual operations. 
In an environment of increasing pressure, the UK's grocery retailers have introduced a number of sustainability initiatives. Tesco has brought forwards its targets for food waste reduction, while Waitrose is participating in the Plan for Nature established by its parent organisation. The two supermarket chains have also invested in a programme to eliminate the deforestation and land-use conversion associated with soybean supplies, with Sainsbury's making an additional contribution. 
Although these commitments demonstrate some sign of progress, there is no single retailer that can deliver the scale of emissions reduction that the food industry demands. By bringing the sector together under a collaborative and consistent approach that targets the entirety of the food value chain, the Retail Net Zero CAP could be a significant step towards the transformation required.