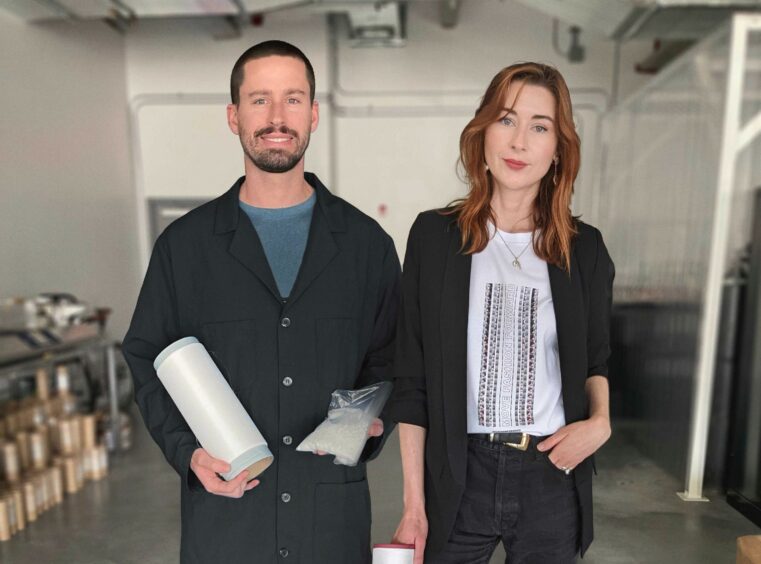 Zara owner Inditex (BME:ITX), Reformation and BESTSELLER have agreed to prototype a new range of bio-based materials produced by Kintra Fibers. 
Fashion for Good will lead a year-long collaboration between the three brands, enabling them to prototype Kintra's materials in various applications.

 

Currently, more than two-thirds of all textiles are made from fossil fuels, contributing to the fashion industry's extensive carbon footprint.

 

The consortium's commitment sends a clear signal of market demand for sustainable alternatives to synthetic materials.

 
Founded in 2018, Kintra Fibers has developed a range of bio-based resins and yarns that can replace the synthetic textiles used by the fashion industry. Having recently secured $8 million in a fundraising round led by H&M Group (STO:HMB), the startup will expand its production to accommodate the demands of three leading brands. 
Inditex, Reformation and BESTSELLER will prototype the materials within their product lines, allowing Kintra's products to be tested in various applications. Although the consortium has been established with a shared goal of exploring more sustainable processes, each brand will focus on an application that is specific to its individual requirements. 
"Given the significant environmental impact of traditional polyester and the expected growth of the synthetic fibre market, there is a clear need for the industry to change," said BESTSELLER innovation manager Camilla Skjønning Jørgensen. "We are excited to be among the brands taking action to help Kintra Fibers scale its promising solution." 
"It's on us as an industry to take an active role in scaling next generation solutions, like Kintra, that have the potential to power the future of fashion," added Kathleen Talbot, chief sustainability officer at Reformation. 
Fashion's favourite fibres are derived from fossil fuels
Currently, more than two-thirds of the textiles consumed worldwide are made from synthetic, plastic materials including polyester, nylon, elastane and acrylic. Their production relies on the continuous extraction of fossil fuels, with estimates suggesting that almost 60 million tonnes of oil were used to make textiles in 2020 alone. This calculation does not consider the energy intensity of the manufacturing process, suggesting that the true figure may be even higher. 
Garments made with synthetic materials are known to release tiny shreds of plastic each time they are washed. These microplastics work their way into the environment, with devastating impacts on the local ecosystem. This pollution is unlikely to end when products reach their end of life, as the plastic compounds they contain will continue to be released long after their disposal. 
Bio-based alternatives to provide the solution
Kintra Fibers has developed a range of bio-based resins and yarns that offer a sustainable alternative to conventional synthetic materials. Instead of petroleum, Kintra's products are made with the natural sugars extracted from grains. They are fully biodegradable, yet they have been shown to maintain the strength and durability of traditional polyester. 
"The raw materials used to make Kintra are derived from glucose, which is sourced from corn. We look for trusted suppliers that hold the USDA biobased certification, which a product receives if it has achieved 3rd-party verification of biobased content," explained Alissa Baier-Lentz, co-founder and chief operating officer of Kintra Fibers. This glucose is fermented to yield a variety of molecular building blocks, which can then be combined to form the proprietary polymer.
"As we scale, and together with our brand partners, we believe that we can influence the biobased supply chain to utilize glucose derived from alternative feedstocks. "Our future vision is to transition to feedstocks beyond corn. Though our production quantities are too small to realize this vision today, we are actively working towards this goal through hosting and participating in industry working groups with multi-stakeholder participation."
The company claims that its resin production reduces greenhouse gas emissions by around 95% when compared to conventional pathways. It also reduces water and energy consumption by 30% and 20% respectively. Even greater energy savings may be revealed by an upcoming life cycle assessment, as the preliminary analysis did not account for Kintra's low-temperature approach to spinning, dyeing or finishing. 
Additionally, the material possesses an inherent stretch quality, with test results indicating a stretch recovery of 10-15%. Kintra's team has tested these properties in various fabric constructions, demonstrating the versatility of its solution. 
"Kintra's solution aligns with both nature and existing industrial processes, empowering a transformation towards an industry that operates in harmony with the planet," said Baier-Lentz.
"By utilizing bio-based inputs and designing a biodegradable material from the outset, Kintra addresses the environmental impact caused by traditional polyester at every stage, from production to usage and end-of-life, providing a comprehensive solution for a truly circular fashion industry." 
Market commitment signals rising demand
The fashion industry holds a significant influence over the sustainability of the global economy. Estimates suggest that it is worth around $2.4 trillion, but it also accounts for up to 8% of the world's greenhouse gas emissions.  
With such a major role to play, the sector has come under increasing pressure to reduce its footprint. Younger generations are demanding more sustainable products, while investors have begun to take a more negative view of companies that are adversely impacting the planet. Policy-makers are cracking down on environmental issues more broadly, exposing fashion companies to the regulatory risks associated with plastic pollution, unsustainable sourcing, and carbon emissions. 
As companies are forced to adapt in response to these changing market conditions, they are expanding their search for more sustainable processes and materials. Given their influence over which materials will be included in future products, their selection can be a critical factor in the allocation of vital investments. 
The Fashion for Good consortium provides an example of how the demand of major brands can support industrial innovation. Each participant has agreed to support a relatively unproven material, with their combined force sending a clear signal of the growing demand for sustainable alternatives to traditional fossil fibres.