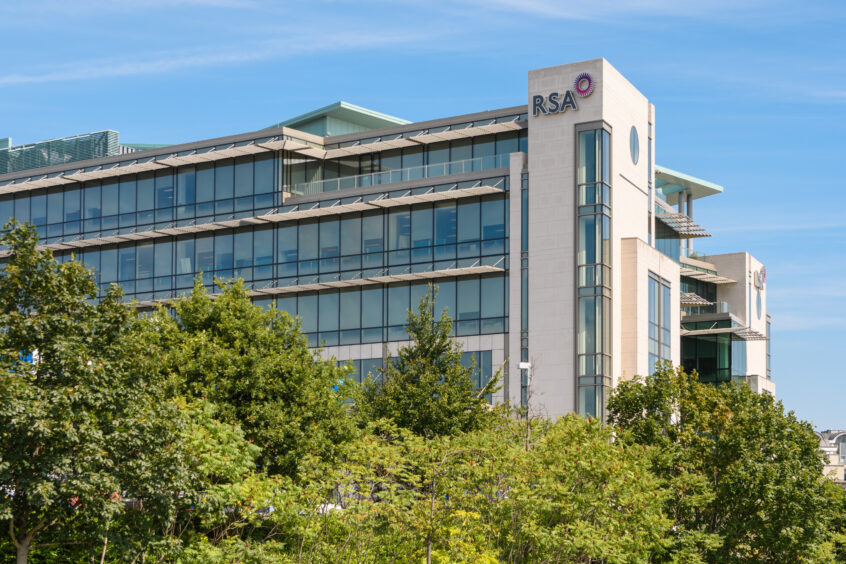 RSA Insurance (LSE:RSAB) has partnered with Gloucestershire Wildlife Trust to protect vulnerable communities from the rising risk of flooding. 
Under a two-year agreement, the partners will provide nature-based flood management in Gloucester and Cheltenham. 
Around 325,000 English properties are at a high risk of flooding within the next 30 years. Without action, this number will continue to rise, driving an increase in insurance claims. 
By investing in effective solutions, insurance providers can protect their local communities while also preserving their industry's future.
RSA Insurance has entered into a two-year agreement with Gloucestershire Wildlife Trust, a local division of the UK's Wildlife Trusts organisation. The partners will provide natural flood management services across Gloucester and Cheltenham, two key areas that are thought to be particularly vulnerable. 
"Nature has a huge role to play in helping us tackle the impacts of climate change, including flooding. We are no strangers to the impact of flooding in Gloucestershire – that's why we are delighted to be working with the RSA to demonstrate the role that nature can play," said Roger Mortlock, chief executive of Gloucestershire Wildlife Trust.  
"Extreme weather is making the problem of flooding in the UK worse, causing both financial and emotional stress for homes and businesses up and down the country," added Laura Spiers, RSA's head of Social Impact and ESG. "By working together with different organisations we can use the power of nature to increase flood resilience." 
"Our comprehensive two-year programme of natural flood management solutions will make a real difference to local communities in Cheltenham and Gloucester, and I'm excited to see how it might help to influence the spread of other nature-based solutions across the country." 
Investing in nature-based flood management
RSA is to kickstart the programme with a £400,000 investment towards the implementation of nature-based interventions, designed to reduce the impact of flooding while strengthening the resilience of local communities. These interventions will target the areas of Gloucestershire and Cheltenham that have been identified as having the most vulnerable people, environments and economies. 
Nature-based flood management can incorporate a wide range of approaches that complement traditional defences by slowing the flow of water through catchment basins. These solutions are defined by their use of natural processes and habitat features such as hedgerows, wetlands or peatlands. Examples include the storage of excess water by systems of tree roots or the restoration of natural ponds that can hold excess water during wet periods before releasing it slowly as conditions turn dry. 
The new partnership will focus on three specific interventions, with the hope of showcasing their use as an example to be repeated across the UK. Priorities will include the development of nature and water highways, creating connected areas of greenspace between nature-deprived areas, and the installation of specialised drainage systems that can attenuate surface-water flooding while supporting urban wildlife. 
Additional interventions will include the establishment of detention basins, attenuation ponds, wetlands, rain gardens, green verges and wild bus stops, as well as an extensive community engagement and education campaign.  
The campaign will include the development of a community toolkit, the dissemination of leaflets on "nature highways" and a number of training workshops. This holistic approach is expected to support local businesses and residents in managing their natural surroundings while strengthening their resilience against future floods. 
As flood risk increases, so too do insurance claims
RSA's focus on flood management comes at a time of elevated risk. Already, research suggests that around 325,000 properties across England are likely to be flooded within the next 30 years. The ongoing impacts of climate change and urbanisation will see more and more properties falling into this category, with projections indicating that up to 620,000 will be deemed high-risk by 2055.  
The rising frequency and severity of extreme weather events have a significant impact on the British economy, with the Government predicting that climate-related damages could exceed £10 million per year by 2050. With their role in absorbing the risk of society's losses, insurance providers are far from immune. 
Where they could once rely on the assumption that most of the assets and operations they covered would continue without issue, they must now adapt to a rapidly changing environment in which risks are increasingly becoming reality. 
In today's world, the insurance sector is highly exposed to the risks associated with climate change, biodiversity loss and pollution. As temperatures continue to rise, along with the occurrence of severe weather events and the devastation of natural ecosystems, the more likely it becomes that claims will be made. 
Indeed, a survey by GlobalData revealed that weather events, including floods and storms, accounted for 27% of British home insurance claims filed in 2021. Lead insurance analyst Beatriz Benito commented at the time: "The ever-increasing nature of severe weather events, not only in the UK but around the world, highlights the importance of tackling climate change. This will be particularly challenging to insurers, who will face the prospects of very expensive claims. Indeed, the scale and regularity of such events can lead to extortionately high claim payouts." 
More recent research, published by RSA's MORE THAN subsidiary in 2023, found that only 31% of UK homeowners had considered the risk of flooding before purchasing their property. Flood-related claims had increased by 58% since 2020, with costs averaging out at around £39,000 per claim. 
Current projections indicate that insurers are not yet prepared to account for these changes, with the Bank of England's 2021 stress test finding that annualised losses could increase by up to 70%. The Intergovernmental Panel on Climate Change, meanwhile, has already warned of the need for insurers to adapt their loss models in order to assess their exposure to climate risks. 
Insurers must play their role in building climate resilience
As insurers become warier in covering assets and operations that may be destroyed, disrupted or abandoned in accordance with emerging legislation, they are beginning to consider how climate risks to their policyholders can be appropriately accounted for. Those that fail to adopt a new approach will face substantial losses in the form of hefty payouts or loss of custom as an increasing number of assets are rendered 'uninsurable'.  
Alternatively, insurance providers could take a more active approach to reduce their exposure to risk. By helping potential clients to become more resilient, they can simultaneously strengthen their own position. The Association for British Insurers has created a roadmap for how this could be done. Among its key recommendations, the roadmap suggests that insurers should mobilise their own capital towards the development of sustainable solutions and make use of their interactions with various businesses to provide the necessary support. 
Through its partnership with Gloucestershire Wildlife Trust, RSA will provide a useful example of how this approach may be realised in practice. Properties in Cheltenham and Gloucestershire will be somewhat protected from potential flooding, enabling them to be insured with a lower risk of requiring payouts. Essentially, the protection of the community will merge with the protection of the insurer, creating a virtuous cycle of strengthened resilience to climate-related risks.