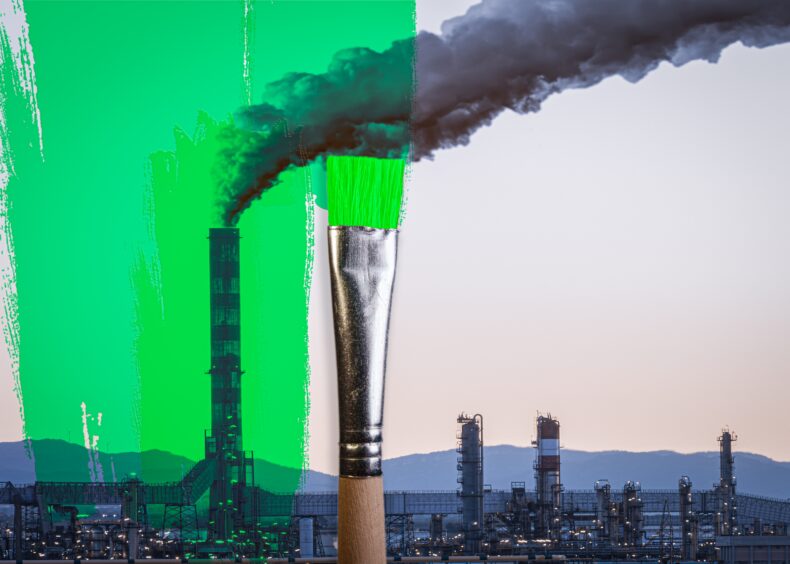 Greenwashing comes with reputational and financial risks for the perpetrator and undermines efforts to build a more sustainable economy.
Greenwashing involves making false or misleading claims about a company's environmental practices.
It can negatively affect that company more or less severely, depending on the nature of the claims – but recovering from it is no easy feat.
Ultimately, frequent malpractices can affect other companies, consumers, investors and the wider economy.
Greenwashing, or making false or misleading claims about a company's environmental practices, comes with significant risks for individual businesses, which can then reverberate across the entire economy. 
Corporate risks
Once the bad practice is revealed, the public – consumers, corporate clients, industries, the authorities – is not likely to believe nor care if it happened by mistake. Just like in law, ignorance is not an excuse.
"While the outcome of greenwashing, whether intentional or accidental, is the same to consumers who may have made decisions based on untrue information, the intentionality speaks to the values and behaviours of organisations," says Leighton Barnish, head of sustainability at communications company Powerscourt.
"If greenwashing had been genuinely inadvertent, it suggests a lack of research or fact-checking on the part of the company. However, if it was deliberate, it suggests deceitfulness. The 'drivers' behind greenwashing – whether it was intentional or not – also means little to regulators who are issuing large volumes of legislations to guard against it, notably in the EU and US."
The first, more obvious risk is reputational. The more well-known the company (and the more outrageous the green claim), the more noise it is likely to create. The consequences can range from snarky comments on social media to official investigations and lawsuits. Recovering from damaging allegations, however, can take a lot of time and effort, more than it would to just avoid greenwashing altogether. 
"The impact of greenwashing can be severe, and restoring a company's reputation is never easy. Greenwashing can lead to poor sales, share price collapse, talent flight, and significant regulatory intervention, including harsh penalties," Barnish continues. "Social media and the public's interest in ethical and sustainable corporate behaviour ensure that word gets around quickly and widely. In short, the pains of greenwashing will generally always outweigh any gains made in profile-raising."
Being associated with greenwashing can also scare talent away from employers. With many workers placing significant value on purpose, especially among the younger generations, companies need to ensure their sustainability credentials are in check. 
According to an October 2022 study by University College London, genuine green marketing leads to the highest attraction scores among candidates. When the perceived green identity of a company is low, however, green marketing can lead to an even lower number of applications than no marketing at all. 
In the longer term, cases of greenwashing invite more scrutiny on the company. This may be helpful if the misleading claims were genuinely accidental, as they may push the management team to do better. On the contrary, if they were on purpose, the perpetrator may not want to attract attention.
The economy
The damage is often not limited to an individual company, according to Barnish. "Many are members of the same industry associations with shared strategies and targets, especially relating to climate change and social issues. One or two 'bad actors' in an industry can create a sector-wide reputation as being 'greenwashy'," he says.
The effects can move beyond corporates: greenwashing can erode consumers' and investors' trust, risking ripple effects on the wider economy. With a rising number of people now willing to pay a premium for more sustainable products, they risk spending more money on products that fail to deliver their promised benefits. In the long run, they may be discouraged from buying green products altogether.
In terms of investing, greenwash is a barrier to developing a sustainable economy, as it can slow down sustainability efforts by leading to more scepticism of environmental initiatives. It prevents consumers from understanding the impacts of their purchasing decisions as they struggle to differentiate between valid and invalid claims. 
According to the IMF's Global Financial Stability Report published in 2021, this practice hampers investment strategies that support the transition and can result in the misallocation of capital. Even worse, misleading statements could fund and perpetuate poor environmental practices. 
Bad actors profit from misleading practices, while those genuinely committed to sustainability find it more difficult to compete. This can lead to a race to the bottom, where companies feel pressure to cut corners and engage in deceptive practices to keep up with their competitors.
Moreover, fighting bad practices uses time and resources that could be better spent on initiatives with positive environmental impacts. Considering that the world needs $3.5 trillion a year of capital investment to build a net zero economy, we cannot afford to put the money in the wrong hands.
"One of the greatest challenges we face in building urgently and at scale, a sustainable future is getting societal support for the great shifts we must make. Unless timid politicians and CEOs feel they have this broad support they will continue to sit on the fence even as it burns under them. All the evidence suggests citizens recognise the need for change, but they are a lot less confident in how it should be done," commented Mike Barry, director at Mike Barry Eco.
"The pathways forward are many and perceived by people, often wrongly, to be difficult, costly and sacrificial.  And in this cautious world, greenwash perniciously erodes limited confidence in the need to embrace change. We need urgently to eradicate greenwash from the marketplace before it creates an insurmountable barrier to change."