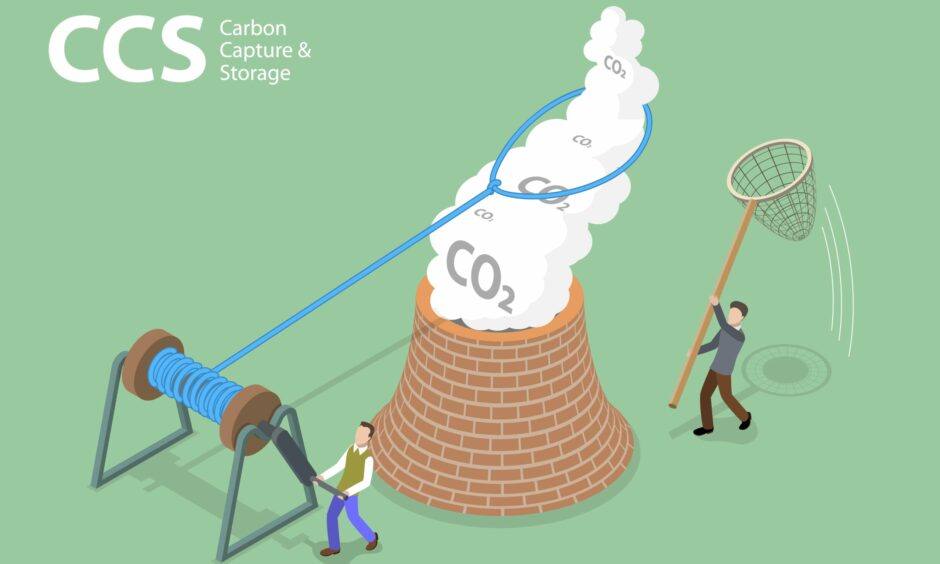 With only 5% of corporate emissions covered by on-track net zero targets, transparency and accountability become ever more critical to an effective transition. To that end, CDP has launched its Corporate Environmental Action Tracker (CEAT) to make aggregated CDP data user-friendly and accessible to all, driving accountability and clarity on corporate performance.
Only 5% of global emissions are covered by on-track targets, according to analysis in CDP's CEAT from only 24 disclosing companies.
Only 60% of companies that disclose data to CDP have emissions reduction targets but they would not limit warming to a Paris-aligned 1.5°C, leaving a gap equivalent to the current emissions of the US and China combined.
It can be used by companies, investors and policymakers to collect useful data for their strategies.
Paul Dickinson, founder chair of CDP, said: "For over 20 years we have mainstreamed the role of disclosure as an essential tool to inform decisions that help drive change. Now, we're democratising our data. CDP's Corporate Environmental Action Tracker is for anyone who is concerned about corporate leadership for the planet."
"Our Tracker will help users understand our disclosure data at a glance, highlighting where more action is needed. CDP is uniquely positioned to develop this tool as we had almost 19,000 companies disclosing through us in 2022, some just starting out and others who have been disclosing for over 20 years."
The tracker allows users to view CDP's data broken down globally, by country, by sector and by index, giving users insight into the pathway corporates are on. It is the next step in CDP's efforts to improve transparency.
Most companies are still not treating climate and nature risks as interlinked core business concerns. As we enter the era of mandatory disclosure, however, companies will be required to share their environmental targets and action plans to achieve them.
CDP analysis warns corporate emissions severely off target
Dickinson warns: "We're moving into the realm of science based policy and the tracker gives real insight into leaders and laggards." This is critically important given the lack of control of many governments over their economies – in the US, for example, 80% of the economy is controlled by the private sector. Understanding what's going on there is key to change, says Dickinson, and after 20 years CDP data is well-positioned to represent the global economy in a useful way.
One of the core challenges is the scope under target. The majority of net zero targets still focus on Scope 1 and 2 but the increasing approach of addressing Scope 3 is a sign of best practice. The financial sector is taking this on, through work on financed emissions, and in most new legislation or reporting standards Scope 3 is being included.
Unfortunately, this doesn't include the fossil fuel industry. Exxon Mobil (NYSE: XOM) recently said that Scope 3 emissions are not their responsibility as those are another party's Scope 1 emissions – a stance that Dickinson describes as "idiotic". Even on a risk-awareness basis, you can't consider the performance of an oil and gas company without considering its product and use. After all, increasing EV deployment and the phasing out of ICE in many jurisdictions is going to fundamentally change the face of demand.
Corporate emissions are not aligned with Paris goals
Analysis of the CDP data shows that current corporate targets disclosed through CDP will not reduce emissions enough to limit warming to 1.5°C, but the number of Paris-aligned science-based targets disclosed is increasing year on year, new data from CDP's CEAT reveals.
The Tracker makes findings from CDP's climate transition data available to all for the first time via CDP's website, and gives companies, investors, policymakers, and other interested parties access to insights from the world's largest corporate environmental data set.
What does the Corporate Environmental Action Tracker do?
The Tracker displays CDP's climate disclosure through the critical lens of emissions and their reductions. It draws data from nearly 10,000 companies that added emissions values in their disclosures, covering 16% of global emissions, including some of the world's most important and influential corporates including the majority of FTSE 100 and S&P 500.
CDP has outlined that there are six clear steps on the climate disclosure journey. Users can navigate through these six steps in the Tracker (disclosure, governance, target setting, strategy and transition plans, target attainment and target impact), made up of 11 indicators.
Disclosure – of GHG emissions (country, sector and area level with an estimation of the percentage of emissions released)
Governance – two indicators, board-level oversight and executive incentives
Target ambition and target coverage (how strong, and what proportion of emissions and via two indices for the FTSE 100 and S&P 500)
To what extent global emissions are covered by credible transition plans -value chain requirement indicator – actual emissions vs targeted emissions
Targets on tracks – all those disclosed through CDP
Forward-looking projection of what future emissions look like – expected GHG targets if all disclosing companies meet absolute targets – the potential impact of targets if all actors (not just disclosing) if they all adopted the same targets – dotted lines are representing the SBTI pathway. The analysis is based on a sub-sector of companies supplying full data but data shows even the leaders need more ambitious targets.
Figure 1: Eleven Indicators used in the Tracker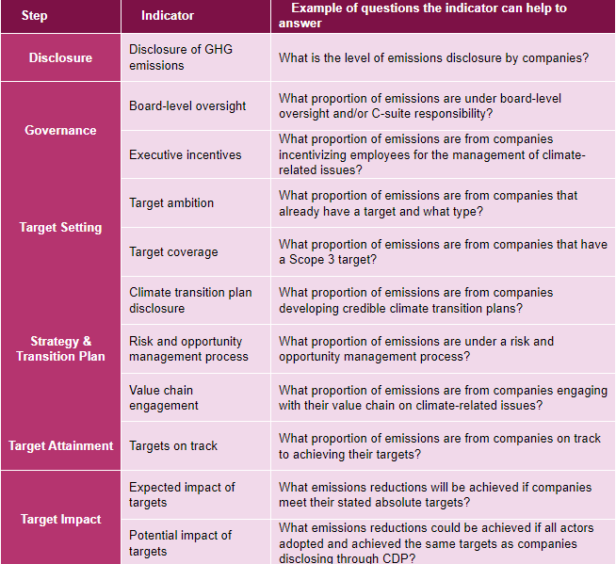 Anyone can access the Tracker for free and view data analysis and insights that are key to transforming the global economy. It takes the complex data collected by CDP and displays aggregated analysis broken down by geographies, sectors and two market indices (FTSE 100 and S&P 500) from 2019 onwards. This gives a clear indication of the leaders and laggards on climate disclosure and action.
The CEAT can be accessed here and provides information on:
 The proportion of global, country and sector-based emissions disclosed through CDP, and the proportion of FTSE 100 and S&P 500 companies disclosing through CDP (by number and revenue).
The proportion of global and sector-based emissions covered by a credible climate transition plan, board-level oversight or executive incentives.
The proportion of companies in the FTSE 100 and S&P500 that have a credible climate transition plan, board-level oversight or executive incentives (by number and revenue)
The proportion of global emissions covered by validated 5-aligned SBTi targets.
The number of companies that have Scope 3 targets, and what proportion of global emissions this covers.
The number of companies that are on track to reach their disclosed targets.
The expected and potential impacts of disclosed targets for reducing emissions.
Companies can use the Tracker to inform environmental reporting and business planning and see how their joint efforts are reducing and could further reduce GHG emissions. Investors can use the Tracker to understand the performance of different geographies, sectors and indices and to make data-informed decisions about investments and their environmental alignment. While policymakers can use the Tracker to assess the impact of regulation and put pressure on non-state actors and encourage further disclosure.
Future iterations of the Tracker will bring together CDP's environmental data, including water security and forests. Damage to nature – particularly forest, wetlands and ocean degradation – is the second biggest source of emissions after fossil fuel burning and equitable action on nature is critical to a Paris-aligned future.