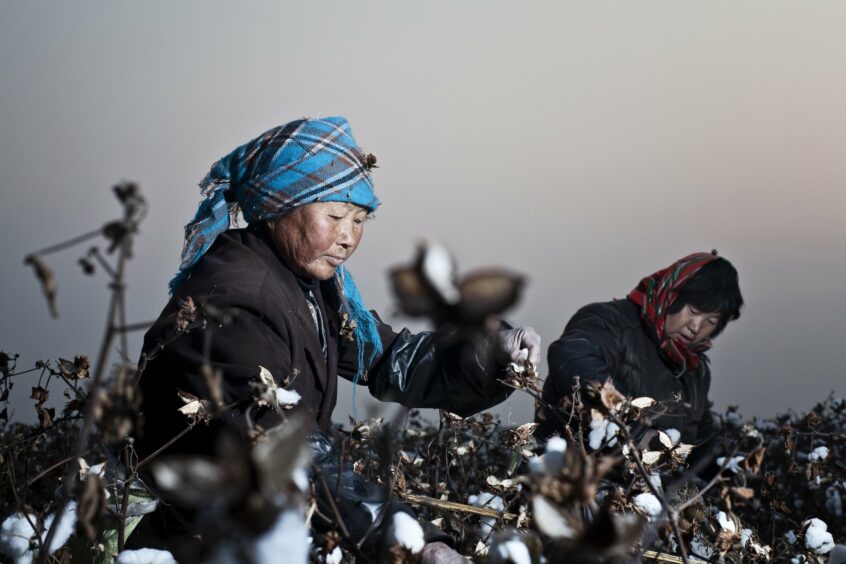 Almost 90% of the world's largest cotton procurers are yet to meet the minimum standards of sustainability, transparency and fair labour. 
The Cotton Ranking report has exposed the fashion industry's lack of commitment to sustainable cotton.
Cotton supply chains are notoriously associated with ecological damage and economic injustice, but more sustainable alternatives are readily available.
When coupled with careful communications, sustainable sourcing can be extremely advantageous.
The Sustainable Cotton Hub, a collaborative initiative established by Solidaridad Europe and Pesticide Action Network UK (PAN UK) has published its inaugural research. Its ranking report exposes the unsustainable conditions of cotton procurement, condemned further still by an accompanying paper on the availability of potential solutions. 
Leading brands are yet to commit to sustainable cotton
The 2023 Cotton Ranking assesses 82 of the largest cotton procuring companies worldwide, scoring the performance of their sourcing practices. Rankings were based on the quantity of each entity's cotton that had been officially certified as meeting minimal standards of environmental sustainability, supply chain transparency and fair labour. 
Of the firms included, only nine were found to be procuring at least 99% of their cotton from certified sources. Decathlon, H&M (STO:HMB), IKEA, Adidas (ETR:1ADS), Columbia Sportswear (NASDAQ:COLM), Marks & Spencer (LSE:MKS), C&A, Lojas Renner (BVMF:LREN3) and Puma (ETR:1PUM) were therefore considered the sector's leaders. 
In comparison, 30 of the companies studied were awarded a score of zero, meaning that none of their cotton had been held to any standards whatsoever. According to the accompanying paper, this uncertified procurement is maintaining the social and ecological issues for which cotton has long been notorious. 
The research suggests that brands and retailers ought to be held accountable for their significant lack of progress. It argues that cited barriers, such as the complexities of global trade, are an inadequate excuse for the environmental devastation and economic injustice of cotton supply chains. 
"Given the resources available to big brands, unsustainable cotton is a choice," said Tamar Hoek, senior policy advisor at Solidaridad Europe. "But it doesn't have to be one we live with." 
Sustainable solutions are readily available
"Brands and retailers can make new decisions," Hoek continued. "They can choose to be more transparent in their operations, and about their suppliers. They can choose to take on the complex question of fair pay, rather than use it as an excuse. And they can choose to engage with all actors along their supply chain, rather than hiding behind intermediaries." 
In 'Cotton and Corporate Responsibility', Hoek's ideas are reflected alongside those of her fellow authors. The paper highlights the responsibility of corporate actors in the cotton value chain before outlining a series of recommendations for future improvements. 
It calls on brands and retailers to take responsibility by investing in cotton producers, improving their purchasing practices and raising the bar on supply chain transparency. They should provide cotton traders with clearer briefings on expected performance, backed by the development of supporting standards. With proactive engagement in multi-stakeholder initiatives and the creation of durable, recyclable and circular products, the cotton value chain could be completely transformed. 
"Companies can create a world where being a cotton farmer does not mean a life of poverty," the paper concludes. "They can enable producers to adapt and grow cotton in a changed climate. And consumers can buy cotton with the confidence that it has been grown without harming people or their planet. These are entirely achievable possibilities." 
Cotton leaders have previously been subject to criticism
The Cotton Ranking comes as an alarming exposé of the fashion industry. Despite the rising expectations of governments, investors and consumers alike, it appears that the sector is reluctant to change its ways. 
Under increased scrutiny, brands and retailers have been making loftier promises. New clothing collections and business models are being introduced, pandering to the market as it shifts towards more sustainable options. 
It is interesting to see that most of the companies that scored well on the Cotton Ranking have previously been criticised for making false or unsubstantiated claims regarding their environmental credentials.  
In June 2020, for example, IKEA was accused of using illegally harvested timber that was labelled as being responsibly sourced. Two years later, Decathlon and H&M were forced to remove certain labels that were identified as being 'unclear'. Their reputation was somewhat damaged, and they were shamed into making financial donations in compensation.  
Marks & Spencer has received backlash over its demolition and rebuilding of brick-and-mortor locations, Adidas has faced legal action for "deceptive marketing practices", and PUMA was widely criticised for its sponsorship of Israeli football clubs built on stolen Palestinian land. 
SGV Take
Of course, it goes without saying that each of these companies should be held accountable for their faults. Still, it is worth recognising that they may not be the worst of the worst. 
Indeed, the Cotton Ranking tells us that they are far ahead of their peers when it comes to the procurement of sustainable cotton. This suggests that there is some sort of imbalance between the risks and rewards of investing in sustainable practices.  
We know that the demand for sustainable products is rapidly rising, but companies are scared to respond for fear of penalisation. This puts them between a rock and a hard place, with pressure increasing on either side.  
Ultimately, it must be better to try and to fail than to not try at all. The recommendations of the Sustainable Cotton Hub should not be ignored, as this would allow the continuation of ecological damage and economic injustice while leaving companies exposed to legal and reputational risks. 
The wisest thing that brands could do would be to adopt the new suggestions alongside a careful reassessment of their approach to communications. With honest reporting and careful labelling, perhaps enabled by digital traceability or standardised certifications, they could protect their own profits as well as the planet and all of its people.