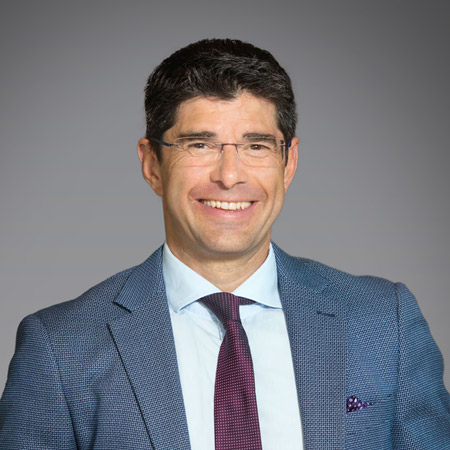 Lombard Odier Investment Managers announced the appointment of Dr. Marc Palahi as Chief Nature Officer for holistiQ, as part of the firm's continued expansion of its  sustainability expertise and capabilities.
holistiQ, a partnership between Swiss bank Lombard Odier and strategic advisory firm Systemiq, has hired a chief nature officer.
The interconnection between nature and climate risk is driving a refocus on understanding risk, impact and performance.
Around $58 trillion in GDP is estimated to be highly or moderately dependent on nature, making understanding impacts and economic interactions a critical part of risk management.
Jean-Pascal Porcherot, Co-Head of LOIM and Managing Partner of Lombard Odier, said: "The world continues to face unprecedented challenges in building a more sustainable economic future, encompassing climate change, biodiversity loss, socio-economic inequalities as well as resource security and scarcity. The role nature has to play in addressing these issues is increasingly clear, and we must ensure that a just transition includes positive nature outcomes."
Earlier in June 2023, Swiss bank Lombard Odier launched a sustainable investment platform in partnership with system change specialists Systemiq. The platform, holistiQ Investment Partners, will invest in a range of critical themes of the environmental transition, with a specific focus on nature based solutions.
It will operate as a new platform within LOIM solely dedicated to sustainable investing and will combine Lombard Odier's asset management heritage, commitment to sustainability and investment track record, with Systemiq's deep analytical understanding and expertise in economic system transformation.
As Systemiq said in a statement: "Robust research and science-based forecasting of the economic transition to a more sustainable and regenerative future, and the impact this will have across sectors and geographies, should enable holistiQ to support clients to capitalise on new investment opportunities across the environmental transition to drive healthy potential returns."
The platform is being run by Systemiq's managing partner, Taraneh Azad, and by Jean-Pascal Porcherot, Lombard Odier managing partner in charge of the asset management business, alongside their current roles. They will be overseeing a team of more than 100, drawn from across both LOIM and Systemiq, combining cutting-edge quantitative research with highly-skilled investment professionals.
Nature is considered a strategic edge for holistiQ
Marc Palahi is considered a strategically important hire, as he is an internationally recognised expert on forests, circular bioeconomy and global change with over two decades of experience in leading scientific initiatives..
Marc joins holistiQ from the European Forest Institute, where he worked since 2007 and where he was director since 2015. In this role, Marc was responsible for driving the Institute's development as a pan-European science-policy platform and working to connect knowledge to action at the interface of science, policy and business. Marc holds a PhD in forestry and economics and has authored and contributed to over 40 scientific publications over the course of his career.
In his new role, Marc will be responsible for further developing the nature strategy within holistiQ's sustainable investment platform. In addition to enhancing the platform's overall nature-focused investment offering, Marc will be responsible for integrating nature-related issues and concerns centrally across holistiQ's sustainability research activities, which provide intelligence and connectivity across all LOIM's core businesses.
Porcherot added: "Marc's extensive academic experience across Nature, forests and the emerging circular bioeconomy industries will be instrumental as holistiQ develops leading nature-based investment products that seek environmental outcomes and compelling returns1 for clients."
In addition to his role within holistiQ, Marc will continue to lead the Circular Bioeconomy Alliance, established by His Majesty The King (formerly the Prince of Wales), on a secondment basis.
Appeal of investment in transition
While the recruitment of a chief nature officer highlights the importance of nature and biodiversity risk in reaching the climate challenge, its important to note that holistiQ's approach is on investment opportunities in the coming transition, which is gaining traction in the investment community.
Blackrock recently launched its Article 8 Materials Transition fund, to invest in the infrastructure and materials necessary for the low carbon transition and the EU recently called for an increase in transition investment products. In May 2023 the European Climate, Infrastructure and Environment Executive Agency launch a call for proposals for its own €99 million fund for the clean energy transition.
The Impact Investing Institute also recently launched a 'first of its kind' practical tool for fund managers who want to invest in a transition to a net zero world.  It includes a set of criteria, the Just Transition Criteria, which were co-created and tested in collaboration and with the support of 21 asset owners and asset managers with over £ 4 trillion of assets, or assets under management – including Fidelity International, Schroders, Just Climate, Nest, and the Environment Agency Pension Fund.
The goal for holistiQ is to use Marc's extensive knowledge and experience to create new tools and investment solutions that support the phase-out of carbon-intensive economic activity in favour of nature-based models, ultimately driving investment that contributes towards nature restoration and, as the company said, ' positioning holistiQ as a global leader in the distribution of nature-positive strategies.'
Dr. Marc Palahi, Chief Nature Officer at holistiQ said: "It is paramount that in the next decade we need to facilitate an unprecedented economic transformation if we want to place our world on a sustainable path. The good news is that we have the knowledge to do it but need to deploy capital at the right scale in the right solutions. My ambition is to contribute to Lombard Odier´s long-term sustainable commitment by placing Nature and nature-based solutions at the centre of the global investment agenda."
SGV Take
This is a smart move by holistiQ as an understanding of nature impacts is going to play an increasingly important role in sustainability assessments, as well as ESG ratings and reporting. At the same time, there is clearly growing appetite for transition funds and its smart to carve out a space within the market as early as possible