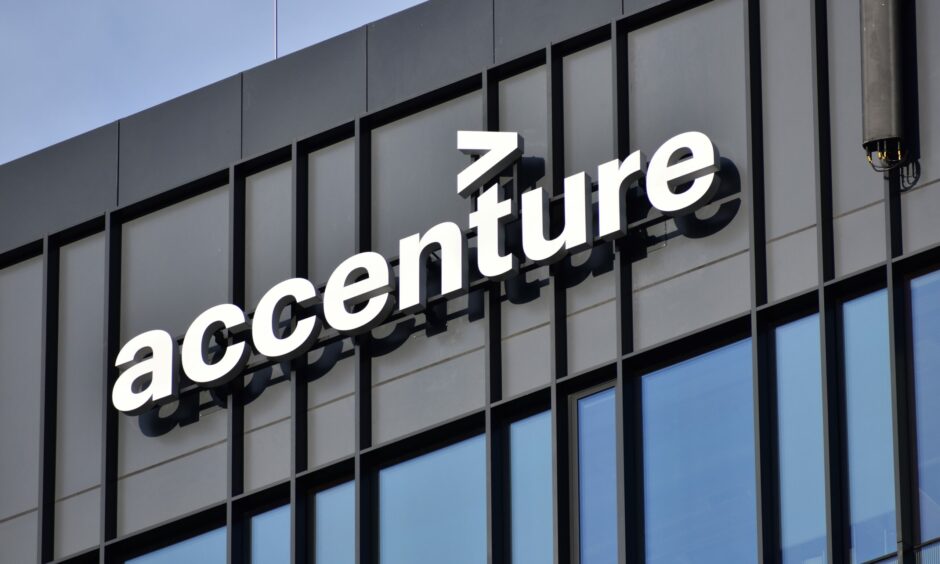 An analysis published by Accenture and the World Economic Forum (WEF) has debunked the idea that companies must sacrifice profitability for sustainability.
The dramatic rise in intersecting global challenges is forcing companies to navigate an unprecedented level of uncertainty.
Surveys show that 98% of CEOs believe it is their job to make business more sustainable, but are concerned that it could hurt their bottom line, with 58% seeing a conflict between sustainability and profitability.
Chief executives can build their business' resilience and increase profitability by embedding sustainability across their enterprise, strengthening leadership and developing a collaborative ecosystem.
Companies are finding it harder and more expensive to deliver value from 'business as usual', but they are concerned that embedding sustainability will fail to deliver value.  Many companies continue to operate on the belief that there is a trade-off between sustainability and profitability.
A new report — Accelerating Sustainable Transformation: Dispelling old myths to seize new value — written by Accenture and the World Economic Forum's Young Global Leader (YGL) and Global Shaper Communities, unpacks and dismantles the idea that companies must choose between profitability and sustainability. The YGL identified trade-offs and ways to overcome challenges to sustainability, with the results being tested by senior executives.
Debra McCormack, Global Board Effectiveness and Sustainability Lead, Accenture said: "The overriding message from this report, based on our findings, is that organisations cannot afford to ignore or hesitate on sustainability, and 'business as usual' is not going to cut it nor drive the change you need."
What's the problem with business as usual (BAU)?
There is little question that the corporate operating environment is in the process of rapid change, and inertia is only becoming riskier. Regulations are multiplying both in number and impact, while stakeholder demands are hardening. Even in an accelerated scenario – where the pace of emissions reduction doubles by 2030 before doubling again by 2040 – two fifths of companies are expected to miss their own targets. Current estimates suggest that around 21% will fail to hit net zero by 2050 – the deadline deemed necessary to avert catastrophic climate change.
Business leaders are also conflicted. Nearly 100% of chief executives believe that it is their role to make their businesses more sustainable, but 58% see sustainability locked in conflict with growth. Chief executives are tasked with addressing an unprecedented number of challenges that traditionally lie outside the corporate sphere—such as climate change, warfare and conflict. Already, 93% of chief executives claim that they are experiencing at least 10 different challenges simultaneously.
McCormack said: "Business as usual is becoming more complex and costly, but the standard business case is too focused on short-term financials. You need to shake up the status quo (find new ways of setting goals, timelines, success parameters) – but not forget fundamentals (core to drive CAPEX, cost optimization, quarterly returns)."
The research identified five headwinds that many believe are stopping organisations from embedding sustainability – complexity, cost, speed, reliability and practicality. Complexity and cost, however, may turn out to be tailwinds that help to accelerate further action.
Changing the business case
The business case for any investment or corporate activity is fundamental to operational decision making. Yet, a traditional business case approach can make it hard to justify the incorporation of environmental and social impacts. The 280 leaders engaged with the research agreed that three updates to the traditional business case could increase such integration in the making of corporate decisions. These three updates were grouped into:
Pervasive Purpose: make sustainability more human, then determine how to do so profitably.
Extended Horizons: consider the viability of the business over the long-term and allow new sustainability initiatives time to scale.
360° Value: broaden the definition of business success and collaborate across the ecosystem – it's going to be impossible to achieve decarbonisation and nature positive business without crossing sectoral boundaries.
Innovation has become an essential factor in achieving sustainable growth, not least through energy efficiency improvements, but it is the potential for the creation of new business models and new products that could become truly transformative.  By integrating these three new lenses into corporate decision-making, McCormack argues that organisations can profitably embed sustainability, use technology to realise their goals at speed and scale, and build the human capabilities that will enable their eventual transformation.
Integrating new approaches into corporate decision-making
The research showed that 70% of executives agree with the proposals made by the next-gen leaders group. As McCormack points out, however, it's clear that many would not advocate the abandonment of traditional decision-making norms such as cost minimisation or the prioritisation of quarterly returns.
Indeed, 67% of senior executives view these traditional norms as still being important to the development of sustainable business models. This finding only emphasises the importance of integrating the three new perspectives into decision-making in a way that maximises their role in unlocking sustainable value.
McCormack says: "If this new hybrid business case is the compass for sustainable transformation, then tech, data and talent combine to form the engine." An Accenture study found that companies could gain up to 11% on top-line productivity (revenues per employee) if they unlocked the growth combination of data, technology, and people like the top 5% of global organisations. Technology introduces much needed efficiency while delivering predictable insights,  enhancing agility and improving collaboration across departments, across an industry or even between sectors.
While only 49% of 560 executives surveyed by Accenture in 2022 agreed that technology-led sustainability initiatives could help to create new businesses, 48% agreed that such initiatives led to increased revenues from better products. Still,  technology alone is not enough. Building a strong digital core provides the foundation to unlock sustainable innovation, further dispelling the concern that embedding sustainability means sacrificing profitability.
McCormack said: "In thinking about trade-offs, we wanted to dispel the myth that it's a zero-sum game – that you can only be profitable or sustainable. In fact, there's a way to work around this."
It is important to remember that nothing changes if people don't change. McCormack says that companies must embed sustainability into how they innovate, by creating a culture in which people are empowered – even expected – to become sustainable innovators. These tech-powered capabilities have the potential to unleash waves of sustainable innovation by reducing fear of failure and shortening "time to value."
How new business case approaches can help companies thrive
John R. Tyson, CFO of Tyson Foods, and a YGL, was quoted as saying: "Companies need to develop a much more sophisticated business case that brings environmental and social elements in alongside more familiar financial metrics."
McCormack uses the example of the time within which a company gives their new product to achieve an internal rate of return (IRR) of 20%. Using the Extended Horizons approach (which considers the viability of the business over the long-term and gives new ideas of time to scale) and extending the time period from 3 to 5 years, allows for a lag in the consumer demand patterns of a rapidly evolving market, thereby extending the time in which new business models are able to scale.
Fig. 1: Additional illustrative examples (also on p.9 of report)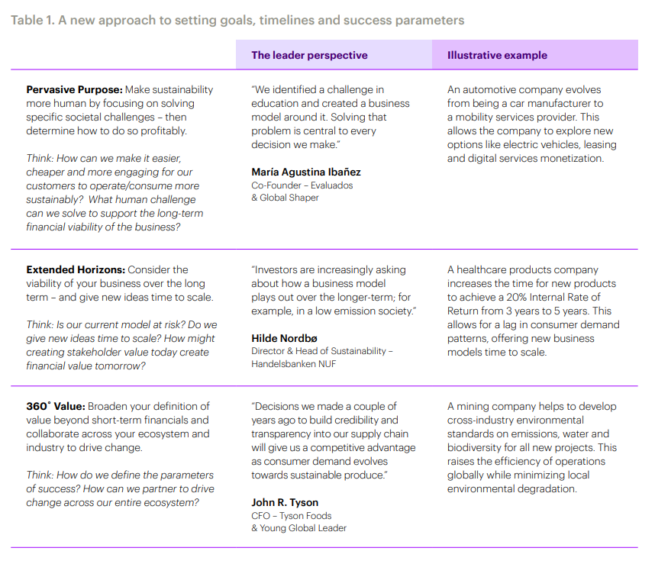 The next generation of pioneers are arguing that organisations must give operational and functional leaders the license to incorporate social and environmental concerns into decision-making – specifically by flexing the way they set goals, timelines and success parameters.
The recommendations are true of all size of business
It is important to note that the research was not only carried out with chief executives,  but also with senior executives from many different industries and sizes of company. McCormack said: "This research is less about investment and more about a mindset shift: give your people the license to pursue sustainable initiatives by updating the way you greenlight decisions. This report reflects how we're helping sustainability become more human – by bringing sustainability to the organisation and making it applicable to everyone throughout the organisation."
SGV Take
Governments, investors and companies are all wrestling with a rapidly evolving operational environment. Physical risk, licence to operate and access to capital are likely to remain volatile. In a market where executives are managing a series of significant risks, it may be time to rethink decision-making processes and create a framework for long-term, sustainable thinking. Whether viewed as a threat or an opportunity, the growing impact of climate and sustainability concerns is not going away, and companies must choose how they face the future.