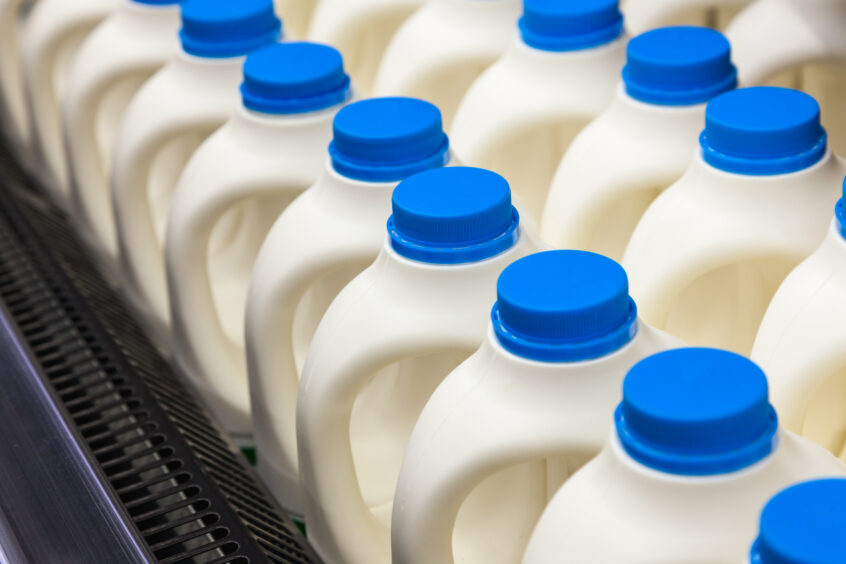 Polytag, a recycling technology startup, has partnered with Biffa to support several UK retailers in monitoring and improving their packaging lifecycles. 
Plastic packaging used by Ocado, Aldi and Co-op will be labelled with traceable tags that can be interpreted at Biffa's recycling facilities.
Companies are under pressure to assess and address their plastic footprints.
New regulations, consumer demands and stakeholder requirements will come as a major challenge to companies that fail to take control of their relationship with plastic packaging.
Biffa has joined forces with Polytag as part of the 'Bottle to Bottle' project, initiated by charity organisation RECOUP Recycling. Over the course of 26 weeks, the project will bring multiple partners together for the monitoring and improvement of the packaging lifecycle.  
"We are delighted to be working with RECOUP and Polytag to gather new insights and data about plastic packaging, which will inform strategic decision-making and shape response to recycling policy," said Carla Brian, Biffa's senior commercial development manager. 
Novel technology offers insights into plastics recycling
The Bottle to Bottle project will rely on special UV tags, supplied by Interket UK. These will be applied to plastic packaging used by Ocado (LON:OCDO), Aldi and Co-op. 
Interket's tags can be interpreted by Polytag's reading technology, which will soon be retrofitted onto the plastic conveyor at Biffa's Teesside recycling facilities. As they are scanned, data will be captured in real-time and displayed via Polytag's dashboard. Each retailer will be able to monitor the timing, location and volume of their packaging's recycling, enabling them to base their future strategies on quantified evidence. 
At the same time, Biffa will gain access to instant information on the composition of packaging that is passing through its facilities. This will help to inform its approach to recycling, including its budget for sorting and recovery equipment and its onward tracking of recycled materials. 
A global plastics crisis
The world is in the midst of a plastics crisis, almost 400 million tonnes being produced with each passing year.  If the current trajectory is allowed to continue, estimates suggest that around 1.2 billion tonnes will have been made by 2060. 
In 2019 alone, UK supermarkets pumped out at least 114 billion pieces of plastic packaging, weighing in at approximately 653,000 tonnes. With the global recycling rate remaining stagnant at an average of less than 10%, we can presume that the remainder was simply discarded, incinerated or landfilled. 
This persistent plastic pollution is destroying our natural ecosystems, endangering the health of wildlife and humans alike. At the same time, the production of virgin plastic continues to account for around 4% of total oil and gas demand, driving a major source of carbon emissions. 
Companies are being scrutinised for their plastic footprint
As plastics have emerged as one of the greatest challenges of the 21st Century, businesses have come under scrutiny for their packaging footprint. New legislation has entered into force, with stricter measures expected through the forthcoming introduction of a dedicated global treaty. 
In certain jurisdictions, local regulations are already creating a setting in which companies can be held to account. France's requirement of a 'vigilence plan', for example, has been used by non-governmental organisations as grounds for taking Danone (PAR:BN) to court for its global plastic pollution. 
Ultimately, research suggests that the social costs of plastic pollution could result in significant corporate liabilities and an increased risk of litigation. While these risks are more likely to impact plastics producers, they may soon begin to compromise the operations of downstream buyers. 
Indeed, retailers and manufacturers are beholden to the values and concerns of conscious consumers. Given that plastics and packaging are relatively simple to understand, particularly when compared to more complex subjects such as carbon emissions or biodiversity, this is an area in which consumers feel able and willing to have their say. 
This is evidenced by a Deloitte survey of more than 2,000 UK adults, which revealed that 64% are already reducing their consumption of single use plastic. More than half of the participants believed that improvements in product packaging would enable them to adopt a more sustainable lifestyle that aligned with their moral values. This suggests that the market's preference is swaying towards those that can offer a suitable alternative, leaving laggards struggling to maintain their share of the market. 
Regulatory developments and shifts in consumer demand are of notable concern to investors, who may fear that an association with single-use plastic could leave them exposed to financially material risks. With this in mind, it comes as little surprise that more than 740 investors with around $136 trillion in assets under management prompted CDP's introduction of a  plastics disclosure framework that will force companies to report on their practices. 
Already, businesses including Amazon (NASDAQ:AMZN), ExxonMobil (NYSE:XOM) and McDonald's (NYSE:MCD) have been subjected to shareholder petitions requesting a transparent assessment of their progress towards plastic reduction. These early cases are an example of what companies ought to fear in the coming years. 
"Growing numbers of stakeholders are becoming aware of the necessity of data to incite meaningful change when it comes to recycling," comments Alice Rackley, Polytag's chief executive. "We know the power this never-before-seen data can have for brands and retailers committed to delivering their sustainability goals." 
SGV Take
The onslaught of new regulations, consumer demands and stakeholder requirements will come as a major challenge to companies in any industry with even the vaguest relationship with plastic. For retailers that rely heavily on plastic packaging, such as the partners in RECOUP's project, failure to prepare could come with substantial costs. 
Polytag's technology is one example of how businesses can gain a head start by monitoring their impact and taking active steps to improve on a continuous basis. Companies that gain a head start in engaging with such solutions are likely to reap the rewards in coming years.