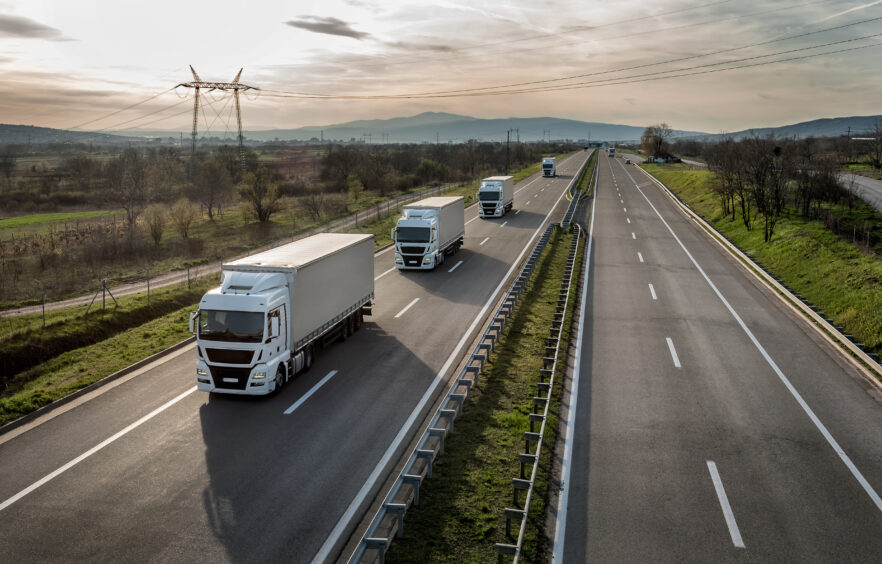 From corporate lobbying to the cost estimates of the transition, in this weekly round-up we explore the latest developments regarding corporate initiatives, sustainability reports and key industry updates.
EU pressured to impose higher climate targets on trucks
Major companies including Nike (NYSE:NKE), Heineken (AMS:HEIO) and PepsiCo (NASDAQ: PEP) are calling on the EU to increase climate targets for trucks to help them meet their own green commitments. In a letter to EU lawmakers signed by 41 hauliers, shippers, and logistics and e-mobility companies including Maersk and DFDS, they say more ambitious CO2 standards in 2030 and 2040 will lower the costs and accelerate the production of zero-emission trucks at scale.
This would increase the number of green trucks on Europe's roads in 2030 by more than 150,000 compared to the European Commission's proposal, according to the letter. Its signatories also asked for a clear phase-out date after which 100% of new trucks must be zero emission. With the lifecycle of a truck extending up to 18 years, a clear date needs to be set now to ensure the last polluting vehicles are off the road in time for the EU's 2050 net zero emissions target.
Analysing the costs of a sustainable economy
The transition to a more sustainable economy requires various types of analysis: how much money is needed to get there, how much it will cost to continue with business as usual or to implement new technologies that are not so green after all.
Regarding the latter, Planet Tracker published a new report, The Sky High Cost of Deep Sea Mining, which found that trying to restore the permanent damage to biodiversity caused by deep sea mining would cost so much that no one could afford to pay for it. While the likelihood of success for deep sea restoration is low, its cost is so high that it would be impossible for companies to pay for it and operate at a profit. Even though the energy transition requires a significant amount of critical minerals, we must continue sourcing them on land – or, better yet, recycle them.
In better news, Zero Waste Europe and Searious Business published a cost-benefit analysis demonstrating that reusable packaging is an economically viable alternative to single-use packaging when certain conditions are met. It identified three key performance indicators in creating a financially healthy reuse system: return rates, number of average use cycles, and retention time, proving the business case for investing in reusable business models as a system provider, and that reuse will be profitable for all stakeholders in the longer term.
In terms of funding gaps, meanwhile, the RSPB, The Wildlife Trusts and the National Trust called for urgent investment to fund nature and climate-friendly farming to achieve net zero, restore priority habitats and wildlife, and protect soil and water resources. Indeed, their new report found that at least £4.4 billion a year must be invested in nature and climate-friendly farming by the UK and devolved governments over the next decade to meet legally binding commitments.
Coming together to achieve common goals
Beyond their individual corporate pledges, many companies are establishing alliances and collaborative initiatives to achieve sector-wide sustainability progress. This week saw the launch of a new global watchdog organisation, SteelWatch, intended to steer the steel industry towards a zero-emissions future. It called out the sector to stop investing in any new or relined coal-based blast furnace facilities in OECD countries or by OECD-based companies from today, as well as in relining existing or building new coal-based blast furnace facilities that go online from January 2028, in emerging economies.
In the aviation industry, the Airports Council International World and the World Economic Forum launched the Airports of Tomorrow initiative to accelerate decarbonisation. It will bring public and private stakeholders together to drive collaboration and change in the sector, with the intention of maximising the potential for airports to be vehicles for economic growth and environmental stewardship.
Industry appointments
The need for top sustainability talent continues to drive people movements. This week, Standard Chartered (LSE:STAN) appointed Dana Barsky as global head of sustainability strategy and net zero, as part of chief sustainability officer Marisa Drew's team. Barsky was most recently president of  President of Growth for Good, a special-purpose acquisition company focused on inclusive, innovative and sustainable companies.
Fast-fashion company Asos (LSE:ASC) appointed sustainability and CSR expert Anna Maria Rugarli as a non-executive director and chair of the ESG Committee. She is also a board member of Prada Group and Japan Tobacco International.