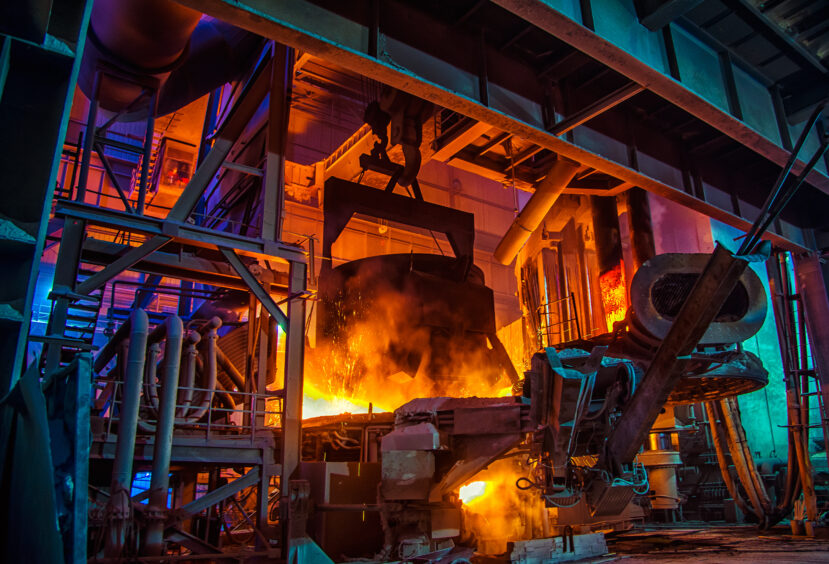 A new agreement will see H2 Green Steel provide sustainable material for building Scania (ST: SCVB) trucks.
Steel is currently responsible for around 6-8% of global emissions and figures from 2018 show 1.85 tonnes of CO2 emitted for every tonne of steel produced.
Scania has placed its first green steel order as it moves toward a decarbonised supply chain as part of the First Movers Coalition.
As steel is deeply embedded within the built environment, transportation and more, its widespread decarbonisation could have dramatically cascading emission reduction impacts.
The initial contract with H2 Green Steel will provide commercial vehicle manufacturer Scania with sustainably produced steel for building its trucks, allowing the company to take another big step towards reducing the climate footprint of its manufacturing overall. Production will begin at H2 Green Steel's new plant in Boden, northern Sweden, in 2025, with deliveries of the sustainable material set for 2027.
Decarbonising Scandia's supply chain
The far-reaching agreement is a key element of Scania's ambitious, industry-leading strategy to eliminate the largest sources of carbon emissions from the most emitting production materials and batteries.
The goal of the strategy is for Scania to phase out the main sources of CO2 emissions in its supply chain by 2030, including a target of using 100% green steel, 100% green batteries, 100% green aluminium and 100% green cast iron in its production. Thus far the decarbonisation strategy only covers Europe, showing the impact of a net zero trajectory policy framework. Scania has said that it is planning to extend the programme to production in China and Latin America over time.
Another important aspect of this work is Scania's role as a partner in the First Movers Coalition, which encourages companies to increase low-carbon purchases in areas that are hard to decarbonise. Details of the commitments required by the steel industry can be found here.
The new contract will help Scania meet its commitment to the coalition to buy significant amounts of green steel. About four tons of steel is used to manufacture a truck so there is clear potential for a substantially positive climate impact from using green steel instead.
"With this first order from our strategic partner H2 Green Steel, we are continuing our progress towards minimising the climate impact from our supply chain," says Anders Williamsson, Executive Vice President, Head of R&D and Purchasing at Scania.
Greening the steel sector
The steel sector has been recognised as a critical sector for net zero action, not simply because of the difficulties in implementing cost-effective abatement technologies and strategies – but also because they play an integral role in other high-emitting sectors, they are deeply interconnected. As Simon Sharp, lead author of the Breakthrough Effect report has said: "Effective zero-emission solutions in the steel sector can influence transitions in multiple sectors simultaneously."
Unfortunately it is also a difficult sector to decarbonise and a new industry watchdog – SteelWatch – has recently been launched, warning that the industry is not moving far enough, fast enough.
The watchdog's first report Sunsetting Coal in Steel warns the sector has the fastest-growing emissions and constitutes a risk for planetary stability. The report estimates the steel sector's contribution to at least 7% of global emissions, equivalent to the annual emissions of India.  Ninety per cent of this comes from coal-based production of steel. According to the analysis, the business-as-usual approach to continued coal-based production of steel will use up almost one-quarter of the world's total carbon budget by 2050.
Given that at current emission levels and keeping the likelihood of keeping global temperature increase of 1.5°C to 66% the carbon budget is projected to have been fully exploited by 2030, this is a significant concern. According to Carbon Tracker analysis, at the start of 2022, only 320 billion tonnes of greenhouse gases (320 GtCO2) were left in the carbon budget, for a 66% chance of limiting warming to 1.5°C.
Steel companies can no longer invest in coal
The SteelWatch report says that in order for the industry to align with a 1.5C pathway, a reduction of approximately 1.8 gigatons of CO2 emissions is needed. In order to move towards that call, the NGO is calling for no new investment in any new or relined coal-based blast furnace facilities in OECD countries or by OECD-based companies from today – and no investment in relining existing or building new coal-based blast furnace facilities that go on-line from January 2028, in emerging economies.
"We can do better than coal-based steel for the sake of workers, front line communities, and the climate," says Hilary Lewis, Industrious Labs' Steel Director. "Modernising steel into a fossil-free industry can grow jobs and reduce both health and climate-harming pollution. With significant federal funding available from the Inflation Reduction Act, the US is well positioned to lead the transformation."
SteelWatch explains that roughly 400 steel facilities that rely primarily on coal-based blast furnaces globally, 71% of them will have at least one or more furnaces due for refurbishment or 'relining' (an investment that extends the production life 15-20 years) in the next seven years, which presents the only opportunity to reshape the steel industry without coal and transition toward a modern emissions-free future.
Leanne Govindsamy of the Center for Environmental Rights (CER) in South Africa expressed concern that the steel is "trying to define what 'green steel' should be independently of what communities and the planet need".
Renewable energy could green steel but sector wants hydrogen
This report builds upon a clear consensus from institutions such as the IEA, think tanks such as IDDRI, and NGOs such as E3G which have made clear through different analysis that for steel to get on track for a 1.5°C climate-aligned pathway, immediate action and a rapid shift away from coal is necessary.
In June 2023, Agora Industry, a major think tank in Europe released a report calling for a 32% reduction in net steel emissions by 2030 (based on a 2019 baseline) and forecasting that a total end to coal in steelmaking could be possible between 2043-2045 if solutions like gigawatts worth of renewable electricity powering green hydrogen infrastructure can move fast enough.
Scania's approach is to work with H2 Green Steel. The company, which raised €190 million in 2022, defines its product as steel produced from a combination of virgin iron ore and scrap, and using electricity from renewable energy sources. The process targets a 90% reduction in CO2 emissions compared to traditional steelmaking. The steel industry is one of the top three polluters and accounts for up to 8% of total global carbon emissions.
To demonstrate its commitment to green hydrogen, it is building a giga-scale green hydrogen plant as an integrated part of its steel production facility. In 2021 it also signed a deal worth €2.3 billion with Iberdrola (MC:IBE), to build a 1 GW plant to produce green hydrogen.
The company is targeting five million tons of fossil-free steel production by 2030, complete with its own giga-scale green hydrogen plant.
Mark Bula, Commercial Head of Boden Steel at H2 Green Steel said: "Scania has been one of our biggest supporters from day one. Not only in helping frame the opportunity for green steel but also as an early seed capital investor. Their support and partnership in crafting the value proposition has contributed massively to our go-to-market strategies. Scania is truly a pioneer in sustainability and was first in their sector to set Science-Based Targets in line with the Paris Agreement. Now all our forward leaning off-take customers are doing the same."
The EU seems to have become the biggest backer of hydrogen as a bloc, having approved €5.4 billion in hydrogen projects with 15 EU states in July 2022, with a further €8.8 billion in private investment bringing the total investments in the hydrogen sector to €14.2 billion.
SGV Take:
The deal makes sense and aligns Scania's investment into H2 Green Steel into its own decarbonisation plans. There are concerns about the use of hydrogen for the creation of green steel, based on two key challenges: the expectation that green steel will not be cost-competitive until the late 2030s at the earlier, which is linked to the second challenge – that today most hydrogen is made from the use of fossil fuels. Given that the materials will not be supplied before 2027, the real question is whether or not green hydrogen can be cheaply made and deployed in line with the timetable for net zero.