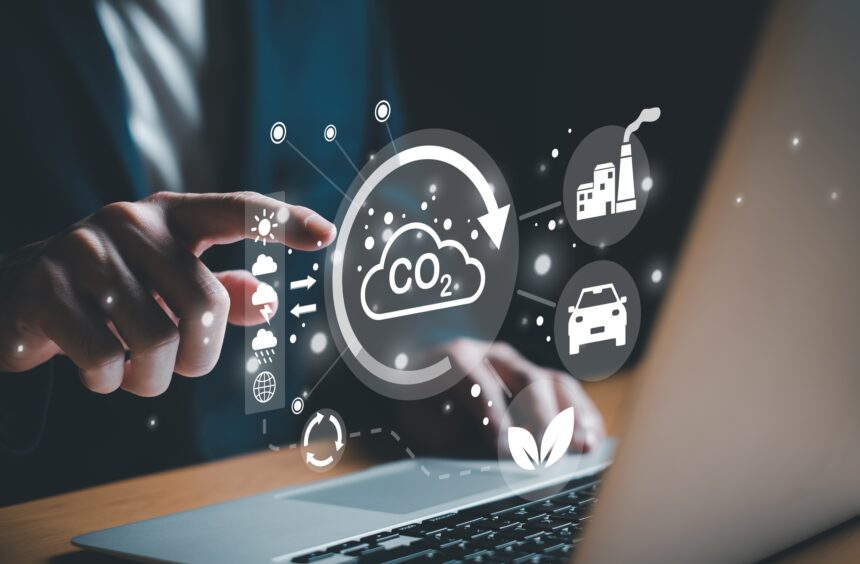 Carbon management platform Emitwise and sustainability data company Sedex have launched a partnership to improve supply chain sustainability data, including on Scope 3 emissions.
Emitwise and Sedex are to explore how combining social governance and carbon accounting can help companies address Scope 3 supply chain reporting.
Stakeholders are increasingly demanding accurate, timely and granular visibility on supply chain risk and legislation like the EU's CSRD will only accelerate demand.
Supply chain data is a necessity for sustainable operations but visibility also opens to the door to innovation and efficiencies.
Supply chain emissions typically account for more than 70% of a company's carbon footprint and even up to 90% for sectors like manufacturing and retail. Businesses must prioritise emissions reductions in these areas to achieve their decarbonisation targets.
Corporations committed to decarbonisation need a solution that engages suppliers at every stage of their sustainability journey. Whether they are the minority of suppliers who already calculate and publish emissions or the majority that haven't, the partnership intends to support businesses' sustainability efforts by providing deeper insights and more efficient data services for supply chain sustainability, including on notoriously difficult Scope 3 emissions.
The aim is to explore opportunities to combine their supply chain data capabilities to empower customers' wider sustainability goals. Estimates of Scope 3 data from the Rocky Mountain Institutions (RMI) in 2020 suggest that the average company has 5.5 times the emissions in its supply chain as it does in Scope 1 and 2.
Rethinking impact and emissions strategies
It is becoming increasingly important that companies understanding the impact of their operations across the value chain. Many have assumed that any impact could be offset with the use of carbon credits. Not only does the SBTi standard demand that no more than 5-10% of overall absolute emissions be offset in order to meet the standard, but increasing concern about the robustness of the voluntary carbon markets is forcing companies to rethink their strategy and positioning.
Mauro Cozzi, CEO and Co-Founder of Emitwise said: "Before offsets enter the conversation, companies should focus on identifying where carbon emissions could be reduced in their internal processes. This includes supply chain activities, where up to 90% of their emissions can be created.  Not only does this approach provide the means for organisations to tackle their emissions most effectively – it's also cost-effective and drives competitive advantages."
He added that Sedex and Emitwise are "highly aligned in our mission to empower companies with the data necessary to make decisions that benefit people, planet and profit". With Sedex having established itself as a leader in supply chain social governance, he believes that the combination of its offering with Emitwise's financial-grade carbon accounting platform could "accelerates impact across all three pillars of ESG."
Why supply chain sustainability data needs to improve
As businesses face increasing pressure to manage their environmental, social and governance (ESG) practices and impacts, data on supply chain activities is essential yet challenging to collate.  There are challenges that include overall governance and visibility of the supply chain, including concerns about privacy and commercial confidentiality across the board.
The impacts of poor supply chain visibility are wide-reaching, as demonstrated by the destruction of carbon rich peatlands associated with consumer goods retailers and manufacturers that have pledged their commitment to ending commodity-driven deforestation, or by the connection of globally recognised brands to beef that had originated from illegally occupied indigenous lands. 
Today, stakeholders are expecting businesses to demonstrate increased transparency of their supply chains and address potential risks. These risks now include the impact of legislation banning the import or financing of goods associated with deforestation, or forced labour. Such legislation is already under development or enforcement by an increasing number of jurisdictions, including those in the US, the UK, Australia and the EU.  
According to a 2022 report by Ernst & Young (EY), supply chain visibility has now become the top priority of supply chain executives, driven largely by the need to comply with regulation and the opportunity to save costs.
Supply concentrations, interdependencies, points of failure and potential disruptions are all critical pieces of the puzzle. While traceability is an important requirement for effective sustainability and circularity in supply chains, it can also play a significant role in improving efficiency, resilience, and competitiveness.
Resilience to supply chain shocks is becoming a critical business issue. One of the first steps towards building resilience is to integrate traceability into the supply chain, and one of the best ways to ensure that is to ensure that there is access to feedstock that is available and accessible.
One aspect of this is ensuring that each company exactly where each feedstock or component is, how likely extreme weather, conflict or other shocks are to affect its delivery and find alternative feedstocks – often from an alternative source close by.
By knowing where inputs come from, the sourcing practices of suppliers and the conversion processes used, companies will be better able to predict where challenges might arise as well as optimising their own processes. While such practices simply make good business, it is also the first step to enabling companies to look across their complete supply chain and understand their impacts to support their own sustainability journey.
How the relationship will work
Sedex and Emitwise will look to combine their respective strengths across social and environmental data and assessment to help businesses analyse, act and report on key sustainability areas more easily.
Emitwise supports businesses to measure, manage and report on their complete carbon footprint, including the complex yet crucial Scope 3 supply chain emissions. Sedex's strengths across its data platform and assessment tools lie in social topics such as working hours, labour management practices, and worker demographics at supplier work sites.
By working together, the two companies hope to enable brands, suppliers and intermediaries to access more of their supply chain sustainability data in one place to drive more informed, efficient decision-making and reporting.
Sedex and Emitwise will begin by referring each other's services to customers, alongside work to develop their collaboration across data integration, insights and measurement.
For example, one of the first steps the companies will take is an investigation of how to bring Emitwise environmental data into the Sedex ecosystem for businesses to analyse within the context of social data on suppliers and individual work sites.
Sedex Chief Executive Officer Jon Hancock said: "Emitwise addresses a critical sustainability challenge by helping businesses to measure and manage their Scope 1, 2 and 3 emissions. Their services perfectly complement Sedex's tools and data landscape, with our expertise across social areas. Our customers often ask us for more environmental data capabilities – this partnership will deliver that in an effective way that taps into existing, proven solutions."
SGV Take:
The demand for accurate up to date information on the supply chain is only likely to increase over time. There is a lack of clarity on emissions and impact that directly translates to inaction. Increased data visibility and tracking are going to play a vital role in the shift towards a nature positive and low carbon future so it will be interesting to watch the extent of market buy-in to the proposed partnership.