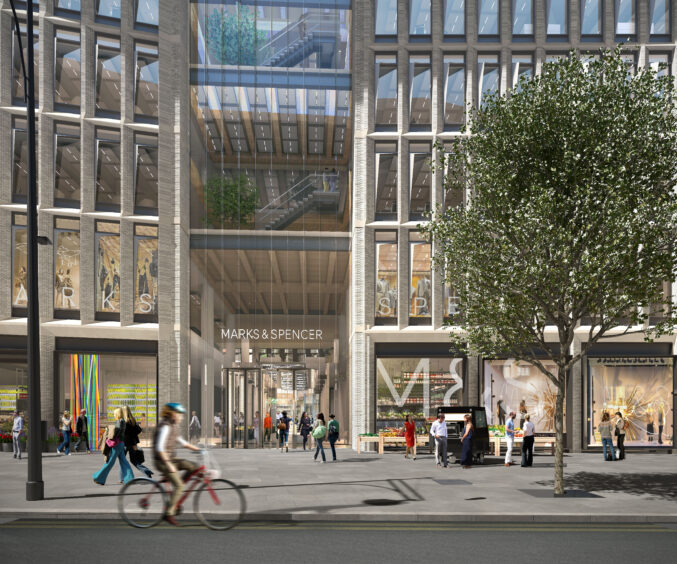 From government rulings to climate risks faced by the maritime sector, in this weekly round-up we explore the latest developments regarding corporate initiatives, sustainability reports and key industry updates.
Authorities rule on corporate plans
This week, Michael Gove, the UK Secretary of State for Levelling Up, Housing and Communities, ruled that Marks & Spencer (LSE:MKS) cannot demolish its store in Central London to build a new one, even if it was planned based on sustainability standards. He argued that "the proposed development now would result in far more carbon emissions than after the UK has achieved a net-zero grid". The decision came despite approvals by Westminster City Council, the Mayor of London and the Planning Inspector.
Stuart Machin, chief executive of M&S, noted that retrofitting is "not an option" and "there is no other viable scheme". He commented: "After almost a century at Marble Arch, M&S is now left with no choice but to review its future position on Oxford Street on the whim of one man. It is utterly pathetic." Charity C20 Society said: "A huge victory for heritage and environmental campaigners, and a landmark decision for the future of UK construction and the built environment."
Meanwhile, a Belgian court ruled that petrochemicals giant INEOS's €3 billion plastics project in the Port of Antwerp, Belgium, is not legal. According to the ruling, the company failed to tell authorities the full extent of the project's predicted impact on the surrounding environment. These crucial omissions mean the Flemish authorities should not have granted the project's approval – and it now cannot go forward.
On the finance side, European Commission has approved, under EU State aid rules, a €850 million French measure to support ArcelorMittal (AMS:MT) in partially decarbonising its steel production processes in Dunkirk. This is expected to contribute to the EU Hydrogen Strategy, the European Green Deal and the Green Deal Industrial Plan targets, while helping to end dependence on Russian fossil fuels and fast forward the transition in line with the REPowerEU Plan.
Fossil fuel lobbyists push hydrogen on Scottish politicians
Friends of the Earth Scotland that fossil fuel interests have been pushing "expensive and inefficient hydrogen" technology onto the Scottish Government and MSPs. Campaigners unearthed over 30 meetings with oil and gas companies where hydrogen was discussed, along with an additional 70 meetings with companies who stood to benefit from the rollout of hydrogen technology in Scotland.
The Scottish Government has pledged over £100 million to this industry and has refused to rule out using hydrogen from fossil fuels. Campaigners noted that ministers refer to fossil fuel-derived hydrogen as 'low carbon' despite the methane leakage during gas production and the extra energy required to run the partial carbon capture process upon which it relies.
Extreme weather to hit international trade
New research by Oxford's Environmental Change Institute found that more than $122 billion of economic activity is at risk from the impact of extreme climate events. Systemic impacts – risks caused by knock-on effects within global shipping, trade and supply chains network – will hit ports and economies around the world, even if the local ports are not directly affected by extreme events. In fact, according to the study, some $81 billion per year of maritime trade is at risk, around 60% of which is because of cross-border knock-on effects; those outside a country's own jurisdiction.
Need for software and tools drives partnerships
The flurry of market movement for sustainability software did not take a summer break. This week, Deloitte unveiled a new connectivity-based approach to ESG data collection and sustainability management that brings together technology from AT&T (NYSE:T) and Salesforce (NYSE:CRM). It is intended to help organisations streamline their processes, enhance data integrity and accelerate the identification of improvement opportunities across their operations and extended enterprise.
Elsewhere, consultancy BSI and software provider Ecometrica also launched a new tool, designed to help businesses comply with global sustainability reporting requirements more easily. Connect Climate, which adds new functionality to the existing BSI Connect software platform, captures data in real time and supports the growing ESG reporting and greenhouse gas management needs.
In a somewhat unusual initiative, the International Air Transport Association and consultancy Atkins created a suite of digital tools for airports. They will estimate the embodied carbon associated with the construction of terminal buildings and aviation assets, which is considered a first in the sector.
Finally, IBM (NYSE:IBM) announced a new client win. Digital Realty (NYSE:DLR) is now using the IBM Envizi ESG Suite to collect, analyse and report on its ESG performance in 300 data centres across 27 countries.