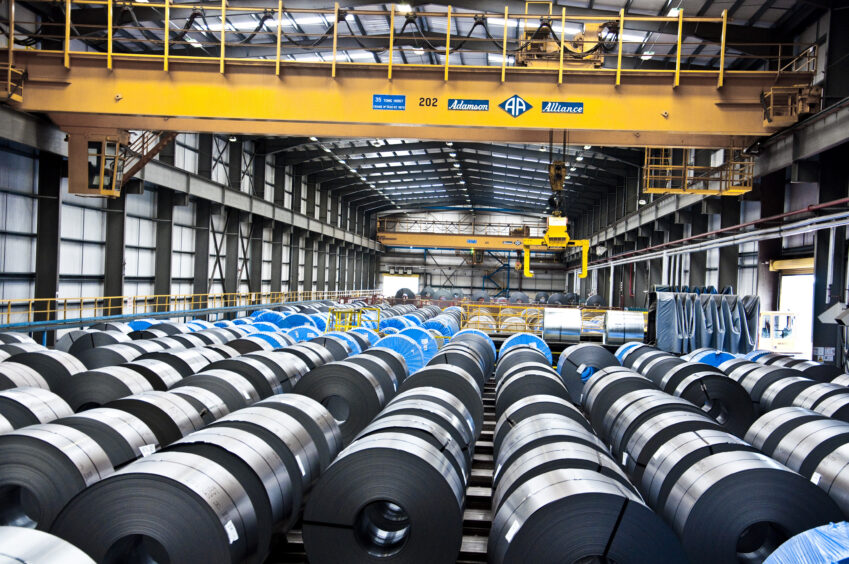 Tata Steel UK to work with blockchain-inspired startup iov42 to create an industry-wide solution to digitally capture the receipt of steel deliveries. The solution will work with existing logistic partners of Tata Steel UK, to further improve the transparency, security, and the overall efficiency of the steel supply chain. 
iov42 is building on its digital ledger blockchain technology for ESG and sourcing data to build a delivery tracking system for the steel supply chain.
Improving traceability within the steel supply chain provides protection and certainty for stakeholders but is also the first step towards more effective management of emissions.
Steel is a high emissions sector, at 6-8% of global emissions, so cutting 10% from its logistics footprint is a step in the right direction.
Steel is currently responsible for around 6-8% of global emissions and figures from 2018 show 1.85 tonnes of CO2 emitted for every tonne of steel produced.
The project was selected Blockchain Connected, for the "Demonstrating the Potential of Blockchain" challenge, funded by the Welsh Government, and is the second time that the two partners have won such a bid.
In December 2022, 28 countries across Europe, the Middle East & Africa, recorded cargo losses of more than €17 million in 31 days due to stolen freights. The idea underlying the project is that iov42's state-of-the-art Distributed Ledger Technology (DLT) will allow Tata Steel UK to identify stakeholders involved in the delivery and exchange of goods, providing irrefutable evidence of an item's receipt.  
This is iov42's second collaboration with Tata Steel UK. David Coleman, Chief Product Officer at iov42 said: "Since the creation of the Digital Product Passport last year, we have continued to support their efforts regarding decarbonisation and responsible sourcing. We are excited to be continuing this journey with the development of this new solution, further showcasing how Distributed Ledger Technology can build trust, save money, and cut back on environmental damage."  
Managing logistics stakeholder information effectively
Richard Nicholls, Head of eCommerce & EDI at Tata Steel UK said: "We produce and move over 3 million tonnes of steel per year, across our locations and to our customers." That means the ability to have clarity about the logistics underpinning the market is a critical element of a successful market.
While this iteration of the project is focused on evidencing receipt of goods, its building a data infrastructure that can be used to manage and optimise supply chain information of all sorts – including impact and emissions footprint. Tata Steel in the UK has the ambition to produce net-zero steel by 2045 at the latest, and to have reduced 30% of its CO 2 emissions by 2030, so every additional optimisation of its emissions footprint and data efficiency will make a positive contribution to the company's goals.
Nicholls added: " Underpinning this activity is significant engineering and technical development work, helping optimise outcomes at every stage. From ensuring and digitally capturing the arrival of steel at the correct destination, through to tracing its entire product lifecycle. We want to make sure we are doing everything we can to support our customers to manage their valuable inventory through improved traceability and accountability."
What's the impact of using distributed ledger technology?
Today around 28.5 billion paper trade documents are being printed and flown in shipments every day. By moving that process onto a digital infrastructure, the new approach will not only cut down on paper costs and usage but will also cut down on 10% of emissions. The solution will also enable organisations to: 
·       Track the point of receipt in real-time – reducing the risk of delays or disruptions.  
·       Improve efficiency by removing the administrative burden associated with delivery management.  
·       Enhance security by ensuring that goods are delivered to the correct recipient by requiring them to sign for the delivery using an electronic cryptographic signature.   
·       Improve cash flow by removing the delays between an item being delivered, invoiced and paid for. 
The original project was focused on technology as a tool for tackling the challenges of responsibly sourced materials, such as steel. As a key element of the UK's decarbonising strategy, the ability to prove and deliver high quality data about the source of materials and its corresponding carbon footprint will prove invaluable to businesses across the supply chain in driving greater sustainability.
iov42's prototype provides businesses with the foundational technology to tackle this issue by allowing users to scan a steel product with a smart device, instantly retrieving all the relevant information needed –  whether that's for ESG, compliance or commercial reasons. This data includes everything from the date or place the steel was manufactured, to its environmental footprint and changes made along the supply chain – and can be effectively expanded to track delivery data too.
SGV Take
The expansion of the project in this second iteration highlights how investment in technologies for improving sustainability performance can be used in multiple ways to improve operational performance.